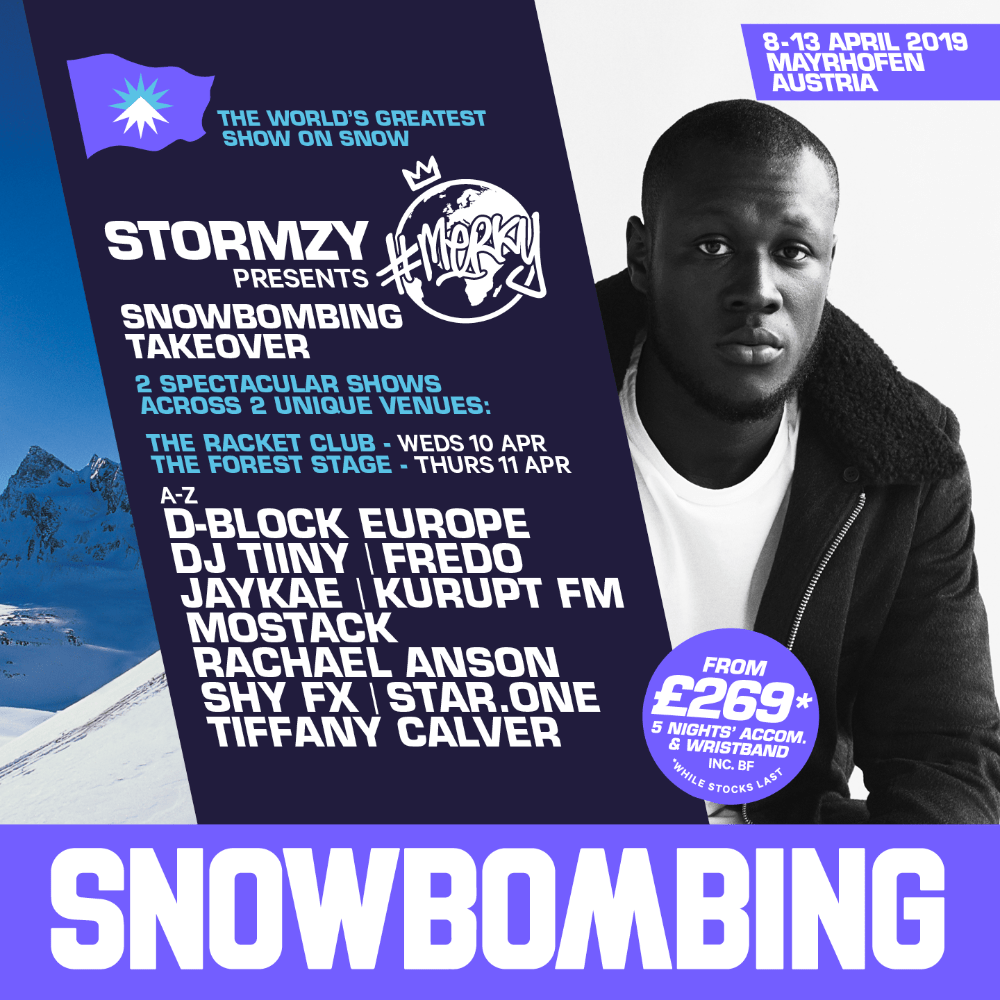 Stormzy Announces The #MerkyTakeover For Snowbombing 2019
Stormzy and Snowbombing. The first place to catch his remarkable return and what comes next, it's only right that things get taken up a notch with the #Merky Takeover bringing a star-studded array of curated friends, incredible shows and more across the slopes – with Stormzy announcing a range of new names today.
Stormzy is well and truly making his mark at Snowbombing's 20th Anniversary – with not only a huge headline moment, but another packed night curated by the man himself. Taking over the renowned Racket Club with a thrilling late-night set to kickstart the week, the #Merky Takeover will feature an unstoppable party playlist of heavy-hitters lead by the world's favourite pirate radio crew Kurupt FM, popping bottles across the club. They'll be joined by high-octane star turns from chart-topping 'Funky Friday' prince Fredo whose debut album 'Third Avenue' landed last week to acclaim and Birmingham's unstoppable Jaykae – whose past year has seen him jumping onstage with The Streets across the UK. With Shy FX dropping what's sure to be a scorching hot set of club movers and spinning hits coming from Rachel Anson and DJ Tiiny, The Racket Club will be booming thanks to the ultimate party planner himself, Stormzy. After partying the night away with a programme of favourites at The Racket Club, Stormzy will head over for his crowning headline set on the Forest Stage, with a stunning array of exciting names at the forefront of thriving new culture. One of the most talked about new artists in the UK Mostack will make his Snowbombing debut, whilst rising South Londoners D Block Europe will surely elicit a mammoth response when they take the stage as a part of the #Merky Takeover. With Shy FX returning to the slopes, Radio 1's Tiffany Calver andStar.One bringing the vibes, it's set to cap a phenomenal takeover as Stormzy invites the best and brightest to The World's Greatest Show On Snow.
The packed plans for Stormzy and the new additions as part of the Merky Takeover join a world-class lineup of unmissable favourites and game-changing superstars all heading to Snowbombing 2019 for the ultimate birthday celebration of 2019. Lead by Stormzy, rave icons The Prodigy and the pioneer of dance culture Fatboy Slim, it promises to be a once-in-a-lifetime party like no other. Including the likes of Andy C, Bicep (DJ), Groove Armada (DJ), Hannah Wants, Denis Sulta, Monki, Camelphat, Hunee, Artwork, Skream, Eats Everything, George FitzGerald, Maribou State (DJ), Solardo, Sub Focus, High Contrast, Mall Grab and fun-soaked moments from Sink The Pink, The Cuban Brothers, Mr Motivator, Pat Sharp's Fun Haus and more – there isn't a lineup that can compare to this! Grab your tickets, grab your dancing shoes – Snowbombing 2019 is waiting.
Stunning slopes? A huge lineup of phenomenal names from some of the most exciting artists on the planet? An unrivalled atmosphere of thousands gathering through the streets of Mayrhofen? It can only be Snowbombing – The World's Greatest Show On Snow
CONNECT WITH SNOWBOMBING
http://www.snowbombing.com
https://www.facebook.com/snowbombing
https://twitter.com/Snowbombing
http://instagram.com/snowbombingofficial
http://www.youtube.com/snowbombing
https://soundcloud.com/snowbombing-festival