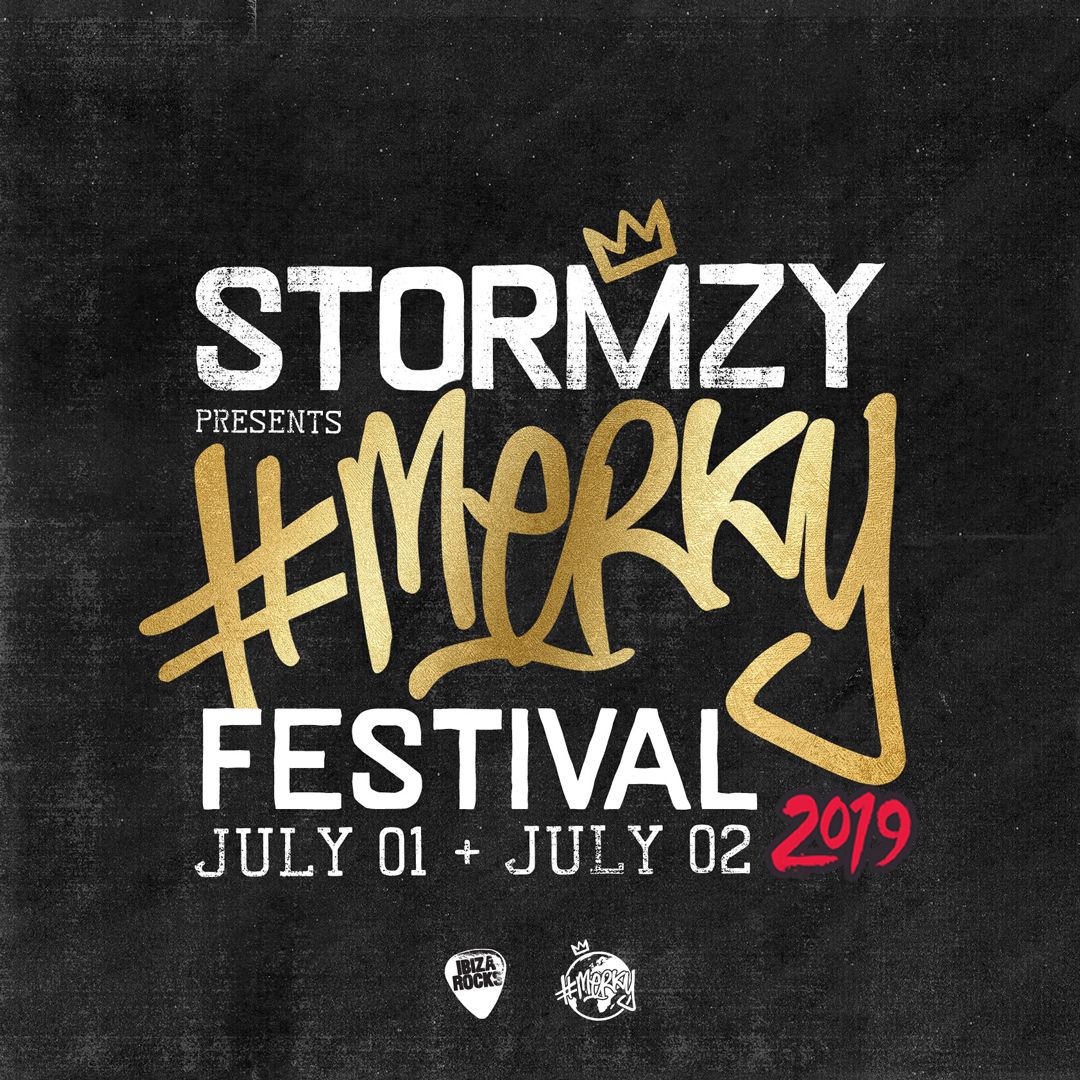 Stormzy's #MERKY FESTIVAL returns to Ibiza Rocks
Now firmly established and highly respected for being Ibiza's first ever UK urban music festival, the third edition of #MERKY is another 'movie' in the making. Grime MC Megastar Stormzy will return to his long-standing Ibiza 'home' with a highly-anticipated (soon to be announced) selection of the freshest and fiercest urban talent lined up across two unmissable days, 1st & 2nd July, at Ibiza Rocks Hotel.
Carrying huge cultural as well as musical significance and influence on the island, both Ibiza Rocks and Stormzy started a ground-breaking journey together back in 2015 when Rocks gave Stormzy his Ibiza debut, invited him back as a headliner in the same year, then later took things to the next level in creating the now annual #Merky Ibiza movement. Last year's line up included stand out performances from an array of amazing talent including UK Rap kings Krept & Konan and fiery lyrical queen Mabel plus MoStack and Dave performing their smash hit 'no words'.
The climax last summer came as Stormzy spontaneously dropped 'Big for your boots' as England won on penalties against Columbia; a moment that created crowd euphoria and worldwide media mania. A major scale moment at a unique and intimate venue. The kind of moment that only happens at Ibiza Rocks.. Afterwards, an ecstatic Stormzy said: "Merky Festival the movie, a very special 2 days, thank you to everyone that came. I had the time of my life, I hope you did, There ain't a picture or a piece of footage that could capture the vibe that was at Ibiza Rocks these past 48 hours, [email protected] movie."
Jordan Hallpike, Director of Talent & Programming, Ibiza Rocks said: "The creation of #MerkyFestival has made history by putting grime and rap on the map in Ibiza and we're really proud of that. With Stormzy coming from headlining Glastonbury in front of tens of thousands back to the intimate poolside setting of #MERKY shows the power of Stormzy and Ibiza Rocks combined. This is going to be one hell of a two day afterparty."
#MERKY Festival adds to an already incredible summer line up which includes residencies from Craig David, Rudimental, DJ EZ, Lovely Laura & Ben Santiago and CuckooLand. Full line up of events at www.ibizarocks.com.
Tickets and holiday packages onsale now. Book holiday deals direct on IbizaRocks.com for the best prices guaranteed – up to 20% cheaper than other booking agents – www.ibizarocks.com