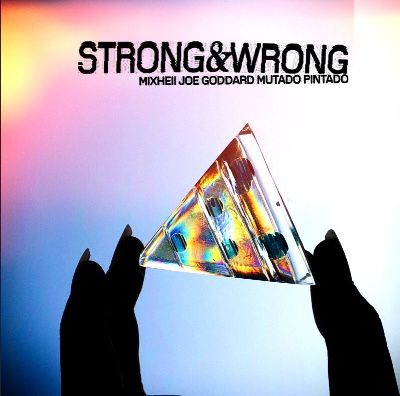 Mixhell & Joe Goddard ft. Mutado Pintado - Strong & Wrong EP
Widely acclaimed husband and wife duo, Mixhell, have revealed details of their forthcoming EP 'Strong & Wrong' with the release of the title track, out today. Featuring Hot Chip's Joe Goddard and Paranoid London's Mutado Pintado, the lead single from the EP explores a man's bohemian life.
Released on Mixhell's Delayed Records, 'Strong & Wrong' sees the four artists reunite again following the 2016 release of the 'Crocodile Boots' EP. With a pounding techno theme running throughout, the beat is contrasted against unexpected laidback synths and electrowave lyrics. 'Strong & Wrong' has already received support from BBC Radio 6 including winning Roundtable and support from Steve Lamacq, Nemone and Lauren Laverne.
The rest of the EP sees Mixhell continue to pursue themes of poetry, as 'Bella' celebrates life through its details of bells and mantra like sounds, whilst their cover of Laurie Anderson's 'In Our Sleep' showcases Lou Reed and Laurie's journey into drum beats and dreams, and also features the first vocals from Iggor.
Producing and performing together since 2004, Mixhell started touring in Europe and US around 2007. After collaborating with many artists such as Diplo, MSTRKRFT, 2manydjs, DJ Hell among others, they have built a solid underground career in electronic music in which they would perform with live instruments. Moving from Sao Paulo to London in 2013 led Mixhell to work closely with Soulwax,recording and performing their most album 'From Deewee' as part of their 7 piece band, with whom they play festivals across Europe this summer.
The 'Strong & Wrong' EP is out on 7th September, with the lead single streaming now and available to download from Beatport.
Tracklist:
1. Mixhell & Joe Goddard ft. Mutado Pintado – Strong & Wrong
2. Mixhell & Joe Goddard ft. Mutado Pintado – Bella
3. Mixhell – In Our Sleep (Laurie Anderson Cover)