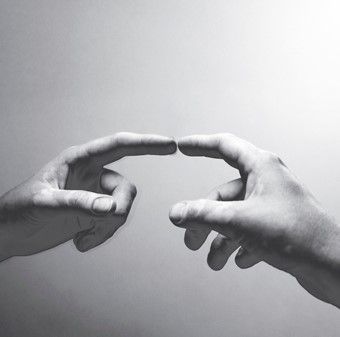 Rupert Clervaux & Beatrice Dillon - Studies I-XVII for Samplers and Percussion
Affectionately referred to as 'Studies' during the recording process, this collection of short, intuitive rhythm pieces was made sporadically over a period of ten months in 2013. At the time, Rupert and Beatrice were busy, working on some of the collaborations mentioned above, and the Studies came to be shaped as much by the time constraints that girdled them as they were by a wilful minimal aesthetic! But this all served to provide a harmonious context for the music they wanted to make––instinctive music made with the tools that were ready-to-hand (not least the ubiquitous 'studio computer', used here purely in its capacity to sample the sounds of the instruments being used), music that savours the woody and metallic tones of its basic elements, that resists premeditation, conceptualisation and classification… "palette-cleansing" music as Beatrice and Rupert found themselves describing it.
For such an outwardly spare record, a rich and broad diversity of influence has enhanced its creation––more in a stimulatory than a stylistic sense. A shared love of repetitive music is immediately apparent, from the transcontinental axis of electronic music that connects London, Berlin and Detroit, stretching back to the experimental and minimalist composers of the sixties; Xenakis's Psappha, Reich's Four Organs and Pierre Schaeffer's Etude Aux Objets all cropping up in the preambles and debriefs that bookended recording sessions. Equally important here though, are Beatrice and Rupert's more personalised respective interests in Ethnic and World music (see her Folkways 2 compilation for The Trilogy Tapes), and Free Jazz and Improvisation (see his mix and mastering credits for labels like Treader, OTOroku, Matchless and Fataka). Add to these some more incidental discussions of, for instance, the Morning Ragas of Bismillah Khan, or recent releases by Untold, and you begin to get an idea of the varied listening syllabus behind this record.
Reversing the classical definition of the study as an exercise in physical technique, these Studies are spontaneous and sensual examinations of sound, of the most basic interactions between played music and a computer, and of possible approaches to constructing rudimentary rhythms and melodies; they are explorations of the beginnings of music, of initial combinations, before they are developed further into more complex arrangements and recognisable genres. Rather than imposing any strict formulas to work within, Rupert and Beatrice allowed innate rules to present themselves once the dispersed sessions began––"soft obstructions", as they called them––and recurrent methods naturally took shape. Using the sampler as a simple digital mirror of the instrument being manually played occurs throughout (notably with the balafons of Study I and the vibraslap of Study VIII); duetting with brash improvisations between triggered samples and played instruments (Studies VI and XII); playing with the emphasis of the bar within easily graspable time signatures (Studies III and XIII); allowing unpredictable, contextual sounds into the compositions, such as the muffled kick drum from the studio next door, the random 'squeak' of a malfunctioning fire alarm in the hallway (Study VII) or the buzzing resonance of a snare drum at the back of the room (Study VIII). And by seeking to avoid making stylised cribs of any of their many influences, the music has the room to be both serious and, even in its more avant-garde inclinations, humorous at the same time (Studies X and XVI)––it welcomes physical, emotional and cerebral responses! Perhaps the only universal rule was the time spent on each Study; anything that didn't immediately work, or seemed to call too strongly for further embellishment, was summarily scrapped. And those that remain appear here in chronological order.