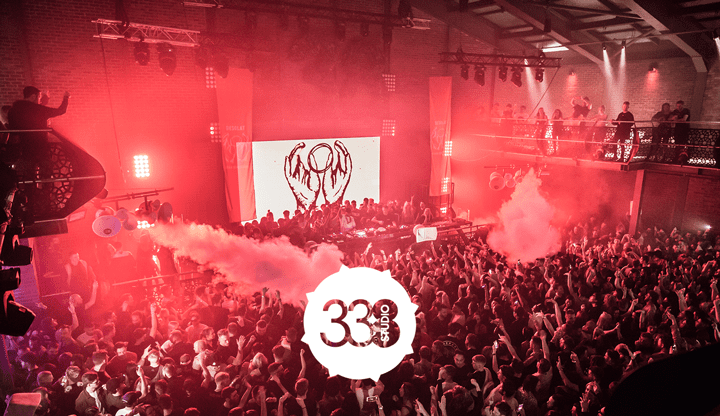 Studio 338 announce 4th Birthday plans
Despite some serious setbacks in their first few years, Studio 338 refuse to be subdued and today announce special plans for a 14 hour 4th birthday party. Headlined by Dan Ghenacia, Traumer, Seb Zito, Dana Ruh, Alex Arnout and Clive Henry, it takes place on March 3rd and kicks off a spring season that promises a slew of exciting events with the likes of Defected, The Zoo Project, Art of Dark, Critical Sound and Home, which will again prove Studio 338 has its own special place in the scene.
This will be the first birthday event since the renovation of the impressive Studio 338 terrace following the tragic fire of August 2016. Since then, there have been tough times for the club but it has still managed to re-establish itself as a key place to party in the capital. It has been the scene of many memorable nights over the last 12 months including Sven Väth's return to the terrace, Loco Dice's debut, A Grenfell fundraiser and a debut for Marco Carola and his mighty techno brand Music On.
After much hard work, the famously well-appointed venue is now finished with three arenas offering different moods and grooves at each night. There is The Terrace, The Loft and The Studio, all looking and sounding fantastic, meaning people can enjoy the birthday on the rubberised acoustic dance floor as they get down to crisp and punchy sounds from a sturdy 4 point Void Acoustics rig. Extra special production will be in use for the birthday to ensure a truly immersive and celebratory atmosphere.
Headlining is Frenchman Dan Ghenacia, a member of Apollonia, and the undisputed king of Paris' underground deep house scene. He ran the Freak n Chic label for a decade and his Apollonia outfit play the world best parties every week from DC10 to BPM. His infectious grooves will be matched by Dogmatik label boss Alex Arnout and esteemed UK veteran Clive Henry. Cocoon's first lady Dana Ruh brings a deeper, smokier vibe to the party and Fuse associate Seb Zito and Frenchman and GETTRAUM boss Traumer are masters of stripped back and dubby house and techno grooves. Returning favourite and Studio 338 resident Andrew Kay will be rounding out the line-up.
After the birthday, regular nights such as Sunday daytime tastemakers ABODE return on March 4th, The Zoo Project host a special take over on March 10th and infamous Facebook live streamers Mr Afterparty host an 11 hour day and night event on the 24th which will be free to attend.
Easter is set to be heavyweight at the venue with the always colourful Cirque du Soul to host a wild party on Easter Thursday. That night will form the launch night for the party crew's summer festival – El Dorado. Sankeys LDN also take part with an Easter Special on Saturday 31st March and Easter Sunday will be a classy affair as Art of Dark host their first event of the year. A tasteful mix of bounce and groove with tINI, Praslea, Francesco Del Garda, Andrew James Gustav and Colin Chiddle providing the stripped back sounds AOD is renowned for.
A week later world famous house crew Defected are in town for a show that sold out in under an hour. It is their first party at 338 and will be something of a return to the roots of house with Chicago great Derrick Carter headlining next to label stalwarts like Riva Starr, Franky Rizardo, Melé, Sam Divine and Dario D'Attis.
Then it is to May 26th with a Critical Sound BBQ that starts at midday. The label run by Kasra – who will headline with label associates – for the last 16 years is a bastion of dark, cutting edge and atmospheric drum & bass that makes a big impact from minimal elements and will be another landmark event for Studio 338. After that, the always forward-looking Home then host on May 27th with another tasteful line-up of minimal techno stars that will be announced closer to the time. In the past, guests have included RPR Soundsystem, Praslesh, Thomas Melchoir and Sonja Moonear, so expect more of the same.
Tickets available at http://studio338.co.uk/

Sat, 03 Mar 2018 / 16:00 – 06:00
Studio 338 4th Birthday – 14 hour special
Dan Ghenacia, Traumer, Seb Zito, Dana Ruh, Alex Arnout, Clive Henry, Andrew Kay
Sun, 04 Mar 2018 / 14:00 – 02:00
ABODE – The Terrace Takeover
Lineup TBA
Sat, 10 Mar 2018 / 21:00 – 06:00
The Zoo Project Ibiza – All Night Terrace Party
Lineup TBA
Sat, 24 Mar 2018 / 19:00 – 06:00
Mr Afterparty presents – Eleventh
FREE PARTY – An 11 hour Day & Night Event
Lineup TBA
Easter Thursday / Thu, 29 Mar 2018 / 22:00 – 05:00
Cirque Du Soul: London // The Road To El Dorado
El Dorado Festival Launch Night
Lineup TBA
Easter / Sat 31 Mar 2018 / 21:00 – 06:00
Sankeys Easter Special
Lineup TBA
Easter Sunday / Sun, 01 Apr 2018 / 16:00-06:00
Art of Dark – All Day/Night Terrace Party
tINI, Praslea, Francesco Del Garda, Andrew James Gustav, Colin Chiddle
Sat, 07 Apr 2018 / 21:00 – 06:00
Defected London
Derrick Carter, RIVA STARR, Franky Rizardo, Melé, Sam Divine, Dario D'Attis
Sat, 26 May 2018 / 12:00–Midnight
Critical Sound BBQ – Summer Sonics
Kasra & Critical Sound associates
Sun, 27 May 2018 / 14:00 – 07:00
Home – London
Lineup TBA