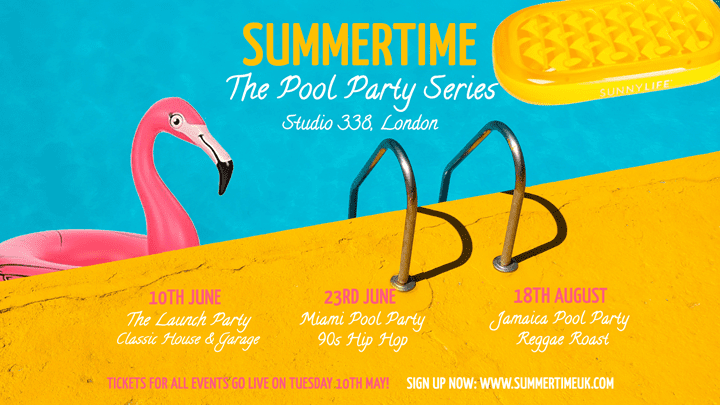 Studio 338 announce Summertime Pool Party Series
Summertime is well and truly arriving in Greenwich over the coming months as game changing London venue Studio 338 sets out plans for yet another unique and irresistible pool party series. Based on three corner stone musical genres, each party will get a unique production set, suitably selected street foods, special cocktail menus and of course a breathtaking line up of DJs and live acts. All to be enjoyed in your swim suit (if you're that way inclined) at pool side.
The parties will take place in the beautiful open air garden as well as the brand new glass atrium Terrace. Upping the anti on last year's sell out pool parties, 338 will be shipping in another high spec pool this summer to double the chance of getting wet and wild.
The fun starts on June 10th with the launch party… and being London there could of course be no other way to kick things off musically than an all day session of the finesthouse and garage. Some of your favourite icons and pioneers will be in 'da house' for this one alongside a broad selection of street foods from the city's trendiest spots, tons of inflatables, poolside dancers and loads more. Moschino swimwear optional.
Next up comes a return to the golden era of Jazzy Jeff and the Fresh Prince as June 23rdsee's the 90's Hip Hop Pool Party edition with US legend Kenny Dope, a famously deep digger and bottomless well of hip hop knowledge headlining. He was there at the birth of the genre and helped it explode before he turned to house music. For golden era sounds, Fatman Scoop is the man as he drips a full on 90s set full of sing along anthems, nostalgic gems and old school poppers. For a visual spectacular look no further than DJ Lord, part of pioneering rap game changers Public Enemy and a super skilled turntablist. He'll be getting his battle on and cutting up, chopping, scratching and spinning back like there's no tomorrow. Last of all, garage and r&b legend Steve Sutherland drops some sooth sounds and more of that iconic 90s sound to the party. Helping to make this one pop will be Hip-Hop brunch, who start with food and games and then descend into full on booty shaking hip hop dances, plus Gin & Juice and Gold Teeth DJs, who between them throw the realest of the real hip hop parties up and down the country every weekend. Alongside the beats will be a burger heavy selection of US inspired foods, cold beers and a full production set to take us back to the days of boyz n da hood, east coast west coast beefs and MTV when they actually played music.
Finishing the series we head to a Jamaican paradise laden with palm trees, Jerk flavours and swaggering dubbed out beats as 338 close with 'The Reggae Roast pool party'. Taking place on August 18th, just one week before Carnival, the vibe is surely going to be laying heavy in the air. Musically the line up promises to surpass even the hip hop selection, with some truly global reggae stars and soundsystems descending on the pool for a once in a lifetime scorcher. erk Smoke Grills will flavour the air with Jerk Chicken, Rice & Pea, Patties, Goat Curry and Jerk nuggets on offer as well as rum cocktails aplenty.
As Studio 338 embarks on an exotic make-over for these exclusive events, you too are encouraged to don suitable outfits from bling to coogi jumpers, vests to sliders to help make these a wonderfully colourful and authentic experiences.
Tickets will be on sale from Tuesday 10th May at www.summertimeuk.com/