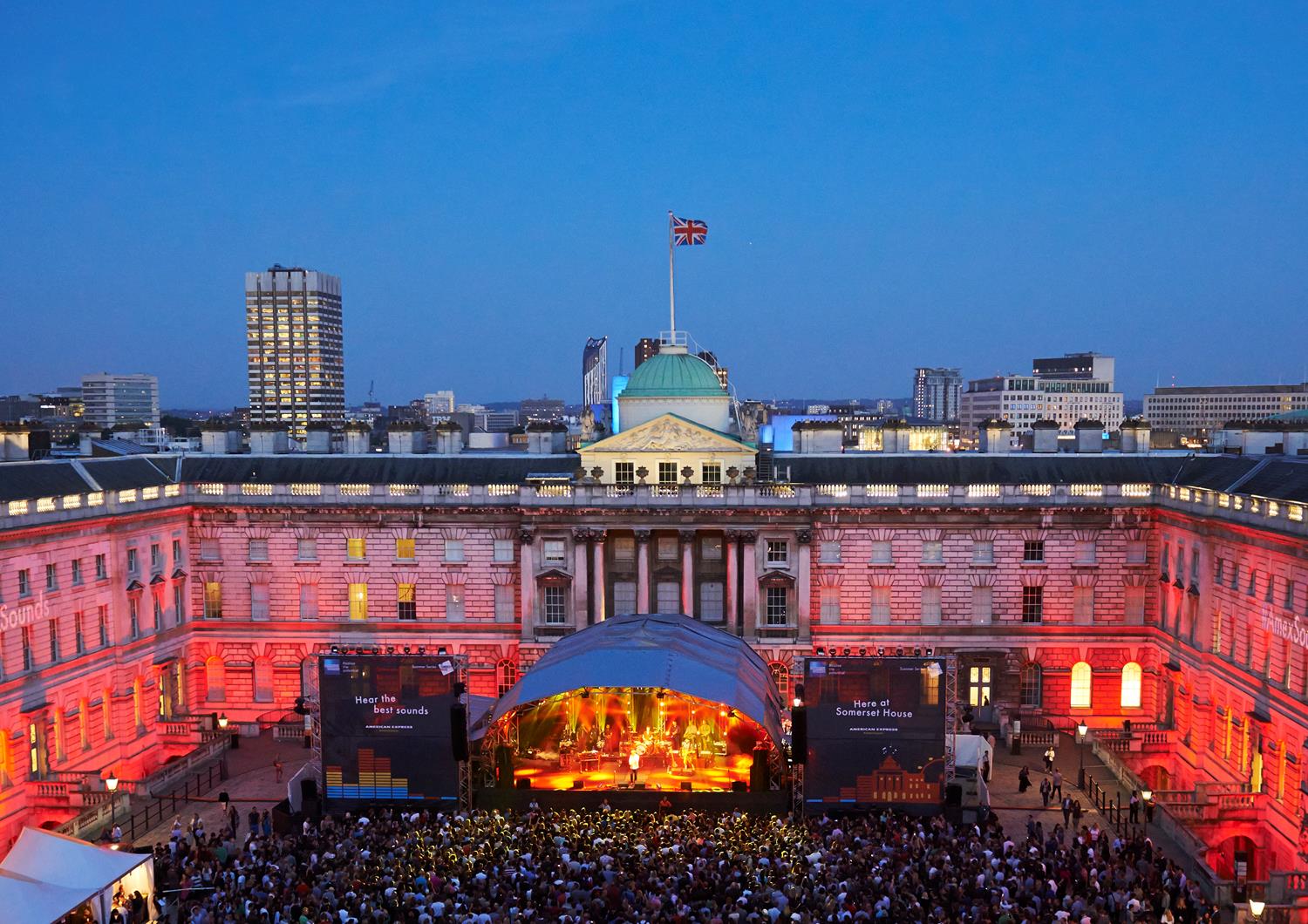 SUMMER SERIES AT SOMERSET HOUSE ANNOUNCE 2014 LINE-UP
In one of London's most spectacular settings, Summer Series at Somerset House with American Express® will run this year from 10 – 20 July 2014.
London's intimate live music festival will play host to a typically eclectic and impressive array of headline artists alongside hotly tipped acts.
Opening on the first night will be London-based trio, Daughter. Fronted by Elena Tonra, their haunting melodies will set the tone for a programme of beautifully atmospheric live gigs. Next up will be Dublin-quartet Kodaline who'll continue proceedings with their powerful blend of emotive rock. Having already gained a strong following after being nominated for the BBC Sound Poll 2013 and winning the EBBA Public Choice Award in 2013, the band have more than qualified the hype that has been lavished upon them.
Taking to the stage on the third evening of Summer Series is angelic Danish singer/songwriter Agnes Obel with her ethereal tones. Having won multiple Danish music awards including Best Album, Best Female Artist and Best Songwriter of the Year, Somerset House will provide a magical backdrop for her exquisitely melancholic vocals.
On 13 July, the incomparably outrageous Australian collective The Cat Empire touch down for their Summer Series debut for an evening guaranteed to make everyone dance. Renowned all around the globe as one of the world's best festival bands, The Cat Empire have carved themselves a unique place in the musical firmament which will make for a truly unforgettable night.
Summer Series will then welcome the almighty Kelis to the courtyard stage. Known for years of chart-dominating songs including the infamous 'Milkshake' and thrilling, boundary-pushing music, Kelis will be bringing her raw and soulful show with her glittering hits to Somerset House.
The following evening will see the biggest-selling new British act of 2013, Bastille, arrive for an intimate show in their home city. With their debut album Bad Blood achieving platinum status in the UK, it's clear Bastille's Summer Series show will be welcomed by music lovers far and wide.
On 16 July, London fans will be delighted to see Glaswegian rockers Franz Ferdinand headline the evening's events with their exuberant and eclectic indie rock. Back with their fourth album, it once again cements their status as a unique and adventurous British band. Scottish synthpop trio Chvrches will continue the Summer Series' proceedings on 17 July. A band born on the Internet who quickly burst onto the music scene, their wizardry has already won them a top five place in the BBC Sound of 2013 Poll. A magical 80's inspired, euphoric evening is expected from the band.
Hugely talented singer/songwriter of the moment Sam Smith will join the line-up for an epic evening on 18 July. His melancholic lyrics and unforgettable vocal have led to a Brits Critics Choice win and performances at festivals from Glastonbury to Coachella. Next up, hotly tipped chart-toppers Clean Bandit will headline on 19 July. Having had huge success with their number one hit 'Rather Be', the four-piece will bring their addictive dance-pop delights to Somerset House. Beats and soaring strings evoke Massive Attack while their live show calls on Basement Jaxx with a brand new twist.
Headlining the grand finale of the 2014 Summer Series will be insurmountable electro R&B adventurers Little Dragon. Anchored by the otherworldly vocals of front woman Yukimi Nagano, they will close proceedings with their phenomenal live show. Over the course of three albums, Little Dragon have pushed boundaries and shown they're a dance act like no other.
July 10 DAUGHTER
July 11 KODALINE
July 12 AGNES OBEL
July 13 THE CAT EMPIRE
July 14 KELIS
July 15 BASTILLE
July 16 FRANZ FERDINAND
July 17 CHVRCHES
July 18 SAM SMITH
July 19 CLEAN BANDIT
July 20 LITTLE DRAGON
Tickets go on general sale at 9am on Friday 21 March
Tickets at £28.50 (plus booking fee) available online from www.somersethouse.org.uk