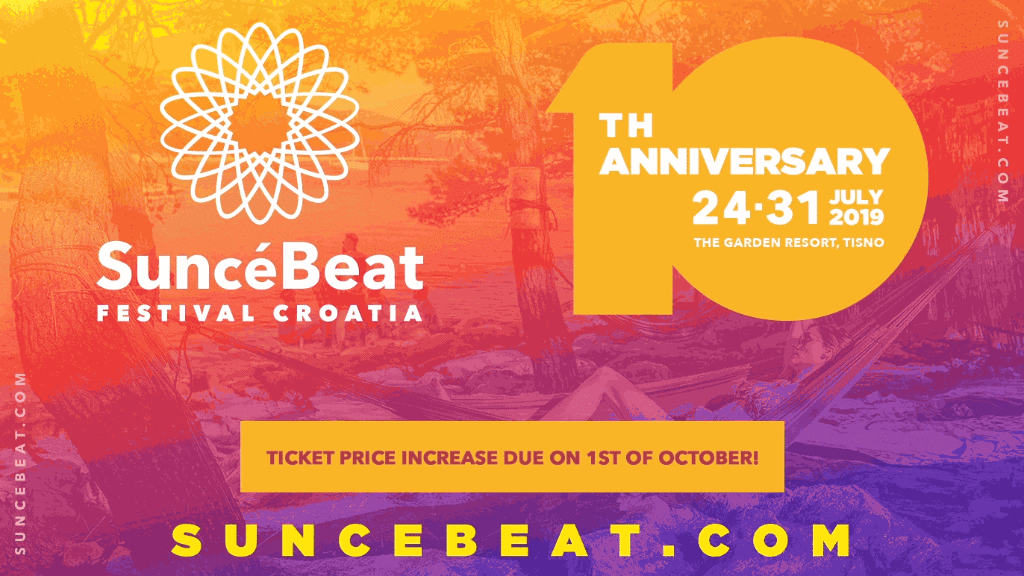 SuncéBeat Festival confirm 10th anniversary lineup!
The first phase of names for the much-loved Croatia festival's 10 yearmilestone have been revealed
SuncéBeat
24th – 31st July 2019
The Garden Tisno, Croatia
SuncéBeat Line-up:
KERRI CHANDLER – DAVID MORALES – KENNY DOPE – TONY HUMPHREYS – JOEY NEGRO
ANTAL – SANDY RIVERA – JAYDA G – OSUNLADE – DJ SPEN – HENRIK SCHWARZ – KARIZMA
HECTOR ROMERO – DJEFF – JAMIE 3:26 – CHILDREN OF ZEUS – MELON BOMB
FALAMOUR – DAN SHAKE – SHIMZA – BYRON THE AQUARIUS- RICH MEDINA – JOHN MORALES
MANOO – MAFALDA – NIK MOSS aka GROOVE ASSASSIN – GREG GAUTHIER – NATASHA DIGGS
AFSHIN – FLOYD LAVINE – GET DOWN EDITS – DJ MINCO
RONNIE HEREL – TERRY JONES – CRAIG SMITH – SOULDYNAMIC – BOB MASTERS – DJ BIGGER
NEIL PIERCE – MARK STONE – DAVIDE FIORESE – ABEL – JAMES MORGAN – NATASHA KITTY KAT
BEN BROPHY – LIL STEVIE – RONAN GUTMAN – GORDON MAC – ADAM GIBBONS – BRIAN POWER – COLIN WILLIAMS
Buy tickets here: suncebeat.com/tickets/ 
For more information please visit: www.suncebeat.com
Set to return to Croatia's picturesque setting of The Garden in Tisno next 24 – 31st July, SuncéBeathave delivered the first phase of names for their special 10th anniversary edition. An array of iconic artists across the past and present of house, techno, disco, and soul will be in attendance, with the likes of Kerri Chandler, David Morales, Kenny Dope, and Joey Negro all confirmed to take the helm across the course of the week-long festival.
Drawing in a diverse crowd from all over Europe and beyond, SuncéBeat prides itself on the inclusive family-feel of the boutique event, with many of its headliners classed as extended family. Joining the varied bill for the 2019 edition are New Yorkers Tony Humphreys and Hector Romero, who will also be joined by fresh innovative acts such as the widely acclaimed Children of Zeus and Moodymann-approved Dan Shake. With Canadian producer and DJ Jayda G, and DJEFF – previous guests at SuncéBeat 2018 – also in attendance, SuncéBeat continues to innovate and set the tone for forward-thinking, progressive events on the beautiful Dalmatian coast.
With a range of special live performances still to be announced for the event, SuncéBeat is curated by the same team behind the much loved Southport Weekender event series who bring over 30 years of musical knowledge to their Croatian counterpart.

Its co-founder Alex Lowes explains:

"If someone told me 10 years ago that I would be doing a festival in Croatia and running the Southport Weekender in Finsbury Park, I would of said you're mad. But here we are, 10 years on, and I'm so so excited for SuncéBeat this year – Tisno is such a beautiful place. There's a really exciting line-up coming,first wave is out now and there's a lot more to be announced. We know that SuncéBeat's 10th anniversary is going to be off the hook!"
Taking place near a private sandy cove – a perfect location for relaxing during the daytime, and nights full of partying – ticket holders will also have access to the legendary Barbarella's nightclub, while the festival's infamous boat parties will go on sale later in the year. With demand for tickets even hotter than ever, festival goers can beat the price rise by making a downpayment of just £25, locking in the current price of £165 which includes all 7 nights all on site entertainment. With many more line-up additions to be announced, the 10th edition of SuncéBeat is shaping up to be the most spectacular so far!

Festival Info:

SuncéBeat Festival 2019
The Garden Tisno, Croatia
Website: www.suncebeat.com
Facebook: @SUNceBeat
Twitter: @SUNCEBEAT