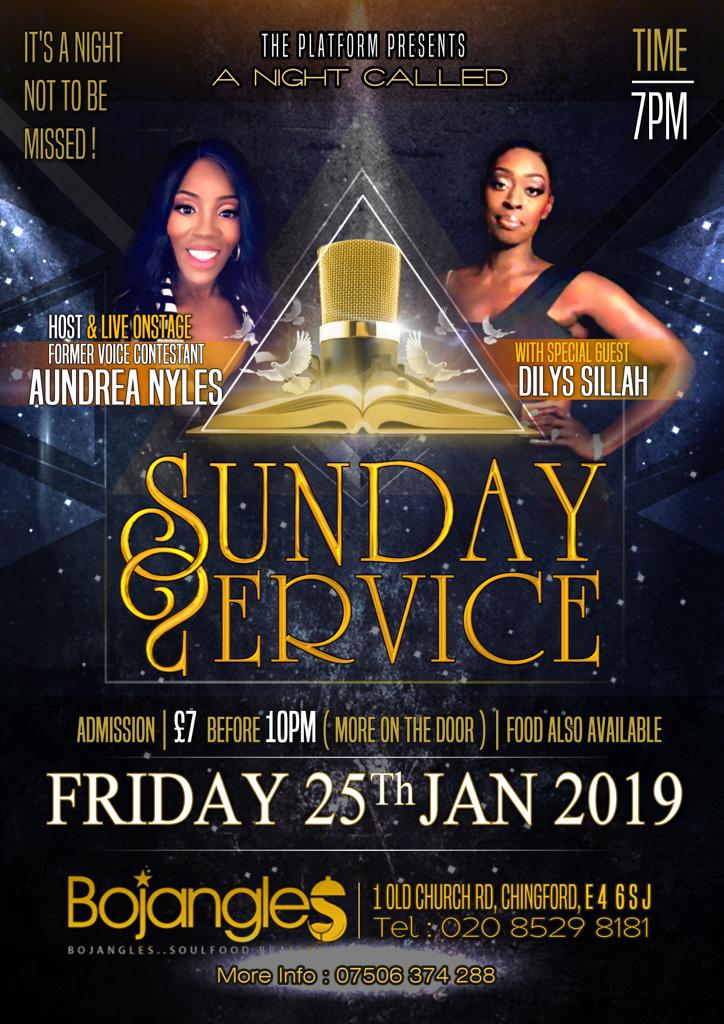 Sunday Service by the Platform
On Friday the 25th of January 2019 The Platform presents their first night out in town – "Sunday Service"
Hosted by former the Voice UK's contestant Audrea Nyles with live performances by herself and more!
Accompanied by the amazing Smiles Collective Band
And on this night only featuring Special Guest Dilys Sillah; a former inspirational singer, and an Open Mic Night!
DJs go on till 2AM with delicious eats by Bojangles!
Advanced admission £7 (Before 10PM) £10 thereafter
From 9PM to 11PM
Doors open at 7PM
For more information call us on: 07506 374 288/ 0208 529 8181
#aundrea #nyles #aundreanyles #gospelmusic #inspirational #dilys #sillah #dilyssillah #Music #soulmusic #reggae #qualitymusic #slowfood #caribbeanfood #chillnights #bojangles #qualitypeople #qualityfood #vintage #mellow #soul #grownfolk #nostalgia #ladiesnight #ladiesnightout #ladiessoulnightout #cocktails #ladiescocktails #drinksforladies #cocktailsforwomen #girlsnight #girlsnightout #liquor #selfie #sexy #tagafriend #happyhour #nightlife #thursdaynight #ladiesthursdays #bachelorette #bacheloretteparty #wine #partynight #social #tagafriend