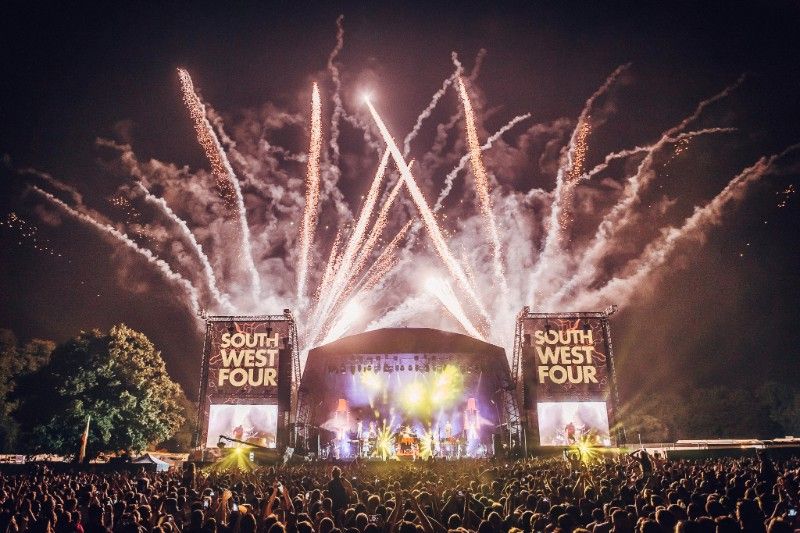 SW4 2017 launch with Pendulum live, Sigma, Duke Dumont, Sigma, Mistajam + more
As South West Four takes a quantum leap into its fourteenth year, the biggest event in London's clubbing calendar now represents an August Bank Holiday weekend ritual for electronic music enthusiasts from all over the world.

Showcasing the greatest DJs and live electronic artists to ever step foot on the planet, plus arena hosts which no other UK festival can match, this year will mix state of the art production with increased sound levels that crowned last year's weekender as our most critically acclaimed (and LOUDEST) SW4 ever!

Set within the beautiful surroundings of Clapham Common on Saturday 26th and Sunday 27th August; immerse yourself within a parallel universe where electronic music always prevails! Where lifelong memories are forged and friends made for life. Where for two spectacular days, beaming smiles and sunshine, replace board meetings and deadlines and where a phenomenal al fresco atmosphere celebrates that final dance of the summer.

In 2015 South West Four successfully negotiated the return of Faithless, who returned to London amidst incredible demand and resulted in a rapid fire sell out. With SW4 2017 showcasing another reforming dance giant, we expect a similar result this time too, as phenomenal intrigue and a huge buzz is created amongst the dance community…
A jaw dropping live act, with an unparalleled reputation to destroy the world's greatest festivals and stadiums on the big occasion, South West Four is proud to present the return of Pendulum to the capital for one night only, in their first performance in London in over half a decade.

Having re-defined the concept of an electronic music album with 'Hold Your Colour' in 2005, this seminal release assured Pendulum their place in the dance music hall of fame. Six years later they headlined SW4 to critical acclaim, becoming the first drum and bass act to do so at a major London festival. Having disbanded soon after to concentrate on individual projects, Pendulum reform in 2017 to headline for a second time, harnessing the experience of this period away to develop an innovative new dimension for their 'Live' domain. Hence why this is considered not just one of our most significant bookings EVER, but one of the most talked about at any festival this summer.

Further increasing the magnitude of an earth-shaking revelation, this will be Pendulum's FIRST LONDON PERFORMANCE IN SIX YEARS! Scheduled to close our mammoth main stage on Saturday 26th August, this is no doubt the bands biggest ever London show to date – supported by colossal production and mindblowing visuals conceived for a heart thumping end to Day One.
SIGMA [LIVE], DUKE DUMONT, HANNAH WANTS, MISTAJAM, SONNY FODERA VS LOW STEPPA ALSO ADDED

From their humble beginnings performing in back rooms to headlining festivals and playing at the most prestigious venues worldwide, Sigma have truly reached the top of their game. The last couple of years have witnessed the duo produce back-to-back number one singles, pick up a BRIT award and embark on a sellout UK tour. With millions of fans globally waiting for their next hit single, the pair have the world in the palm at their hands. We cannot wait to welcome one of the most dominant and prolific acts in dance music right now to play a full live show at our 14th installment of SW4.

One of the most exciting and prolific artists of the last decade, British-Born, American based DJ Duke Dumont has been responsible for some of the most popular house tracks in recent time. His energy and unique productions such as 'I Got You' and 'Need You' have made Duke stand out in a fiercely competitive scene and he continues to deliver year after year. Stand out appearances at the world famous Amnesia in Ibiza and a sell out American tour means this man is one of the most in demand DJs on the planet.

The queen of dance music, Hannah Wants, simply knows no stopping. Bursting onto the scene a few years ago, Hannah continues her meteoritic rise to the top and is firmly established the dance music elite. A stellar residency at Together at Amnesia and countless sell out tours around the planet has seen her amass an army of fans worldwide and London is no different. Having debuted at SW4 in 2015 and attracting a huge crowd in the process, she will return in 2017 bringing her raw energy and excellent song selection to Clapham Common…

Tastemaker, DJ, broadcaster and producer are amongst the qualities MistaJam is known for. Jam has become THE voice of breaking brand new music and artists in the last decade and things are certainly continuing in that fashion. The London-man has become a household name and has been responsible for pushing all genres of music in this country from grime to house to hip hop via his outstanding BBC Radio 1 show. We cannot wait to welcome the SW4 regular back to the Common for him to do what he does best, rock the crowd!
Australian Sonny Fodera's distinguishable groovy house sound makes him stand out from the rest. A stellar year has seen him embark on a thirty-date tour spanning the UK, United States and Australia with the demand for the young producer not letting up. The same can be said about Low Steppa, the prolific UK producer has gone from strength to strength in the past 18 months with notable performances at the world famous Amnesia and Ministry of Sound. Both of these exciting acts will be making their SW4 debut as they come together for a highly anticipated back-to-back performance!
SW4 SATURDAY & WEEKEND PRE-SALE TICKETS RELEASED WEDNESDAY 18TH JANUARY AT 9AM

With a record breaking number of SW4 devotees signed up for our exclusive pre-sale, the demand for tickets to this year's Clapham Common extravaganza is going to be crazier than ever. On Wednesday 18th January at 9am, Saturday and Weekend pre-sale tickets will be released to those who have signed up via the SW4 website. Limited to 8 per customer these pre-sale tickets will be priced just £49.50 + BF and £99 + BF respectively and once sold will increase in price. If you plan to attend our 14th instalment, we highly recommend you secure the best-priced tickets on Wednesday morning. Following the pre-sale tickets will go on general sale on on Friday 20th January at an increased price.

Sunday only tickets will be available when we announce the 2nd day headliner.

Also for the first time ever, SW4 will be offering a deposit scheme where you can secure yourself a weekend or day ticket for only £20! These will work out more expensive than buying in one go but will allow you to be more flexible with your payments. This will involve a very simple 3-step process for each ticket type. The dates of the 2nd and 3rd payments will be outlined once the 1st payment is made. You have until Wednesday 1st March to take us up on this deposit scheme offer.

If you are yet to sign up make sure you join the thousands that have already by registering at www.southwestfour.com.
SW4 Saturday and Weekend pre-sale tickets released on Wednesday 18th January at 9am with priority given to registrars at www.southwestfour.com.
SW4 Saturday and Weekend tickets released on general sale on Friday 20th January at 9am.
SW4 Sunday tickets on sale soon