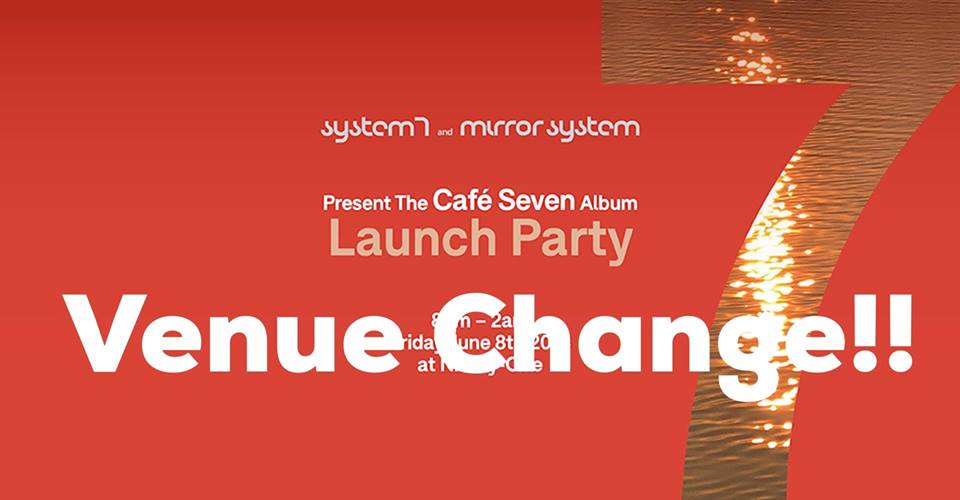 System 7 & Mirror System 'Cafe Seven' Album Launch Friday June 8th
System 7 announce a venue change for the Café Seven Album Launch Party which takes place now at Reina in Farringdon.
Compact but a fully fledged club venue with a great sound system, Reina features 2 rooms each with a bar. In the larger room check out DJ sets from Marcus Henriksson (Minilogue/Son Kite), Steve Hillage (System 7 DJ set), DJ Calemma, Miquette Giraudy (Mirror System DJ set) whilst in the second room sample chilled grooves and a Planetgong merchandise table.
System 7 are one of the UK's foremost and unique Live techno bands, hailed for their impressive earth-moving Festival sets,and work with some of electronic music's true innovators from The Orb to Richie Hawtin who remixed their incredible 'Alpha Wave' classic. Releasing a new album Cafe Seven' in June System 7 announce their Live dates for summer 2018 including the Cafe Seven Album Launch party on Friday June 9th at Reina in Farringdon.
S7 have a hugely busy summer with an LP Launch Party in London, playing the Berlin Mayday Celebrations (Free Party) – Germany – System 7 DJ set May 1st; playing at Orbfest (June 23rd) at The Roundhouse alongside The Orb, Leftfield and Ulrich Schnauss; touring Japan July 13-22nd and then heading to Hungry's Ozora Festival on August 2nd & 3rd.