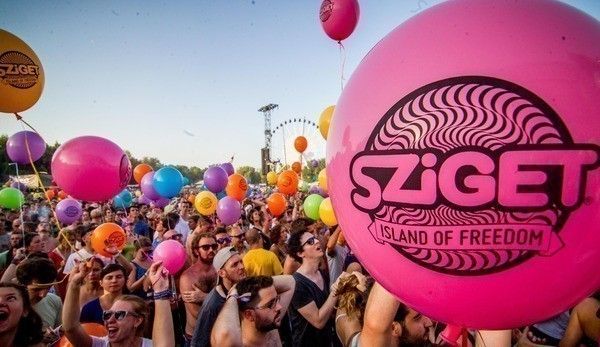 Sziget Festival 2014: The Prodigy, Lily Allen, Palma Violets and more!
More exciting acts for this years Sziget Festival who will perfrom on the 'Island of Freedom' at including The Prodigy, Lily Allen, Ska-P and La Roux. Taking place from 11-18 August, Sziget is hosted on a beautiful green island in the middle of Budapest and is the perfect mix of a summer holiday and an unforgettable festival experience.
Besides the fun, art and activities, Sziget has already revealed some of the biggest names in music for their 2014 line-up, such as Queens of the Stone Age, Macklemore & Ryan Lewis, Skrillex, Placebo, Klaxons, Stromae, Calvin Harris, Imagine Dragons, Bastille and now they have announced even more! What more could you ask for!?!
The Prodigy is a must-have star for any festival main stage, after 25 million sold albums and an amazing popularity through the years. Probably the most successful British electronic formation is once again performing at Sziget. Young, energetic, extravagant pop singer, Lily Allen, will also perform at Sziget Festival. She released her newest single last year in November, called "Hard Out Here", and while she is still working on her third studio album, we already know the name of it 'Sheezus'. Lily was also named 'Best Solo Artist' at the recent NME Awards.
La Roux and the voice of Elly Jackson is known by all pop music fans. The synth-pop lady and her partner Ben Langmaid, the producer-songwriter-keyboard player, are one of the most popular pop music productions of the 2000s. The popular ska-punk band from Madrid, Ska-P, will also hit the stage of the Island of Freedom. There are few bands that can be so visually stimulating as they are and this year we can check them out with our own eyes at Sziget.
Miles Kane, former frontman of the The Rascals and co-frontman of the Last Shadow of Puppets, is now successfully performing his solo career. He has released two albums so far, the one released last year 'Don't forget Who You Are' was a great success. Simon Green, AKA Bonobo, is an artist very much at the peak of his significant powers. His 2010 album 'Black Sands' was the high watermark of his career to date; a masterful record, marrying Green's inimitable melodic genius to cutting edge electronics, bass and drums.
Palma Violets are one of the most promising post-garage rock bands today. The first single "Best of Friends", a raucous and exhilarating blast of primal rock'n'roll, was voted NME's song of the year for 2012. Electronic musician and producer, Vincent Belergey, known as Kavinsky, is one of the most important and creative star of the French electronic scene. His latest album,"Outrun", is received immediately as a success and he started a world live tour called OUTRUN LIVE TOUR and Sziget is a part of it.
Fink is a British singer-songwriter, who is known for his creative lyrics, sophisticated and romantic songs and his charismatic performances. He has released five albums in the last ten years and last time he visited Sziget with his album 'Perfect Darkness' two year ago. Jagwar Ma will be a real excitement at the Island of Freedom this year. The Australian trio of Gabriel Winterfield, Jona Ma and Jack Freeman make some kind of psychedelic dance music that mesmerizes the audience.
Stay tuned in the upcoming weeks as there are more names to come for the 2014 Island of Freedom!
Tickets & Travel
Festival passes available from 169 EUR (actual price depending on time of purchase and camping options). More information and tickets: www.szigetfestival.com
Travel options to Sziget include all possible methods, so you can come by bus, train, airplane, car, or even boat. Accommodation is also very easy to choose. Many of the festival goers will stay at the festival area in tents or caravans, but if you are not the camper type, you will find a huge number of hotels and hostels nearby.
About Sziget – Island of Freedom
Proud winner of the 'Best European Major Festival' award in 2011, Sziget Festival is one of the biggest multicultural events of Europe, starting in 1993 and now celebrating its 22nd edition. The festival attracts almost 400 000 fans from over 70 countries to a beautiful island in the heart of Budapest, providing a complete festival-holiday experience with non-stop party, great live concerts, a widely international community and all the touristic features the city has to offer.
Sziget is the Island of Freedom that could also be regarded as an independent state. It's many festivals in one, a week long non-stop event with approx. 50 program venues and around 200 programs daily. Performing bands range from the biggest names of the international pop/rock scene to stars of world and electronic music, but you will also find metal, folk, jazz, blues, alternative and even classical tunes, while you are wondering around the huge festival area.
Sziget is not just about music, as it offers several other cultural programs, like theatre, circus, or exhibitions. It also has a beach section where fans can truly enjoy the summer and the Danube. This is the only big festival where you will find authentic Roma music and even a gay-lesbian venue. And we shouldn't forget about the fact that the festival is in the middle of Budapest, a touristic city with a lively cultural scene, beautiful historic buildings, Turkish spas and special 'ruin pubs'.
The live coverage of the festival had a massive following of approx. 5 million viewers.