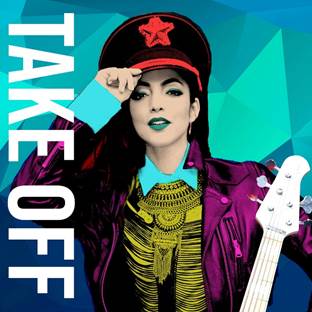 Alissia - Take Off
With over 2 million YouTube views, and a high-profile support slot on Talib Kweli's latest tour, 23 year old Alissia has been turning heads with her slick, modern take on classic funk.

Born in Geneva, and now living in New York City (via London and Milan), Alissia Benveniste was classically trained, and attended Boston's prestigious Berklee College of Music. While studying there, she first picked up the bass, and Alissia's sound as we know it was born.

With the help of her insanely talented band The Funketeers, Alissia's music takes its cues from godfathers of the genre such as Sly and the Family Stone or Parliament, but there are hints of more recent afropop forward thinkers like Janelle Monae.

Underpinned by Alissia's elastic bass playing, 'Take Off' is a virtual masterclass in what the low end is capable of. Complete with call-and-response vocals straight out of Prince's playbook, and hyper-catchy space-age synths, it's an irresistible call to party.

With songs that sound like they could have originated from a loose-limbed James Brown jam session, Paisley Park or an as-yet unexplored future, Alissia is truly reinventing funk for the 21st century.