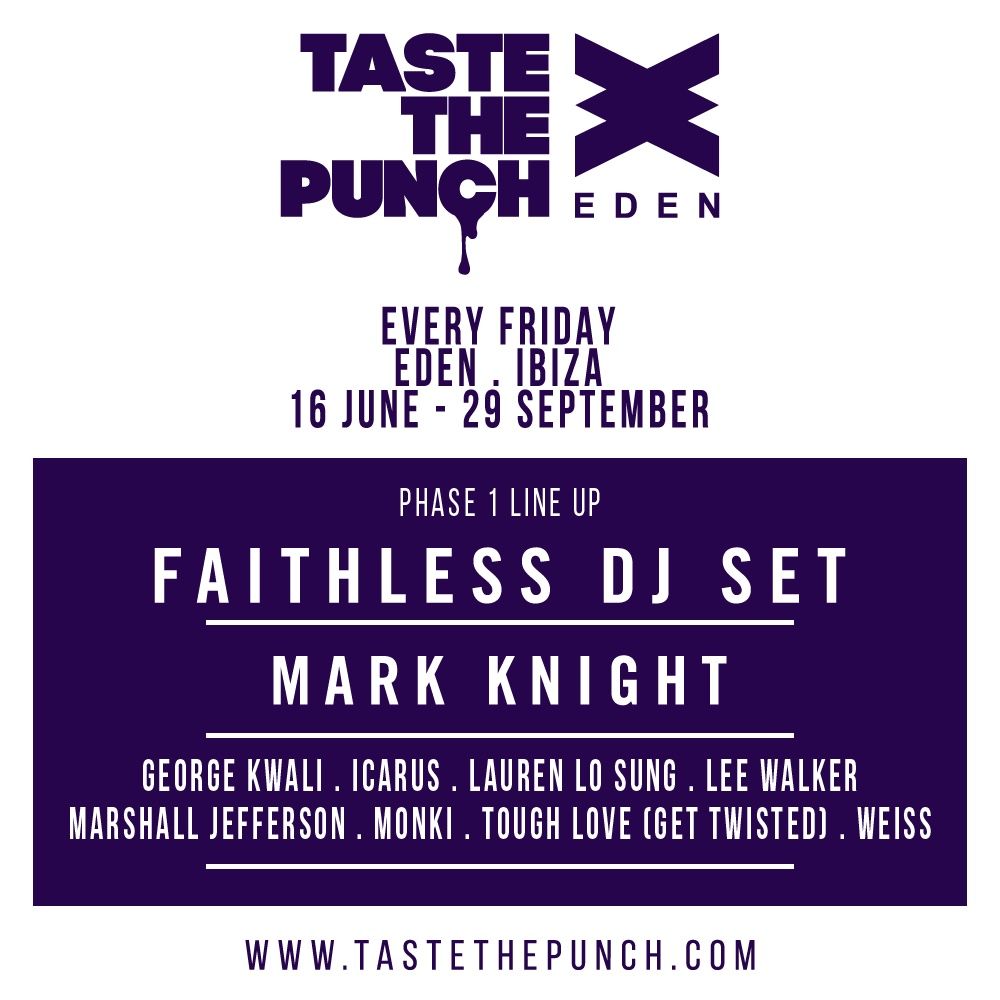 Taste The Punch Announce Phase 2 Acts For Fridays At Eden Ibiza
Dancefloor heroes DJ Sneak, Chus & Ceballos, Prok & Fitch, Riton, Camelphat, Format: B, Hauswerks, Toy Boy & Robin, Ellie Cocks, Christian Neilsen and Al Gibbs, join a Taste The Punch Ibiza roll call that includes Mark Knight, Faithless (DJ Set), Laidback Luke, Marshall Jefferson, Tough Love, George Kwali, Lee Walker, Blaise, LiTek and more…
Taste The Punch have announced the second phase of artists all set to tear up the dancefloor at Eden Ibiza every Friday this summer from 16th June to 29th September. The latest names to be revealed include DJ Sneak, Chus & Ceballos, Prok & Fitch, Riton, Camelphat, Format: B, Hauswerks, Toy Boy & Robin, Ellie Cocks, Christian Neilsen and Al Gibbs. These proven crowd-pleasers join a list of quality artists already announced, including Mark Knight, Faithless (DJ Set), Laidback Luke (exclusive techno set), Marshall Jefferson, Tough Love, George Kwali, Lee Walker, Blaise, LiTek and more. Tickets are available for just £25 in advance from www.tastethepunch.com.
Chief amongst the new names to be announced is the legendary DJ Sneak. A larger than life character who was part of the early Chicago scene, his label I'm A House Gangster is behind many seminal house anthems, and the man himself has had many hits over the years, from 'You Can't Hide From Your Bud' to more recent efforts like 'Just Play The Music.' He still lays it down like no other all over the world and plays Taste The Punch on 8th September.
Next up is Chus & Ceballos, the taste making tech house duo behind the hugely influential Stereo Productions label who play on August 25th and September 22nd. The prominent pair publish their own weekly radio show and podcast as well as DJing around the world from BPM to the WMC, and as well as solo tunes they also link with big stars like Prok & Fitch, who themselves play on August 4th and September 29th. The UK pair release on labels like Toolroom and Suara and count floor wreckers like 'Pitch Roll' and 'Double Vision' amongst their arsenal of tunes.
On July 14th, UK bass house man Riton is in town and will bring with him hits like 'Rinse & Repeat' and 'Betta Riddim' real dancefloor slayers, as are his big remixes of Disclosure and Frances. Another UK outfit, Camelphat currently riding high with the 'Hangin With Charlie' EP on the legendary Relief Records, then lines up on September 22nd.
Fans of German pair and scene veterans Format: B then need to put September 29th in the diary. The Formatik Records bosses will roll into town with their funk driven tech house sounds and driving drums and are sure to get people in a spin.
On June 30th, August 18th and September 1st, Hauswerks will join those already announced. In recent times this house sensation has released with or for ViVa Music Ltd, Moda Black, Groove Armada, Secondcity and Doorly and knows how to cook up some truly slinky grooves. Meanwhile, July 28th will bring Toy Boy & Robin–a relatively new but high impact house duo from labels like Sccucci Manucci–and then on August 18th Abode London Resident and Reprezent Radio host Ellie Cocks joins the fun.
Danish DJ and production machine Christian Nielsen is the new name added to the June 30th party and is known for his fresh and modern deep house on labels like Dance Club, Play It Down and Glasgow Underground. Elsewhere, award winning Dublin DJ and FM104 host Al Gibbs plays on August 4th, Too Tall plays twice in both August and September and Taste The Punch residents and able house selectors Nigel Clarke and Paul Malcolm complete the line-up for the closing party on September 29th.
In just four years, Taste The Punch has established itself as one of the most authentic party experiences in the UK. Founded by a pair of brothers in Luton, guests like Pete Tong, Claptone, Annie Mac and B. Traits all headlined the party which last year went on to host their own stage at Eastern Electrics. This first Ibiza season is sure to find them bring something new and fresh to the island, as well as legions of hardcore regulars who know exactly what the brand stands for.
Taste The Punch bring 'the punchbowl' to Ibiza and with the new additions announced today, this is shaping up to be one of the most talked about new parties on the White Isle this summer.
LINKS
www.tastethepunch.com
www.facebook.com/TasteThePunch/
www.twitter.com/tastethepunch
www.instagram.com/tastethepunch
EVENT DETAILS
TASTE THE PUNCH
EDEN, SAN ANTONIO
16th JUNE to 29th SEPTEMBER
DATES
16th June: Opening Party
23rd June: Get Twisted Label Showcase w/ Tough Love, George Kwali, Blaise, LiTek
30th June: Laidback Luke (exclusive techno set), Lee Walker, Christian Nielsen, Hauswerks
14th July: Mark Knight, Weiss, Lee Walker, George Kwali, Riton
21st July: DJ Sneak, Marshall Jefferson, Lauren Lo Sung, Call Me Kay, Harks
28th July: Laidback Luke (exclusive techno set), Lee Walker, Toy Boy & Robin, Nigel Clarke
4th August: Faithless (DJ set), Mark Knight, Prok & Fitch, Al Gibbs, Too Tall
11th August: TBA
18th August: Monki, Ellie Cocks, Lee Walker, Hauswerks, Too Tall
25th August: Chus & Ceballos, Too Tall
1st September: Faithless (DJ set), Icarus, Lee Walker, Hauswerks, Too Tall
8th September: DJ Sneak, Hauswerks, Too Tall,
15th September: TBA
22nd September: Chus & Ceballos, Marshall Jefferson, Campelphat, Too Tall
29th September: Closing Party — Faithless (DJ set), Prok & Fitch, Format:B, Riton, Nigel Clarke, Paul Malcolm, Too Tall
TICKETS
www.tastethepunch.com
Early bird tickets now available: £25 (Prices will rise)