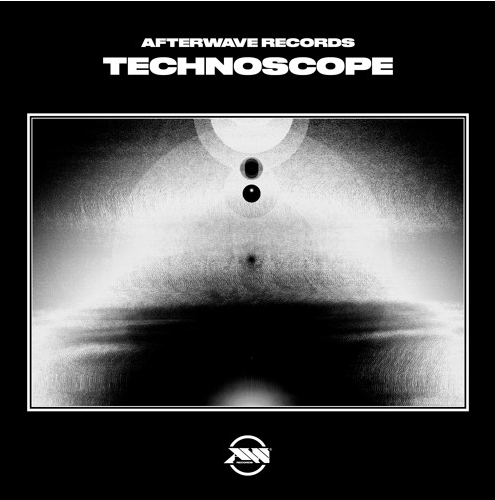 Various Artists - Technoscope
Founded in 2016, Brooklyn-based techno label Afterwave Records announces its first compilation "Technoscope" dropping Oct 21 and offers up a 15-minute abum "mini-mix" streaming here. You can also check out the hypnotic new visuals teasing the release .
WithTechnoscope, Afterwave Records serves up a short & sweet debut compilation of straight-up late-night club arsenals by the label's talented cast of Brooklyn-based beatsmiths. The six-track EP lures listeners in with "Grains Of Sand" by Brooklyn artist Buzzi featuring vocals by Human A (Heather Celeste), a stripped-back production with spellbinding composure. By joining forces as Power Outage, label co-founders Krames and William B conceive "Imagine" that hits hard with disorienting synths and pounding percussion. Krames' "Acid Drip" is a trippy little track that lives up to its name with acid-tinged elements and immersive, funky atmospheres. "A Fireside Chat" evokes a sense of darkness enveloping Kleinfeld's signature meticulous Detroit-leaning techno production, taking the listener on the sonic equivalent of a haunted roller coaster ride. William B's "I Don't Want To Dance" is an instant classic, with hypnotic vocals by Krames repeating "I don't want to dance, but I have to", the song becoming gradually harder and more intense the longer it plays on. Katie Rex's "He's A Cancer" ends on a high note with dizzying, dissonant beat work and a simultaneously haunting and uplifting melody.
Label co-founder Krames discusses the inception of Afterwave Records with his label partner (and fellow Afterwave artist) William B: "William B and I became engulfed in the world of modular synthesizers and our intrigue into the history of this instrument inspired us to build modules and perform live sets. The idea of Afterwave Records came about as an outlet to share the music both us and our collective of artists were making and playing at our parties in Brooklyn; as well as, to be able to release both modular synth music and techno for the dance-floor on the same label."
Also stream a new live set from Afterwave's label founders Krames B2B William B from free techno launch party at Bossa Nova Civic Club this week here.
Tracklist – Technoscope Compilation:
1. Buzzi Ft. Human A – Grains Of Sand
2. Power Outage (Krames & William B) – Imagine
3. Krames – Acid Drip
4. Klienfeld – A Fireside Chat
5. William B – I Don't Want To Dance
6. Katie Rex – He's A Cancer