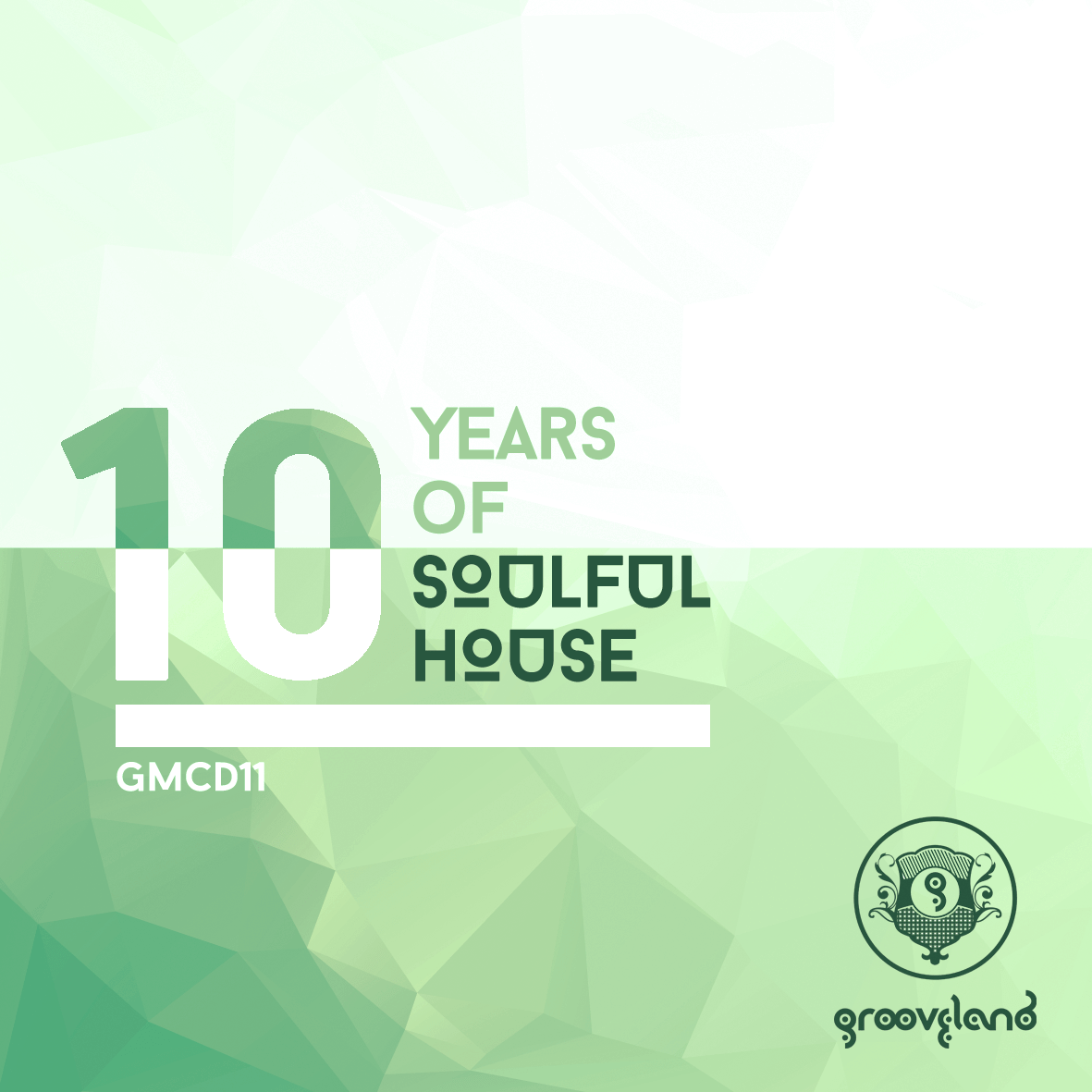 Grooveland - Ten Years of Soulful House
Brazilian House Music Label Grooveland is the brainchild of producers eDeep, Edground and Wagner Dalcin, and the label was formed in 2006. Grooveland is a name that is synonymous with quality Brazilian dance music, showcasing a wide range of artists and producers, and focusing on the unique Brazilian House sound. This compilation highlights the last decade of Grooveland's Soulful House genre and is a fine collection of work.
The opening two tracks come from Ars Domini – consisting of vocalist and producer Ricardo Cassal, and DJ and producer Glauco Antonioli. On the scene for more a decade, DJeff Afrozila has Portuguese, Angolan and Cape Verde heritage which shines through in his unique afro-latin production style, and his remix of Take It Back with its lilting beat and gentle percussive touches is a memorable summer tune. Rob Hayes' take on The Real Life changes up the ambience with a moody dance beat and soft keys.
The next trio of tracks are the creation of BSC (Brazilian Soul Crew) starting with You & Me featuring Jessi Colasante with Martyn Thompson (aka Jack Fresh/Kula) on production. This features sultry vocals and an ethereal ambience. Then comes the pumping beat of the Eddie Valdez mix of Jump featuring Allegra. The last of the trio is the mesmerising and minimal afro cut Eu Soul featuring the spoken word vocals of Andre with Nastee Nev on remix duties.
Track six is Summer Nights from Carlos Vargas featuring Danny. One for the lovers, this is a sweet song with nice sax touches and gorgeous piano. This is followed by the atmospheric and haunting vibe of Sweet Ebony from Deep Soul which features Robert Carvalho on vocals and guitar.
Track eight, Take Me Home from DJ Garphie and George Sida has a classic feel that the listener will want to sing along to. So Lonely from Domenico Navarra features the sweet and sensual vocals of Monique Henry, and London maestro Booker T treats us to the Kings of Soul vox mix with its catchy beat and skilfully placed keys. In contrasting style, Have To Talk from Jon Silva has 60 Hertz Project performing a swinging afro-influenced remix.
Hernan Cronner's mix provides the deep dance groove of Going Nowhere from Matthew Bandy and Johnathan Houston. This track is one of the album's real highlights with its bouncy uplifting beat, strong vocals and captivating lyrical story. Next up, Michele McCain brings us Ocean Breeze (Monodeluxe Sunlight Remix) which has a dreamy, intoxicating late night feel.
Track thirteen is the Aphrodisiax Vocal Mix of Wishy Washy Guy from Nick Doe feat. Shereen Shabana. Aphrodisiax are the talented duo Sy Sez and Gavin Peters, and they bring a lively and addictive club vibe with deep keyboard touches. This is followed by another dancefloor triumph from SoulBasics featuring the mellow vocals of Kyla Sexton, entitled Rest Your Mind (Douglas Marques Soulwerk Mix). Next in the mix is Steven Stone with the unique vocals of Elisangela, a track entitled Alucinada de Prazer (Stereo Mutants Club Mix). The title means 'Hallucinated Pleasure' and it certainly evokes a dreamy and carefree feel which will relax the mind of every listener.
Track sixteen is a hypnotic hip-rocking afro vibe from Sugar House and is called Hotel Piano. Next in the sequence with its gorgeous piano intro is a superb latin treat entitled Samba of Love (Flash´N´Fox Soulful Mix) from Sam Qs featuring Taylor Jackson. Bringing us more sultry, soulful vocals and atmospheric deepness, we have the Deepo Deep House remix of Wondering from Citysounds! featuring award winning UK songstress Natasha Watts. This is followed by another from Deepo, a jazzy instrumental entitled Get Out (Original Mix).
Number twenty on the album comes from Needless – the silky and mesmerising Unnamed Fellings. This is followed by a contribution from talented female UK producer Paris Cesvette – Come Back (Club Mix) is another track which features Robert Carvalho and has a warm sexy club vibe. The album closes with an instrumental laid back jazzy sax cut from Saliva Commandos called Push That Jazz.
This album showcases many different performances and production styles and is a treat for all lovers of Brazilian House music. Passionate, warm and inviting, this album will encourage you to dance and sway, taking you on a journey of Brazilian summer sunshine..
By Sue McDonald (Twitter: @SueVMcDonald)
© Sue McDonald 2016. Unauthorized use and/or duplication of this material without express and written permission from the author and/or owner is strictly prohibited. Excerpts and links may be used, provided that full and clear credit is given to Sue McDonald with appropriate and specific direction to the original content.