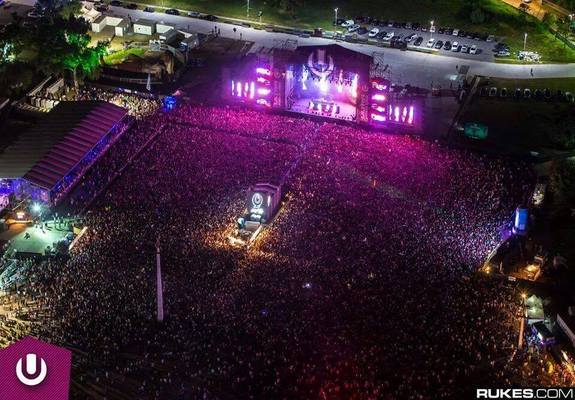 THE ALL-INDEPENDENT ULTRA WORLDWIDE CONTINUES TO BREAK RECORDS
ollowing the truly remarkable, record-breaking success of its first outing in Cape Town and Johannesburg, South Africa on the 14th & 15th February (the largest electronic festival ever to take place on African soil), there was no respite for the world's most international festival brand, as ULTRA WORLDWIDE landed in the Argentinian capital just one week later for the 3rd annual instalment of ULTRA BUENOS AIRES!

Set across two huge days – Friday 21st & Saturday 22nd of February – at the legendary Ciudad Del Rock in Buenos Aires, over 70,000 pumped-up party people from across Argentina, South America and beyond witnessed some truly earth-shattering sets from some of the world's most in-demand DJs, including TIESTO, HARDWELL, NICKY ROMERO, PAUL VAN DYK, SHOWTEK and STEVE AOKI.

Breaking records of its own, ULTRA BUENOS AIRES in fact became the most streamed festival in Argentina's history last weekend as over 2 MILLION viewers tuned in to watch the live stream on Clarin.com – official media partner for the South American festival.

What's more, with over 260,000 tweets across the 2 days, #UltraBA became the #1 globally trending topic on Twitter on Saturday 22nd February, as festivalgoers and onlookers alike from around the world took to the platform to share their excitement on what was a truly special weekend of partying.

Russell Faibisch – Founder, Executive Producer, President & CEO for Ultra Music Festival and Ultra Worldwide, shared his enthusiasm in saying:

"For me, Buenos Aires is one of my absolute favourite Ultra events and I'm delighted at how well our ethos has been received there over the past three years. It goes without saying we teamed up with truly incredible partners in: Nicolas Barlaro, Pety Peltenburg, Griselda Calderon, DJ Mag Latin America and the entire team at BAN. To be able to bring the ULTRA experience; the energy and magic around the world, from one continent to the next, with each edition being uniquely special in its own way, is something I am very proud of. I couldn't be more excited about a long future down in one of South America's most beautiful cities, and for the upcoming schedule of Ultra Worldwide."

Adam Russakoff – Executive Producer, Talent Buyer and Director of Business Affairs for Ultra Music Festival and Ultra Worldwide added:

"It was always going to be a big challenge hosting two huge events across two continents in just two weekends, but credit to our local partners and everybody in the Ultra family, we're proud to have pulled off something very special indeed. Bring on Miami!"

Next up for ULTRA WORLDWIDE, arguably the most successful independent festival brand in the world, is of course its 16th annual flagship event, ULTRA MUSIC FESTIVAL MIAMI. Taking place from the 28th–30th March at its stunning waterside home of Bayfront Park in Downtown Miami, fans can expect a whole NEW LEVEL and a NEW EXPERIENCE combined with the most diverse array of electronic talent and the most technologically advanced stage designs and festival productions to be found anywhere on the planet. Limited GA tickets are still on sale here.

For up-to-the-minute information on Ultra Music Festival or any other Ultra Worldwide events, stay tuned to umfworldwide.com

About Ultra Worldwide™

ULTRA WORLDWIDE is the global brand of the World's Premier Electronic Music event ULTRA MUSIC FESTIVAL. An internationally renowned event that has taken place every March since its inception in 1999, Ultra Music Festival celebrated its 15th anniversary in Miami in 2013, by becoming the first ever major electronic festival to produce an event over two consecutive weekends. Boasting the hottest names and the finest talent to be found anywhere on the planet, Ultra Worldwide is now the most international festival brand in the world by far, as it continues to transport the unrivaled experience from its Miami flagship event to an ever-growing number of destinations and fans all over the globe. Add in their pioneering live stream, 'Ultra Live' and Ultra Worldwide is able to bring the festival experience online to over 11 million unique viewers globally.

Over the past 15 years, literally thousands of the world's most iconic DJs, producers and live acts have mesmerized audiences with awe-inspiring sets at Ultra events in Argentina, Brazil, Chile, Croatia, Ibiza, Korea, South Africa and of course Miami. Each new global edition has been founded on the same successful formula that has been perfected over 15 years in Miami, combining the most diverse electronic talent with the most technologically advanced, large-scale festival productions in the world.

In 2014, Ultra continues to push the boundaries, bringing its unparalleled combination of cutting edge production and the world's best electronic acts back to its previous strongholds and to new frontiers across the globe. With a brand new edition already complete in South Africa, and with a first Japanese edition due later this year too, 2014 will see Ultra in NINE COUNTRIES and FIVE CONTINENTS.