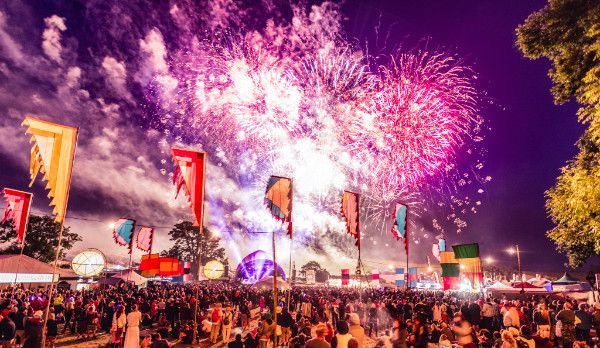 The Beat-Herder Festival announce initial line up for 2016
The jewel in the crown of Northern England's festival calendar, the beloved Beat-Herder Festival, is back with a much-anticipated cheer from the 12,000 set to attend. Following its huge 10th birthday celebrations last year, Beat-Herder returns with its first line up announcement for 2016.
What sets this festival apart from all the rest – in addition to its entirely hand-made site and unpretentious atmosphere – is its wealth of musical diversity. True to form, in 2016 Beat-Herder will once again celebrate all genres of music, with a genuinely diverse line up that features household names across rock, house, techno, dub, reggae, drum & bass, folk, indie – with even a spot of EDM and dubstep thrown in for good measure.
Taking to the main stage will be veteran Scottish psych-rockers Primal Scream, folk-pop troubadour and Rock & Roll Hall of Fame member Donovan, reggae legend Chronixx, who will perform with his Zincfence Redemption Band, high octane party upstarts Gentleman's Dub Club and firm favourites Dub Pistols.
Over at the magical Toil Trees stage, the house and techno heartland of the festival nestled deep in the woods, Beat-Herder will play host to some of today's biggest DJs, including Riton – whose current track Rinse & Repeat ft. Kah-Lo is riding high in the charts – Dirtybird co-founder Justin Martin, Andhim, Defected stalwart Sonny Fodera and a special Doorly & Friends takeover, featuring fellow Dirthybird ead honcho Claude VonStroke, Derrick Carter, Will Tramp and many more.
Beat-Herder's very own 60ft x 60ft rave Fortress – complete with its own lasers, ramparts and fire breathing turrets – will be headlined by LA-based dubstep superstar Jauz, who has been garnering support from the likes of Skrillex, Zedd and Diplo. Living ragga legend General Levy is also confirmed for The Fortress and will no doubt bring his encyclopedic knowledge of ragga, jungle and dancehall to the Ribble Valley this July.
Originating from roots as a free rave on the Lancashire moors in 2006, Beat-Herder Festival has grown to where it is today thanks to a swift word-of-mouth growth and a devout army of fans who come back year on year. Despite its increasing popularity, the organisers intentionally cap the tickets at an intimate 12,000 to maintain it's egalitarian feel. Beat-Herder is a friendly, barmy, hedonistic oasis hidden amidst the relative calm of the Ribble Valley.
So much more than a music festival, Beat-Herder houses a Working Men's Club, comedy stage, a tattoo parlour, yoga classes, workshops including knitting and woodturning, mass-participation games, pop-up performances, a fun-fair and many more surprises round every corner, giving the punter an entirely holistic experience.
The entire site is made from scratch, by hand, including the tunnels in the woods leading to secret raves (look out for a red telephone box…) and a chapel, complete with Sunday Service. With so many secrets round every corner, including a secluded on-site swimming pool nestled in the heart of the woods, it's no wonder the festival is such a special and magical experience for those lucky enough to attend, described by Gigwise as a 'northern secret and a magical wonderland.'
Reflecting the eclectic programming the festival is known for, Beat-Herder have also confirmed multi-instrumentalist and singer Cosmo Sheldrake, who creates beautifully unique folk-tinged tunes, Dr Alex Patterson of the legendary house group The Orb, breakbeat dance artist A.Skillz, Ram Records regulars, drum & bass metal duo Delta Heavy, house producer Jesse Rose and reggae singer/producer Kiko Bun.
Broadway Sounds will be showcasing their Australian psych-pop sound, with rising UK band Clean Cut Kid also on the billing. Bringing their 'hard-hitting klezmer' to Beat Herder are Leeds-based band Tantz, as well as Irish grunge-pop outfit Otherkin. On the Maison D'Etre stage – aiming to showcase a hand-picked selection of upcoming and unusual artists – are guitarist and singer Louis Berry and electro-pop duo Cash and David.
Stay tuned for more exciting line up announcements to come…
RIBBLE VALLEY, LANCASHIRE
15TH – 17TH JULY 2016
www.beatherder.co.uk
PRIMAL SCREAM
CHRONIXX & ZINCFENCE REDEMPTION
DONOVAN
ANDHIM
CLAUDE VONSTROKE
DERRICK CARTER
CLEAN CUT KID
DOORLY
DUB PISTOLS
EASY STAR ALL STARS
GENTLEMAN'S DUB CLUB
GENERAL LEVY
FORMAT: B / JAUZ / JESS ROSE / JUSTIN MARTIN
MARSHALL JEFFERSON / RITON / SONNY FODERA
A.SKILLZ / BEATANGERS / DELTA HEAVY / DR ALEX PATTERSON (THE ORB) / KRYSKO / MOOQEE / UTAN SAINTS / WILL TRAMP / BROADWAY SOUNDS / CASH + DAVID / CAPTAIN HOTKNIVES / COSMO SHELDRAKE / FORMATION / KIKO BUN / LOUIS BERRY / OTHERKIN / TANTZ
DOHNUT / ED STONES & THE BD3 / EDDIE EARTHQUAKE & THE TREMORS / FANDJANGO / THE FOLKESTRA / FOXES FAUX / J-BEAR & THE GIANTS / PETE FOXON'S SOUL TRAIN / RARE ELEMENT / RUBBER KAZOO / FATHER FUNK / JAMIE BERRY / JAY NEWMAN / MAFIA KISS / NICOLA BEAR / SKAPES