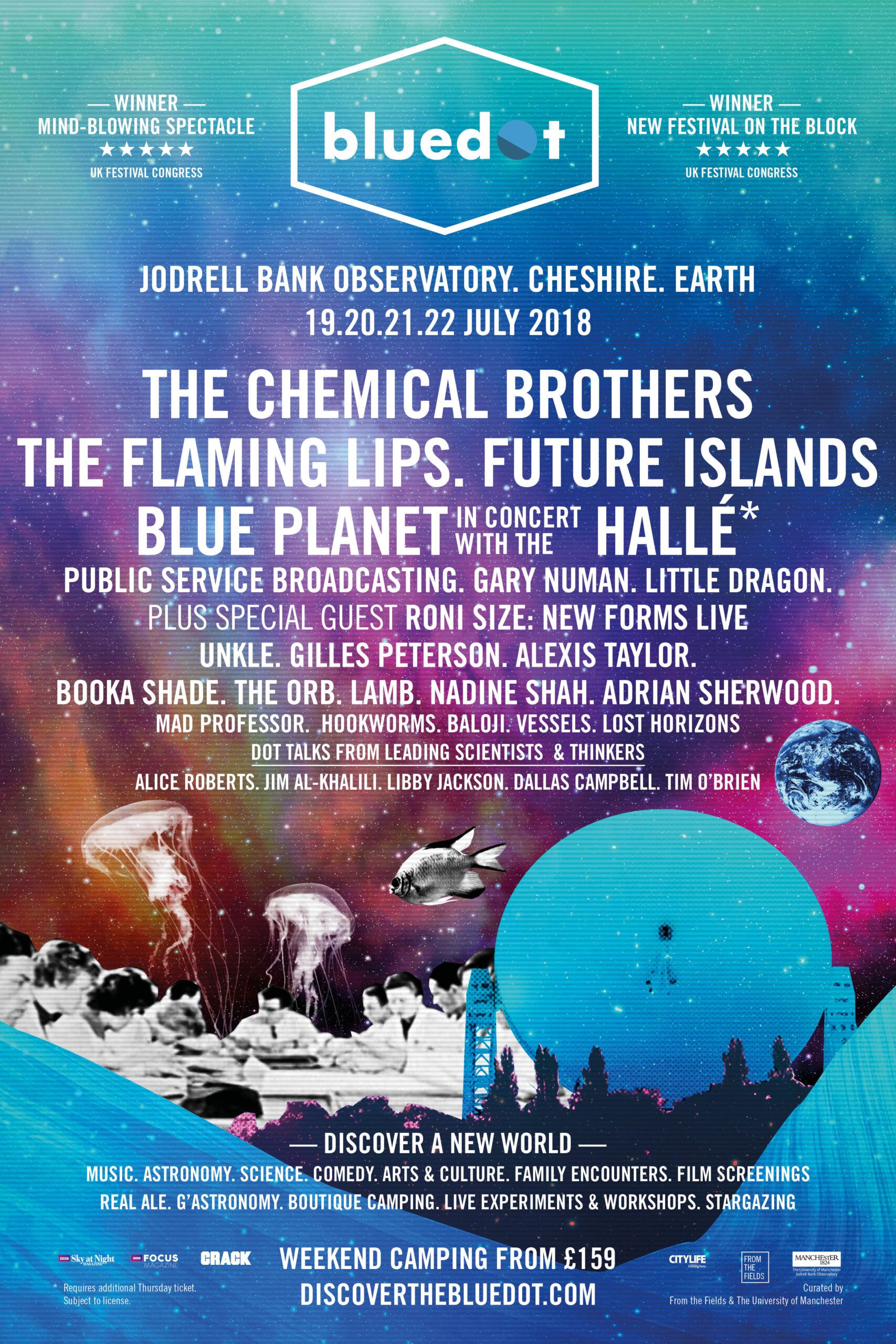 The Chemical Brothers, The Flaming Lips & Future Islands Headline bluedot 2018
Award winning festival bluedot returns to the incredible Jodrell Bank Observatory, home of the iconic Lovell telescope for a weekend of deep space discovery and superlative sounds. A truly stellar line-up of music featuring 2018 headliners The Chemical Brothers, The Flaming Lips and Future Islandscompliments a ground-breaking programme of live science experiments, expert talks and immersive artworks for one of the most unique festival experiences in Europe.
The Chemical Brothers have soundtracked countless euphoric nights for nearly three decades and play a very special UK show at bluedot. Born out of the late-80s Manchester scene, their arsenal of hits is unparalleled – from 'Hey Boy Hey Girl', 'Block Rockin Beats', 'Galvanize', and 'Do It Again', 'Go' and 'C-H-E-M-I-C-A-L', Tom and Ed continue to lead the way in progressive electronica. With one of the most potent live shows on the planet with a truly spectacular visual element, their return to the live stage is destined to be out of this world.
Needing no introduction, American champions of psychedelic pop The Flaming Lips join the bluedot line-up and return to Jodrell Bank, having performed a landmark show at the observatory seven years ago. They return with their acclaimed, euphoric live show and their huge catalogue of weirdo anthems.
Since bursting into the public consciousness with a landmark performance of standout hit 'Seasons (Waiting On You)' on US television, Future Islands have established themselves as nothing short of one of the most incendiary live acts on the planet with one of the most animated frontmen in the universe. They'll be bringing their incredible latest album 'The Far Afield' to bluedot for a simply unmissable set.
The award winning bluedot festival will be opening its doors for the first time with Blue Planet in Concert, performed by the Halle to kick off a brand new family four-day format*. The show combines live music against a backdrop of remarkable footage from the original Blue Planet 2001 television series produced by the acclaimed BBC Natural History Unit.
Conducted by renowned composer George Fenton, the Halle Orchestra will perform the internationally, critically acclaimed concert version of the original Blue Planet, promising a unique and awe-inspiring spectacle in HD, exploring the vast oceans on our pale blue dot, and the challenges we face for the future.
Elsewhere Public Service Broadcasting, Gary Numan, Little Dragon, Roni Size: New Forms Live, Gilles Peterson, Unkle, Booka Shade, The Orb, Adrian Sherwood, Mad Professor, Alexis Taylor, Nadine Shah, Hookworms, Baloji, Vessels, Lost Horizons, Langham Research Centre, Andy Smith's Reach Up Disco Wonderland, Human After All (A Tribute To Daft Punk), Will Tramp, To Kill A King, Warm Digits, Snapped Ankles, Park Hotel, Akdk, Henge, Future Get Down, Husky Loops, Pink Kink, Jw Ridley, Pearl City, FEHM, Speakmansound, Space Cassette Takeover, Age Of Glass, Barberos and Talos 400 join the biggest bluedot musical lineup to date.
Festival Director, Ben Robinson says:
"Heading into our third year we really wanted to go above and beyond and we're absolutely delighted to announce Blue Planet in Concert for our new Thursday night opening.*
"Our mission is to not only erode the boundaries between science, culture, art and technology but to also highlight the beauty and fragility of our planet Earth, and what a better way to achieve this by opening proceedings with such a remarkable and enlightening spectacle. It's going to be truly incredible and a real festival highlight.
To be able to offer to these curious minds the return of The Flaming Lips is one thing but to set the stage for The Chemical Brothers to showcase their innovative and ever evolving artistry as both musical innovators and purveyors of world class light and visual stage productions is a true honour and will be a weekend not to miss.
The full line up of musical acts for this year is truly spectacular with so many innovators and diverse sounds and shows throughout the weekend."
With science, art and culture at the heart of the bluedot experience, this year's programme will once again provide unique experiences for the whole family with a series of talks from an incredible lineup including physicist and broadcaster Professor Jim Al-Khalili (author of many popular science books including the Ladybird book of Quantum Mechanics, and presenter of BBC Radio 4's The Life Scientific and TV series including "Gravity and Me" and "Light and Dark"), academic, writer and broadcaster Professor Alice Roberts (author of books including Tamed: 10 Species That Changed Our World, and presenter of TV programmes including Coast, Digging for Britain and Ice Age Giants), physicist and engineer Libby Jackson (Human Spaceflight and Microgravity Programme Manager at the UK Space Agency and author of A Galaxy of Her Own), biologist and conservationist Professor Dave Goulson(founder of the Bumblebee Conservation Trust) and TV presenter and author Dallas Campbell (author of Ad Astra: An Illustrated Guide to Leaving the Planet and presenter of many TV programmes including City in the Sky and Horizon).
With the full lineup still to be announced, this year's rich culture programme includes talks, screenings and Q&As from the likes of Michael Cumming, A.C Grayling, Jana Winderen, Jez Riley French, Dawn Scarfe, Sonia Levy, Jo Langton, Heather Ross, Emily Richardson, Phoebe Riley Law and Greta Santagata.
There will also be exceptional comedy from David O'Doherty, Cassette Boy, Simon Munnery, Gary Delaney, Jess Fostekew and more to come.
In the shadow of the Lovell Telescope, one of the world's most iconic research instruments, bluedot will explore the latest scientific discoveries from outer space and our planet. There will be talks from world-class scientists and thinkers, discussion of key issues such as climate change and the exploration of space, combined with an opportunity to ask the Big Questions of leading researchers. All backed up by a full family-friendly programme of hands-on science experiments and interactive shows. The truly unique venue is a 30 minute drive from Manchester City Centre, 10 minutes drive from Manchester Airport, and 2 hours from London on the train via Macclesfield.
Professor Teresa Anderson MBE, Director of the Jodrell Bank Discovery Centre says:
"The science and culture programme at bluedot is going from strength to strength. This year we are delighted to welcome some of the UK's best-known scientists and writers, discussing the latest developments in areas ranging from quantum biology to wildlife conservation."
Professor Tim O'Brien, Associate Director of the Jodrell Bank Centre for Astrophysics added:
"Bluedot has quickly established itself as a standout science festival. A unique opportunity to combine a love of music with curiosity about the universe, and all taking place alongside the fabulous Lovell Telescope – itself a symbol of humanity's ingenuity and will to explore. It's going to be another classic."
Full weekend camping tickets are now on sale and start from £159 outright cost or a £34.80 payment plan. Our boutique camping offers a vast and varied selection of luxury accommodation options for those who prefer an extra touch of comfort.
Getting to bluedot festival is easy. Just 30 minutes by car from Manchester City Centre, or 20 minutes by train from Manchester Piccadilly to Macclesfield Station. Or 10 minutes from Manchester Airport. Trains from London are direct to Macclesfield taking just 2 hours.
The full bluedot programme will be announced in the coming months. For more information and to purchase tickets, visit : www.discoverthebluedot.com