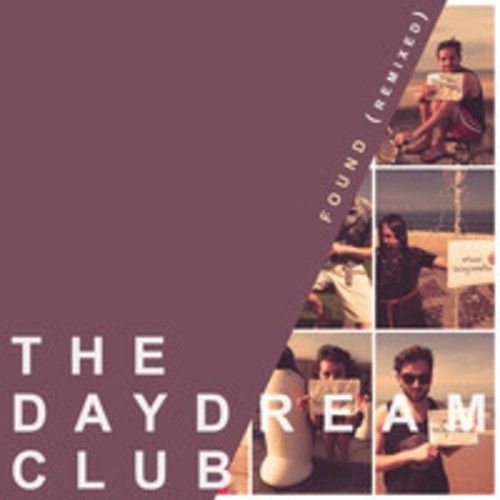 The Daydream Club – Found EP
Found is the rootsy folk-pop lead single from The Daydream Club's EP of the same name. The track which has already featured in acoustic form on Burberry's Youtube channel is exactly what The Daydream Club are known for, Adam Pickering and Paula Walkers trademark girl/boy harmonies that are found here layered authentically over southern tinged steel string and strums.
Found delivers equal measures of stomp along and intimate pullbacks in both the dynamics and the drive of the song all of which is tweaked with mastering from Pete Maher (U2 & The White Stripes).
Never settled with just one version of a song, Adam & Paula like to experiment with alternatives and re-imagine their own work. Found (Remixed) involves them stretching their musical legs and flipping the original songs on their heads. Expect funky "The Meters" inspired beats, shuffled pianos, vast soundscapes, deep bass and synths. Released on the same date as Found.
Adam and Paula who met while studying at Liverpool Institute for Performing Arts have already enjoyed significant support from Dean Jackson (BBC Nottingham) & Tom Robinson (BBC6 Music) and also provided the soundtrack to Burberry's 2012 eye wear campaign with their track 'Neon Love Song Part ll' . Following a recent hugely successful fan funding campaign that saw fans pledge money for songwriting lessons, bespoke cover versions and even a personalised song the band are now ready to launch this self produced EP with live dates through Oct / November.
Live Dates:
12th Oct: Supporting The South @ Apex, Bury St Edmunds
19th Oct: Supporting The South @ Warehouse24, Newcastle
25th Oct: London EP Launch @ Paper Dress Vintage, London
1st Nov: Supporting Bridie Jackson & The Arbour @ The Vic, Saltburn
3rd Nov: Supporting The South @ Waterfront, Norwich
7th Nov: Leicester EP Launch @ The Donkey, Leicester
BAND LINKS:
Website: www.thedaydreamclub.com
Facebook: www.facebook.com/thedaydreamclub
MySpace: www.myspace.com/thedaydreamclub
YouTube: www.youtube.com/thedaydreamclub
Twitter: twitter.com/thedaydreamclub
Bandcamp: thedaydreamclub.bandcamp.com