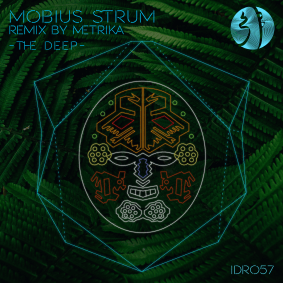 Mobius Strum - The Deep
Costa Rican duo Mobius Strum are the artists behind the first InfraDig Records release of 2018, and their two originals come with a top remix from Metrika.
Mobius Strum have released on labels like 8Bit, Get Physical and Kindisch before as well as being long standing members of the Infradig family. Their exotic and atmospheric tech house sound is infused with the spirit of outer space, while back home in Costa Rica they are a big draw at plenty of major club and festival events. As residents of the superfine Club Vertigo, one of the key clubs in the world, Leonardo Falfan & Eles know how to work a floor and that shows here.
First out of the blocks is the slick and quick house of 'The Deep,' with its warm rumbling bass and glitchy snares. It's filled with late night menace and a percussive break down and pulses of modulated synth up the energy levels as things grind on.
The hypnotic 'Glyding' is then characterised by plodding drums as impish little synths shift about up top and take your minds eye deep into the night. It's a cosmic, spacious track designed to get the club marching as one, which it will do with real style.
Mexican artist Metrika is a regular in the ranks of Crosstown Rebels, Hot Waves and My Favorite Robot and here remixes 'Glyding' in his own inimitable way. The result is a wonky and cosmic tech house tune with gurgling synths and snaking bass that make for an excellently eerie atmosphere.
This is an intergalactic EP of futuristic club sounds that are evocative from start to finish.
Tracklist:
1. The Deep (Original Mix)
2. Glyding (Original Mix)
3. Glyding (Metrika Rmx)