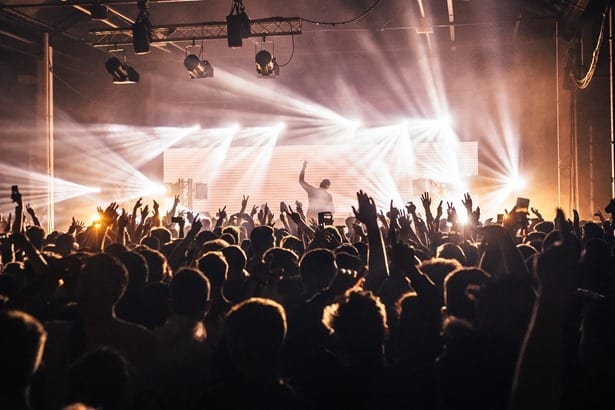 The Drum & Bass Awards 2017 Winners Announced
Big winners on the night include Chase & Status, Hazard, High Contrast, Guv, Noisia and Hospitality In The Park as crowds celebrate at massive, sell out event…

Donington Exhibition Centre was the venue for the 11th annual The Drum & Bass Awards which took place last Saturday 4th March. Hosted by the Drum & Bass Awards founder Magika MC and newcomer Voltage, the venue was packed with drum & bass fans as they came to hear who had won the prestigious awards as well as enjoy the event's biggest lineup to date. Donington was rocked by huge sets from the likes of Chase & Status, Sigma, Sub Focus, Camo & Krooked, Friction, High Contrast, Hype, Roni Size and many more. There were over 20 categories to win, with highlights including Best DJ (Hazard), Best Live Act (Chase & Status), Best Track (High Contrast 'Remind Me' 3Beat Records), Best Album (Noisia), Best Producer (Guv), Best Female DJ (Lady V Dubz), Best Label (Ram Records), Best Breakthrough DJ (Mollie Collins), Best Breakthrough Producer (Total Recall) and Best Festival (Hospitality In The Park). The Stevie Hyper D Memorial Award For Life Time Achievement was also awarded to Jumpin Jack Frost.
The Drum & Bass Awards continues to be, year on year, one of the biggest events in the drum & bass music calendar. It showcases, acknowledges and supports talent from every aspect of the scene, spanning DJs, record labels, promoters, MCs, producers, and breakthrough talent.

Across two stages, the cream of drum & bass showed off the range of quality and music within the genre. The awards were well received and the thousands of clubbers in attendance were there to party, showing their appreciation for the artists who help make the drum & bass scene one of the most vibrant in electronic music.

THE DRUM & BASS AWARDS 2017 WINNERS

BEST JUNGLE DJ
1. ARIES
2. SERUM
3. BLADERUNNER

BEST ALBUM
1. NOISIA
2. METRIK
3. DELTA HEAVY

BEST PERFORMANCE OF 2016
1. ANDY C: WESTFEST 16
2. SASASAS: WESTFEST 16
3. HIGH CONTRAST: HOSPITALITY IN THE PARK 16

BEST ALTERNATE ARTIST
1. SKEPTICAL
2. BREAK
3. FRICTION

BEST INTERNATIONAL ARTIST
1. TEDDY KILLERZ
2. RENE LAVICE
3. CAMO & KROOKED

BEST OVERSEAS PROMOTER
1. LET IT ROLL – CZECH REPUBLIC
2. RAMPAGE – BELGUIM
3. BASSRUSH – U.S.A.

BEST PROMOTER
1. BREAKIN SCIENCE
2. HOSPITALITY
3. WARNING

BEST ONLINE MUSIC PORTAL
1. TRACK IT DOWN
2. JUNO
3. BEATPORT

BEST CLUB NIGHT
1. FABRIC
2. DETONATE
3. WEIRD SCIENCE

BEST PRODUCER
1. GUV
2. METRIK
3. AUDIO

BEST LABEL
1. RAM
2. VIPER
3. LOW DOWN DEEP

BEST EVENT OF 2016
1. HOSPITALITY IN THE PARK
2. WESTFEST 2016
3. INNOVATION IN THE SUN

BEST FESTIVAL
1. HOSPITALITY IN THE PARK
2. BOOMTOWN
3. NASS FESTIVAL

BEST RADIO STATION/ONLINE
1. ROUGH TEMPO
2. KOOL LONDON
3. PYRO RADIO

BEST BREAKTHROUGH PROMOTER
1. BASSLAYERZ
2. UCOJ
3. WEIRD SCIENCE

BEST BREAKTHROUGH PRODUCER
1. TOTAL RECALL
2. 1991
3. TEDDY KILLERZ

BEST JUNGLE MC
1. SPYDA
2. NAVIGATOR
3. FEARLESS

BEST BREAKTHROUGH MC
1. TODDLAH
2. KUEDON
3. IMPACT

BEST CROWD HYPE MC
1. STORMIN
2. IC3
3.RHYMESTAR

BEST LYRICAL
1. HARRY SHOTTA
2. EKSMAN
3. EVIL B

BEST FEMALE ARTIST
1. LADY V DUBZ
2. MISS MELODY MC
3. COLLETTE WARREN

BEST BREAKTHROUGH DJ
1. MOLLIE COLLINS
2. TOTAL RECALL
3. ROWNEY & PROPZ

BEST RADIO SHOW
1. FRICTION RADIO 1
2. DJ HYPE KISS 100
3. UNCLE DUGGS RINSE

BEST TRACK
1. HIGH CONTRAST 'REMIND ME '3 BEAT RECORDS
2. TANTRUM DESIRE 'AIRHEAD' TECHNIQUE RECORDS
3. INSIDEINFO 'CONFORMITY' – VIPER RECORDS

LIFE TIME ACHIEVEMENT
STEVIE HYPER D MEMORIAL AWARD
JUMPING JACK FROST

BEST LIVE ACT
1. CHASE & STATUS
2. SASASAS
3. SIGMA LIVE

BEST DJ
1. HAZARD
2. ANDY C
3. GUV

LINKS
www.drumandbassawards.co.uk
www.facebook.com/drumandbassawards
www.twitter.com/dnbawards