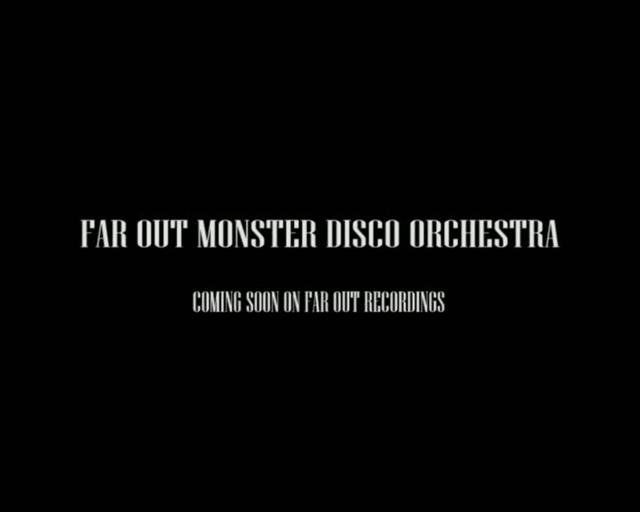 The Far Out Monster Disco Orchestra
Back in 2008, Far Our recordings had the idea of putting together some of the best musicians from Rio in the studio to make a record that would mix cultures, generations, languages and musical ideas from Brazil, Britain plus the Americas, and also be a homage to the sounds they love – Brazilian music, soul and disco.
They went into the studio with three producers, three engineers and musicians including Jose Roberto Bertrami and Alex Malheiros from Azymuth, Arthur Verocai, Paulinho Black (from the original Banda Black Rio) and Jose Carlos, plus other outstanding participants.
With this amazing team, The Far Out Monster Disco Orchestra was born. Armed with two of the greatest arrangers in contemporary Brazilian music – Jose Roberto Bertrami and Arthur Verocai, it really couldn't go wrong.
Combining their mutual love for soul, funk and disco music, majorly because of Azymuth's musical influence, they all wanted to push it one step further. They decided record a full string orchestra and horn section, all of which were arranged by Arthur Verocai.
Later they decided to put English lyrics to give the recording a real Anglo-American feel whilst keeping the Brazilian harmony running strong through its veins.
The record was produced in the best studio in Riode Janeiro using vintage equipment (including 2" Ampex tape, Neve compressors and an SSL desk) to retain that desirable analogue feel and sound.
In 2012, Jose Roberto Bertrami – one of the main components of the band and Far Out Recordings', friend, brother and mentor, sadly passed away. He has been a massive part of the black music heritage in Brazil, having been the arranger of albums by Serginho Meriti, Jorge Ben's 'Africa Brazil', and the first Candeia record.
Bringing to the table Jose's love for the music of Philadelphia, the team went into the studio with those sounds as inspiration for the foundation of these tracks.
Taking in consideration the transatlantic logistics of recording, writing and mixing, this project has demanded a huge production effort, and has therefore taken a long time for this album to finally see the light of day.
While waiting for the special moment of its release, Far Out commissioned remixes from artists including Theo Parrish, Mark Pritchard, disco luminary John Morales, Detroit house don Marcellus Pittman and Luca Trevisi – several of which have been released as limited 12" vinyl releases in the interim.
When Far Out finally reached 2014, it seemed like the perfect year to bring this record to the world, given it's their 20th anniversary and the whole world has its eyes set on the beautiful, musically prosperous South American giant Brazil, for a certain football tournament taking place…
CD1
1/ Mystery (FOMDO feat Arthur Verocai)
2/ Don't cha know he's Alright (J. R. Bertrami / J. Davis)
3/ Freefall (J. R. Bertrami / J. Davis)
4/ The Last Carnival (J. R. Bertrami / A. Malheiros)
5/ Keep Believing (Can you feel it) (J. R. Bertrami / J. Davis / M. Arnold)
6/ A Disco Supreme (FOMDO feat Arthur Verocai) (A. Verocai / J. Davis)
7/ Dead Dance (J. R. Bertrami / J. Davis)
8/ Vendetta (D. Maunick)
9/ Mystery (Instrumental) (A. Verocai / J. Davis)
10/ Don't cha know he's Alright (Instrumental) (J. R. Bertrami / J. Davis)
11/ Freefall (Instrumental) (J. R. Bertrami / J. Davis)
12/ Keep Believing (Can you feel it) (Instrumental) (J. R. Bertrami / J. Davis / M. Arnold)
CD2
1 / Dead Dance (LTJ Xperience Remix)
2/ Keep Believing (Can you feel it) (SS translation by Theo Parrish)
3 / Don't cha know he's Alright (Mark E Remix)
4 / Vendetta (Mark Pritchard Remix)
5 / Mystery (M&M Main Mix by John Morales)
6 / Freefall (Jose Carretas Remix)
7 / Dead Dance (Mark E Remix)
8/ Vendetta (Marcellus Pittman Remix)
www.faroutrecordings.com
www.facebook.com/faroutrecs
www.twitter.com/faroutrecs