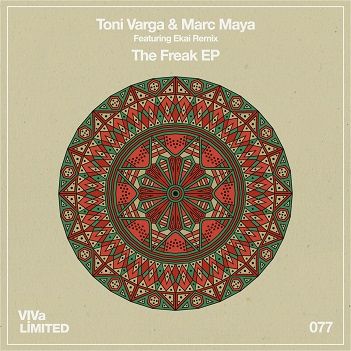 Toni Varga & Marc Maya - The Freak EP
16th February sees two of Elrow's esteemed resident DJs Toni Varga and Marc Maya team up to deliver their debut The Freak EP for Steve Lawler's revered VIVa Limited imprint.
Although this is Varga and Maya's first VIVa Limited outing together, both artists are experienced producers and have provided previous offerings on established House imprints such as; Sante's Avotre, Coyu's Suara, Nic Fanciulli's Saved Recordings, Mar-T's WOW! Recordings and, of course, Elrow Music.
The EP's title track 'The Freak' kicks proceedings off in style, leading with a thumping House rhythm, solid bassline, an off-kilter lead synth melody and a looped-up vocal sample.
Next, fellow Spaniard Ekai joins the party, serving up an impressive remix of the aforementioned track by unitizing the Original's vocal sample only and adding a killer old school breakbeat groove and an infectious Organ riff into the mix.
Closing this essential three-track EP is 'Indigo', a track which superbly compliments its forerunner and delivers a dazzling Tech House workout encompassing; a slickly programmed dancefloor-ready groove, powerful bass frequencies, an eerie whistle riff, warped sound effects and an excellent use of effects.
FIND TONI VARGA ONLINE:
https://soundcloud.com/toni-varga
https://www.facebook.com/tonivargaofficial
https://twitter.com/TONI_VARGA?lang=en
FIND MARC MAYA ONLINE:
https://soundcloud.com/marcmaya
https://www.facebook.com/MarcMayaOfficial
https://twitter.com/MarcMayaOficial
FIND VIVA LIMITED ONLINE:
https://soundcloud.com/vivamusic
https://www.facebook.com/VIVaMUSiCLabel
https://www.beatport.com/label/viva-limited/13951
TRACKLIST
01. Toni Varga & Marc Maya – 'The Freak' (Original Mix)
02. Toni Varga & Marc Maya 'The Freak' (Ekai Remix)
03 Toni Varga & Marc Maya – 'Indigo' (Original Mix)