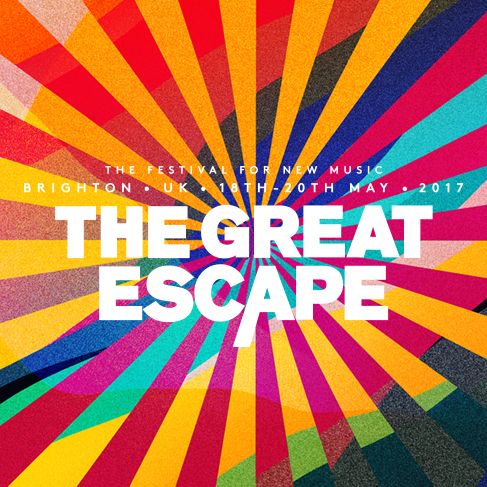 The Great Escape adds 100 more artists!
Having already signed-up some of the most hotly tipped musicians for 2017 back in September including Rag' n' Bone Man, Ray BLK, Cabbage and Nilüfer Yanya, The Great Escape today announces a further 100 artists playing the festival for new music this year.
Slaves return to TGE for their 'Slaves Pier Party' a Spotlight Show Spectacular! We thought we'd seen it all when they last played TGE in 2015. A raucous and high powered show saw the dynamic duo unleash a crowdsurfing Manta Ray on their fans before they upstaged their pal with an astonishing display of standing-up crowdsurfing…while still paying their instruments. This year they go further still, completely taking over Brighton Palace Pier and fairground, where they will play one of the most unique shows we have ever staged. Ticket holders will be able to enjoy the fairground delights at the end of the pier as part of their entry to the show with ride tokens included as part of their ticket.
Festival goers will be able to register for the chance to receive free tickets for this unmissable spotlight show. Standalone tickets can also be purchased to guarantee entry. This show is presented by DIY.
Other acts added to the line-up today include Stefflon Don who is currently conquering the UK rap scene with her effortless crossover between dancehall, hip-hop, grime and RnB, and Tottenham lyricist Avelino, whose warm tone, smart wordplay and intricate productions have garnered praise from the likes of DJ Semtex and Stormzy.
Elsewhere, Cosima's rich, soulful sound stirs audiences with its honesty and intimacy, while African-Australian poet and singer-songwriter Sampa The Great has made waves with her slick, confident mix of rap and hip-hop, and as an agent for positive change in the world.
Having worked with the likes of The 1975, Amber Bain comes to The Great Escape with brand new project The Japanese House in which she blends synth harmonies and ambient sounds with androgynous vocals to create beautifully minimalist, melancholic electro pop. Joining her on the line-up is folk-rock sensation Marika Hackman who'll showcase tracks from her hotly anticipated upcoming album, which features a heavier sound sure to add an extra dimension to her live show, and Native Dancer – who use acoustic instruments, synthesizers and samplers to fuse elements of pop, soul, jazz and electro funk.
Having started out as an art project, Dream Wife have garnered attention for their bold aesthetic, distinctive alt-grunge sound and immersive shows, while HMLTD will bombard the senses with their experimental punk, outlandish visuals and chaotic live shows.
Synth-pop trio Off Bloom from Copenhagen have been splitting their time between studios in Denmark and London creating catchy electronic tracks with the likes of AlunaGeorge and Two Inch Punch, whilst Salen offer infectious pop tracks with sugary sweet vocals, light instrumentation and dark lyrics, and Tom Grennan has already provided vocals for Chase and Status and is making a name for himself with his bluesy, soulful tone.
Formed in Brighton, The Magic Gang craft soulful, pop-driven songs with a 60s feel, whilst Australian punk-rockers Tired Lion have been gaining high praise for their intense, infectious melodies, gritty vocals, loud guitars and a heads-up to their 90s forebears and Belfast duo Picture This have already had a debut EP number one hit in the Irish album charts and sell out tour with their energetic pop rock songs.
The Magic Gang said: "As we're based in Brighton The Great Escape is always an event we look forward to playing . It's a really great opportunity to see 20 bands in one night"
Working alongside this year's international partner Swiss Music Export, The Great Escape have also picked out some of the hottest artists from Switzerland including French based artist Buvette whose burgeoning reputation comes from his rap, reggae and dub-infused electro pop. Baba Shrimps' concise synths, earthy folk, driving beats and catchy tunes will delight festival goers, while Zeal & Ardor the brainchild of Manuel Gagneux fuses blues, black metal and African beats to create striking, textured, atmospheric melodies.
Kevin Moore, Event Manager said: "It's brilliant to be able to get out of the traps in January announcing 100 of the best new bands around joining the line-up for TGE 2017. And we cannot wait for Slaves to perform at the end of Brighton Palace Pier for what is going to be one of the biggest shows we have ever produced at the festival – it's going to be one of those legendary "were you there" moments, no doubt about that. Roll on May!"
Tickets and further information: www.greatescapefestival.com
The full list of artists announced today is as follows:

67 /ADAM NAAS / ÁINE CAHILL / AINSLIE WILLS / AVELINO / BABA SHRIMPS / BALOJI / BELLY SQUAD / BETTY WHO / BOKITO / BRYDE / BUSTY AND THE BASS / BUVETTE / CATHERINE MCGRATH / CHARLIE STRAW / CHEAP MEAT / CHILDCARE / CLUB DRIVE / COCOA FUTURES / COSIMA / DAGNY / DAN CROLL / DEAD PRETTIES / DIANE BIRCH / DREAM WIFE / FAZERDAZE / FRANCOBOLLO / FREAK / FROTH / GABRIELLA COHEN / GORDI / HARE SQUEAD / HMLTD / HOMESHAKE / HORSE THIEF / HUSKY LOOPS / ILL / J. BERNARDT / JAKE HOULSBY / JERKCURB / JESSE TERRY / JOHN K. SAMSON / JORDAN MACKAMPA / JUDAS / KANE STRANG / KING NUN / KOJO FUNDS / KOLARS / KUDU BLUE / LIKE A MOTORCYCLE / LISA MITCHELL / LOWLY / MAMMÚT / MARIKA HACKMAN / MAUNO / MC SNIPER / MOLLY / MOSA WILD / MULLALLY / NATIVE DANCER / NOGA EREZ / NORTH DOWNS / OCTOBER DRIFT / ODD BEHOLDER / OFF BLOOM / OLYMPIA / ONE SENTENCE. SUPERVISOR / OUR GIRL / PARCELS / PAULI. / PICTURE THIS / PIXEY / PUMAROSA / ROSBOROUGH / SÄLEN / SAMPA THE GREAT / SHOGUN / SLAVES / SOSHE / STEFFLON DON / STEVE JAMES / STEVIE PARKER / SULTAN OF THE DISCO / SWIMMING TAPES / TENDER / THE BAY RAYS / THE GOON SAX / THE JAPANESE HOUSE / THE MAGIC GANG / THE PARROTS / THE RHYTHM METHOD / THE SANDINISTAS / TIRED LION / TOM GRENNAN / TSAR B / WILL JOSEPH COOK / YELLOW DAYS / YOUNG BLOOD / YOUNGR / YOWL / ZEAL & ARDOR