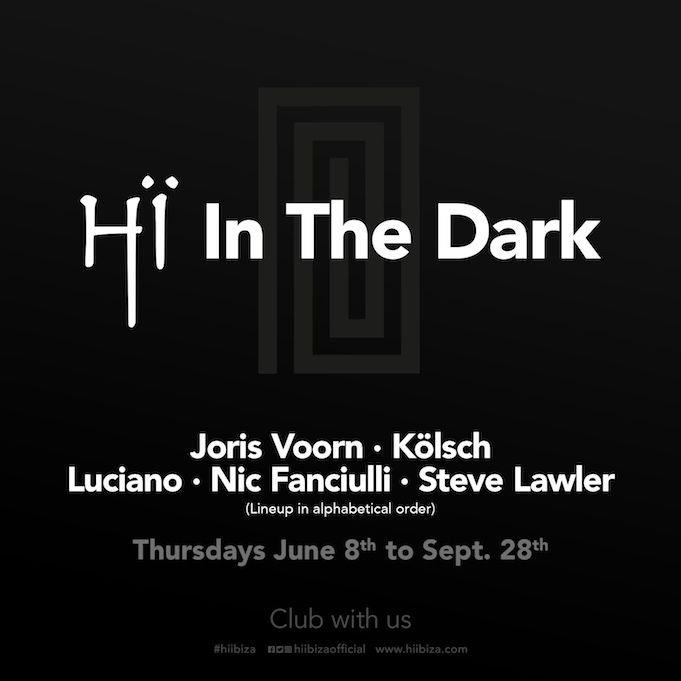 The Night League Presents In The Dark At Hï Ibiza
This summer Ibiza enters a new chapter with the much-anticipated launch of Hï Ibiza, the brand new superclub by Ushuaïa Entertainment. The club formerly known as Space will be elevated to new heights, with a fresh new look and the most advanced sound and technologies on the island. From May through September Hï Ibiza will play host to the finest selectors from the global electronic music scene, including many of Ibiza's best-loved DJs.
The Night League, the creative team behind Hï Ibiza, today announces brand new party series 'In The Dark'. Spearheading this Thursday night residency are five of the underground house & techno scene's most respected acts (in alphabetical order) – Joris Voorn, Kölsch, Luciano, Nic Fanciulli and Steve Lawler.
All five residents have a strong bond with the White Isle, previously heading up several of Ibiza's best-loved and longest running parties, as well as headlining many memorable parties at the hallowed Space Ibiza terrace and main room. Along with The Night League, the five forward-thinking artists are committed to ensuring Ibiza´s support of underground club culture endures. With the club as a blank canvas for them to create something truly unique, a cutting-edge roster of talent joining them every Thursday from 8th June – 28th September, and some incredible plans in place, In The Dark is set to be one of the biggest parties of the summer.

Space was my home for 9 years, and the memories of playing on that Terrace will never leave me. Now, together with Yann & his team at Hï Ibiza, I'm looking forward to creating something special again. Ibiza is always evolving but it has never lost its spirit. The new venue will be like nothing else on the island and I intend to embrace that spirit and make Hï Ibiza my new home.
Steve Lawler
I was fortunate to have Yann show me the blueprints and share his vision of Hï at a very early stage. Feeling this was going to be a special place, I had to get involved. The beauty of playing a precious venue, is that the room helps you tell a story. I can't wait to go on a sonic safari with the audience. It's going to be exactly what Ibiza is all about. All of us together sharing magical moments.
Kölsch
Ibiza remains the epicenter of clubbing throughout the summer and I'm really excited to be part of this new club. It's always special to be involved in something from its inception and I feel like the other residents and I will be able to really build our own concept here, which is one of the most important parts of a successful residency. Musically you can expect some top tier house and techno music!
Joris Voorn
With its incredible technology, creativity, sound and design, Hï Ibiza will be the perfect creative environment for In The Dark. A place to discover and push boundaries, there will be no door to limits. So expect to be surprised and come to dance with us again.
Luciano
Yann and The Night League are like my extended family on the island, so I'm excited to do something new together at Hï Ibiza. I have a lot of new music which I'll be playing, and I'm really looking forward to being a part of a new era for the venue.
Nic Fanciulli

Step into their playground, close your eyes and let the music find you in the dark on their weekly electronic exploration, joined by a stellar selection of guest DJs and live acts. Book your place now at www.hiibiza.com.
About Hï Ibiza
Hï Ibiza, the club formerly known as Space, unites the highest standards of music and entertainment, bringing world-class music experiences to a club designed with the dancer in mind. This state of the art club will showcase the most exciting names in electronic music throughout the summer, from the biggest stars in the scene to the leading lights of the underground, continuing the island's legacy as the party capital of the world.
"Hi" is a small word that can be the beginning of a meaningful conversation either the start of a beautiful friendship that can lead to a bigger world of discovery. "Hi" is a welcome to a new era in Ibiza
The journey begins with 'Hï Ibiza'
The Night League present In The Dark at Hï Ibiza
Every Thursday from 8th June – 28th September
Residents (A-Z): Joris Voorn, Kölsch, Luciano, Nic Fanciulli, Steve Lawler
Tickets available at www.hiibiza.com