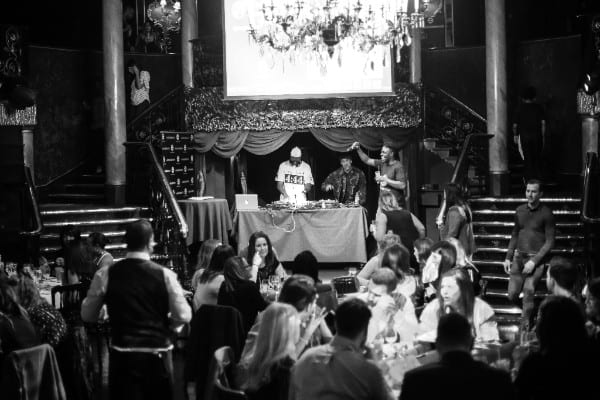 The original Garage Brunch announce Spring/Summer shows
Garage, it's a London thing and so is Hip Hop LDN, the team behind innovative brunch concepts Hip Hop Brunch and 90's Brunch. Garage Brunch is the next event coined from the award winning pioneers bringin' bottomless cocktails, two course meal alongside Garage Bingo, Garage Mastermind and numerous other party games. Each event is hosted at a secret location with a secret line up while the first event saw Swiss from So Solid Crew head up proceedings. Next event takes place March 10th, tickets start at £34.99 running from 12pm – 5pm. For further information visit HERE. See images HERE. See video HERE.
Rewind to 1996-2001 by groovin' to the best of the UK's Two-Step and Garage anthems in one boomin' day party filled with bangin' food and an hour of signature cocktails!
Party games fill the day after food at Garage Brunch, MC Creed's Garage Bingo is a definite highlight with the master himself putting his garage twist on each number called. Two-Step Don't-Step gives attendees the chance to show the DJ their best skank, like musical statues but better. For Name That Tune, the DJ plays a few seconds of popular beats, first person to guess it wins. Mastermind is a show that needs no introduction, now imagine if everyone has chosen garage as their specialist subject, Garage Mastermind is born! Last and no means least is Spinning Wheel MC Challenge, a slice of entertainment heaven, contestants have to commentate on a particular scenario with garage lyrics.
Food comes in its most wicked form, fried. Garage fried chicken gets delivered in individual buckets full of succulent, juicy goodness. For vegetarians mixed fried veg buckets are served up while everything is offered withgarage triple cooked fries and chipotle slaw. For the first hour of beat madness is bottomless cocktails featuring Garage Brunch's signature cocktail.
Carmella Stanbury, Director of Hip Hop LDN says "We've worked tirelessly to bring a completely unique boozy brunch experience, mixing a much loved genre of music with great entertainment, party atmosphere and tasty food. We can't wait to show everyone what we have in store for this years events"
Each event is unique in its own right, every event has a secret lineup only published to ticket holders with secret guests playing the best of UK Garage from tunes like Crazy Love, Body Groove, Sweet Like Chocolate and Summer of Love just to name a few!
Current announced shows include 10th March, 14th April, 28th April, 12th May, 26th May, June 9th and June 23rd.