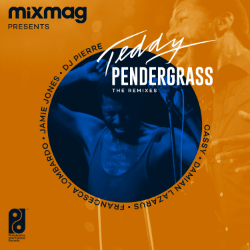 Teddy Pendergrass - The Remixes – EP
In support of the feature-length documentary 'Teddy Pendergrass – If You Don't Know Me', Mixmag presents 'Teddy Pendergrass: The Remixes'. Featuring contributions from the foremost figures in the global electronic music scene Jamie Jones, Damian Lazarus, DJ Pierre, Francesca Lombardo and Cassy, the remix EP will be out on Friday 8th March on Philadelphia International Records via Legacy Recordings a division of Sony Music Entertainment.

Throughout the EP, selections from Teddy Pendergrass' timeless catalogue are reimagined through an electronic lens. Opening the release is Jamie Jones' remix of 'Life is a Song Worth Singing'. Faithful to the feel-good essence of the original track, Jamie delivers a rippling, synth-based interpretation. Damian Lazarus manipulates the powerful tones Teddy was famed for on 'I Don't Love You Anymore', building the original into a dub disco anthem. 'Do Me', a signature record that solidified Pendergrass' sex symbol status receives a rhythmic, dreamy rework courtesy of Francesca Lombardo. Cassy's remix of 'Only You' substitutes its funky roots in favour of a thumping and bass-driven affair ready to set any dancefloor alight before acid house legend DJ Pierre closes up proceedings.

'Teddy Pendergrass – If You Don't Know Me' – a documentary co-produced by Mixmag's parent company Wasted Talent – chronicles the life and career of one of soul music's most cherished artists. As one of the first African-American artists to produce four consecutive platinum albums, Teddy Pendergrass was undeniably on the brink of a superstardom to rival the likes of Marvin Gaye, Barry White or even Michael Jackson, when fate took a drastic, almost fatal turn. Through interviews with family, friends and colleagues the film tells the story of his rise to fame within the complexities of 60s and 70s America, his tragic fall and his triumphant comeback.

Producer of the documentary, Piers Tempest commented: "Teddy's story is an important and ultimately inspiring one and we are delighted to help shine a light on the man and his music".
Mixmag's Global Editorial Director, Nick DeCosemo, comments further: "It's a testament to Teddy's influence and legacy that some of the biggest names in contemporary dance music jumped at the chance to remix his classic tracks. Mixmag is so proud to help honour Teddy's legacy and bring his music to a new generation of fans."
Teddy Pendergrass – 'If You Don't Know Me' premiered in the U.S. on February 8 on Showtime and is currently available on demand and streaming. For more information: www.showtime.com. The UK film premiere in conjunction with Sky Arts took place at The British Film Institute (BFI) on 19th February 2019 with a director Q&A with Olivia Lichtenstein. The film will be broadcast on 16th March on Sky Arts and is showing in select UK cinemas.

TEDDY PENDERGRASS – IF YOU DON'T KNOW ME
The Rise, Fall And Resurrection Of Soul's Sexiest Superstar
AT CINEMAS NATIONWIDE
March 08-09 – Leicester – Phoenix Cinema
March 21 – London – Lexi Cinema – Director Q&A
March 22 – Stirling – Macrobert
March 23 – Newcastle – Hoochie Coochie Club – Director Q&A
March 27-28 – Edinburgh – Filmhouse
April 03 – Dublin – Sugar Club – Director Q&A
April 09-10 – Aberdeen – Belmont Filmhouse
May 24 – Manchester – Home

Mixmag presents: 'Teddy Pendergrass: The Remixes' is OUT NOW.