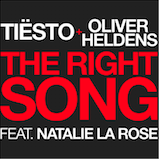 Tiesto & Oliver Heldens - The Right Song ft Natalie La Rose
Following a hugely successful 2015 for both artists, Grammy award winning icon Tiësto and super producer Oliver Heldens have announced their new, collaborative single 'The Right Song' ft. Natalie La Rose ahead of its release on January 22nd. The duo first became acquainted in 2013 as a result of the release of Heldens' debut UK #1 single 'Gecko (Overdrive)' on Tiësto's record label, Musical Freedom. Since then, both artists have continued releasing hits and go into 2016 as two of the world's leading – and most in-demand – dance music artists.
'The Right Song', a purring, explosive club anthem born out of the phenomenal success of the instrumental version of the song which is called 'Wombass', is defined by Tiësto's signature, euphoric melodies and Heldens' darker, futuristic bass tones. The track continues to push crossover dance music into new and exciting territory with the addition of La Rose, the powerhouse vocalist that helped make Jeremih's single, 'Somebody', one of 2015's biggest hits, which peaked at #2 on the Official UK Singles chart. On 'The Right Song', Tiësto and Heldens production is perfectly complimented by her blistering vocals and infections hook, setting this track up to be one of the key dance records of 2016.
Tiësto and Heldens will be releasing an official video for the track, also due for release on January 22nd. The video explores the transformative/escapist qualities of music, as a downtrodden office cleaner is overcome by dance and lets her imagination run free whilst listening to 'The Right Song.' Tapping into the weird and wonderful dance sequences in such films as Footloose and The Coen brothers' 1998 classic, The Big Lebowski, the video offers a glimpse into the cleaner's life as she deals with the aftermath of a wild office party.

'The Right Song' is released via Musical Freedom / PM:AM Recordings on 22nd January.

About Tiësto
With a remarkable career spanning over 20 years, Tiësto remains one of the top dance music acts in the world. Revered for his live shows as well as for his production and remix work, Tiësto is a globally celebrated DJ that has been named "The Greatest DJ of All Time" by Mixmag and the #1 DJ by Rolling Stone. Through revolutionary moments such as being the first DJ to open the Olympic Games and headlining festivals like Coachella, Electric Daisy Carnival, Stereosonic, Tomorrowland, Ultra and more, he has helped pave the way for today's modern music landscape. His 2014 album, A Town Called Paradise, yielded Tiësto's first two gold singles in the U.S.: "Red Lights" and "Wasted" [featuring Matthew Koma]. In February 2015, Tiësto was awarded a Grammy® in the Best Remixed Recording, Non Classical category for his remix of John Legend's "All Of Me." This was Tiësto's first Grammy® Award and second Grammy® nomination.
About Oliver Heldens
Signed to powerhouse label Spinnin' at the age of just 17, Oliver Heldens has rapidly become one of dance music's most in-demand producers. After 'Gecko' – one of his earliest productions and the record that would later grant him his first ever UK #1 as 'Gecko (Overdrive)' – caught the attention of Tiesto in 2013, he started to earn widespread support from the dance community and the wider industry. 'Gecko (Overdrive)' was subsequently released in the summer of 2014, featuring added vocals from Becky Hill', entering the Official UK Singles Chart at #1 and staying in the Top 5 for six consecutive weeks. It was soon followed by second single 'Koala', which scored him a second UK Top 10 after entering at #5, and collaborations with Sander van Doorn and Zed's Dead, the latter of which ('You Know') reached the #1 spot on the Beatport Top 100. He then released third single 'Shades Of Grey' ft. Shaun Frank and Delaney Jane in 2015, a track that has amassed well over 4.4 million streams to date.

About Natalie La Rose
Dutch native Natalie La Rose's debut single for I.M.G./Republic Records, "Somebody" featuring Jeremih, was one of 2015's biggest singles, peaking at #2 on the Official UK Singles chart. Now certified platinum by the RIAA, "Somebody" also hit #1 at Rhythm and entered the Top 3 on Top 40 airplay charts across the US. "Somebody" entered the Top 10 on the Billboard Hot 100 as well as the Top 10 of both iTunes' Pop and Overall Top Songs chart. The song reached #4 on Shazam in the U.S. and #14 on the Global Chart, and was one of the Top 5 "Most Shazamed Records in the USA." To date, the song has over 158+ million streams on Spotify worldwide, with over 111+ million YouTube/Vevo views and counting. La Rose made her national television debuts this Spring on The Ellen DeGeneres Show and the Late Late Show with James Corden. She also opened the Radio Disney Music Awards with Fifth Harmony, who she toured with this Summer.
For more information on Tiesto, please visit:
http://www.tiesto.com/Tiesto-home
https://www.facebook.com/tiesto
http://www.twitter.com/tiesto
https://soundcloud.com/tiesto
https://www.youtube.com/user/officialtiesto

For more information on Oliver Heldens, please visit:
http://oliverheldens.tumblr.com/
https://www.facebook.com/OliverHeldens
https://twitter.com/OliverHeldens
https://soundcloud.com/oliverheldens

Fore more information on Natalie La Rose, please visit:
http://www.natalielarose.com/
https://www.facebook.com/NatalieLaRoseMusic
https://twitter.com/natalielarose