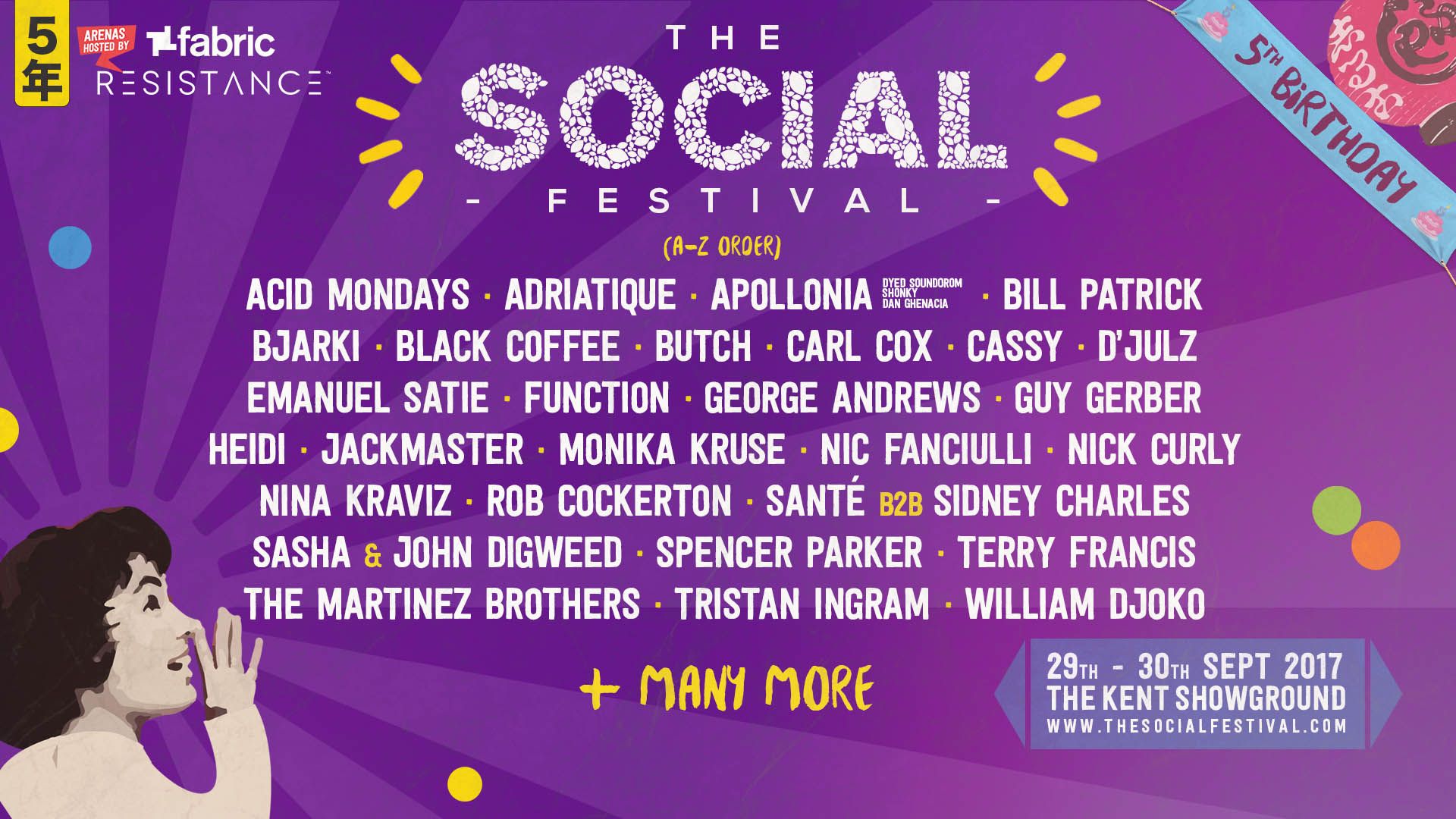 The Social adds Nina Kraviz, Heidi, Nick Curly, Function and more
Resistance and Fabric are confirmed to host stages at the Maidstone festival this September, which will round-off the summer season on Friday 29th and 30th September
Line-up highlights A-Z:
ACID MONDAYS // ADRIATIQUE // APOLLONIA // BILL PATRICK BJARKI // BLACK COFFEE // BUTCH // CARL COX // CASSY // D'JULZ // EMANUEL SATIE // FUNCTION // GUY GERBER // HEIDI // JACKMASTER // MONIKA KRUSE // NIC FANCIULLI // NICK CURLY // NINA KRAVIZ // ROB COCKERTON // SANTE & SIDNEY CHARLES SASHA & JOHN DIGWEED // SPENCER PARKER // TERRY FRANCIS // THE MARTINEZ BROTHERS // TRISTAN INGRAM
Friday 29th & 30th September
Kent County Showground
Maidstone
www.thesocialfestival.com
Ahead of its fifth anniversary on Friday 29th and Saturday 30th September, boutique house and techno festival The Social has now added a host of names to its 2017 line-up. With an already stellar selection of names announced during phase one – including The Martinez Brothers, Black Coffee, Guy Gerber, and Carl Cox – phase two sees the likes of Nina Kraviz and Heidi join a fellowship of leading lights from the underground scene. Joining Nina in the brand new Fabric hosted stage 'The Barn' will be Terry Francis and Berghain resident, Function.
With Resistance also announced to host the Meadow stage, Monika Kruse and Tristan Ingram will join proceedings, with fellow craft masters Santé & Sidney Charles, Bill Patrick and Nick Curly set to play the brand new Caravan stage – the festival's outdoor fixture which will be fitted with state of the art production and sound. Local lad Rob Cockerton and techno favourite Spencer Parker complete the phase two line-up, joining already confirmed acts such as Sasha & John Digweed as The Social Festival elevates itself to one of this year's most highly anticipated events.
Event Details:
Friday 29th & Saturday 30th September
Kent County Showground
Maidstone
www.thesocialfestival.com
Line-Up:
FRIDAY 29TH SEPTEMBER
THE MEADOW PRESENTED BY RESISTANCE
CARL COX
CASSY
D'JULZ
GEORGE ANDREWS
NIC FANCIULLI
THE MARTINEZ BROTHERS

SATURDAY 30TH SEPTEMBER
THE MEADOW PRESENTED BY RESISTANCE
APOLLONIA
BUTCH
EMANUEL SATIE
MONIKA KRUSE
SASHA & JOHN DIGWEED
TRISTAN INGRAM
THE BARN PRESENTED BY FABRIC
BJARKI
FUNCTION
NINA KRAVIZ
TERRY FRANCIS
THE STABLES
ACID MONDAYS
ADRIATIQUE
BLACK COFFEE
GUY GERBER
JACKMASTER
ROB COCKERTON
THE CARAVAN
BILL PATRICK
HEIDI
NICK CURLY
SANTE & SIDNEY CHARLES
SPENCER PARKER
WILLIAM DJOKO