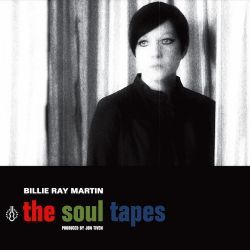 Billie Ray Martin - The Soul Tapes
Billie Ray Martin describes herself as "a kid from Hamburg's red-light district", who wanted to be a Soul singer, but ended up playing repetitive machine music, while still trying to be a Soul singer". Clearly a Soul singer and a highly respect pioneer of House and electronic music, most notably her groundbreaking work with Electribe 101 and her seminal hit 'Your Loving Arms', Bille Ray Martin reveals her new passion project,'The Soul Tapes' album, written and produced together with New York's multi award-winning producer Jon Tiven (who's credits include B.B. King, Frank Black/Black Francis and Wilson Pickett, among others) and Sally Tiven.
'The Soul Tapes' is the natural conclusion to her acclaimed 2001 '18 Carat Garbage'album (which was recorded in Memphis with Al Green's and Aretha Franklin's musicians) and a 'first' for Billie: no electronic music this time. Billie has realised her long-held dream of recording an album that is strongly influenced by Hi-Records (Al Green, Ann Peebles,Willie Mitchell), with a measure of '60s garage records too. It is also not devoid of a certain country twang, and even Bo Diddley peeks through the door on one song.
'Strongheaded Woman' hails the first single to be released from the album – an epic tale of a Las Vegas slot machine addict seemingly meeting her Rhinestone Cowboy, only to discover that he's just another cheap hit and run sleaze bag. Billie has also enlisted the help of some remixers on some album tracks, including Boston Disco groovers Soul Clap and UK Electronic outfit Mooli, along with some more surprise guests to come!
Billie Ray Martin and producer/writer Jon Tiven were introduced in New York in the mid '90s and had started drafting the odd song, together with Sally Tiven. Further writing sessions followed, until it was decided that there was an album of songs worth recording.'The Soul Tapes' was recorded at New York's famous 900 Broadway Studio (where Keith Richards recorded his first solo album!), alongside Jon Tiven (guitar), Sally Tiven (bass) and Simon Kirke (drums), and some guest musicians, then finally revisited in 2014 to determine the definitive album sound. The results are convincing and powerful and show once again Billie's refusal to conform to trends, preferring as she does, to create them, simultaneously delivering a Soul tour de force!
Track Listing
1 Your Ghost Is Right Behind Me
2 Two Cents For A Heart Of Gold
3 Strongheaded Woman
4 That's How Strong My Love Is
5 The Glittering Gutter
6 One Way Street
7 The Long And Lonely Fall
8 The Fool You're Looking For
9 Skin On The Wheel Of Time
Billie Ray Martin 'The Soul Tapes' album will be released on May 13th 2016 on Sonnenstahl Records.
Catch Billie Ray Martin performing live at the Jazz Cafe on May 20th 2016.