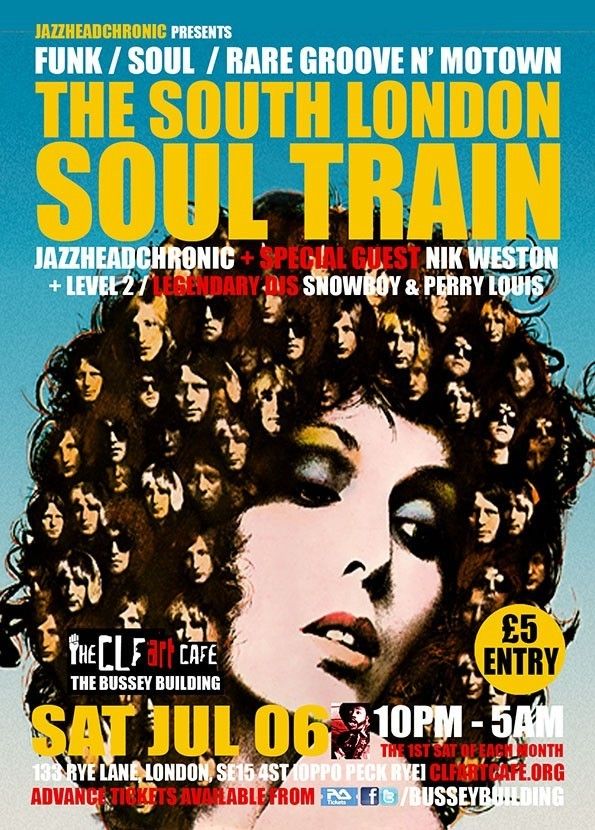 The South London Soul Train
Sat July 06 – The South London Soul Train continues it's on-going mission to Funk You up! Your resident host Jazzheadchronic joined by the simply brilliant Mukatsuku Records Founder, DJ and Producer Nik Weston – delivering a serious 7hr dancefloor direct set of Funkalicous music on Level 1 – Music so direct – that yoh feet gone bleed. 'All night long dancefloor guaranteed!!! Whilst on Level 2 – the journey continues with 2/F Soul Train Residents – Veteran Funk n' Soul Heads DJ Snowboy + Messin Arounds Perry Louis, brining the rareness. Live on 45.
2 Floors of non stop musicality – taking you on a multi-level non-stop Magical Mystery tour through all things Too Damn Funky. P-Funk to Jazz Funk, Soul Jazz to Rare Groove N' Stax, Motown to Club Classics and Anthems. As always, Passengers are requested to check their Souls at the Station as this ones for good time party people only! No Bass Wobbles Here, Only Love, Funk and Souuuuuuuul.
Admission £5 / £5 Advance tickets available from RA.
Takes place on the first Saturday of each month.