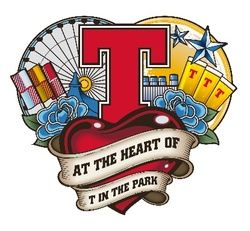 THE TENNENT'S ARMS IS BACK FOR T IN THE PARK 2016
After being hailed a huge success in 2015, Tennent's Lager are delighted to bring back party hub, The Tennent's Arms for T in the Park 2016. Once again joining forces with Glasgow's legendary Sub Club the Tennent's Arms is set to be THE place to enjoy an ice cold pint at this year's T in the Park.
Taking to the decks over the weekend are a line-up of DJs handpicked by renowned taste makers, Sub Club including house and techno gurus, Greg Wilson, Marquis Hawkes and the awesome London DJ collective, Horse Meat Disco. Joining them to provide the soundtrack to the Tennent's Arms over the weekend will be an array of internationally acclaimed DJs such as Harri, Dixon Avenue Basement Jams, Spencer, Hammer, Sensu, Telford, Eclair Fifi, Big Miz, General Ludd, i AM, Rebecca Vasmant, Sunday Circus, Big Foot's Tea Party, Notsosilent and Gary Hunter to name but a few!
Fans can expect great music from Sub Club and ice cold pints of Tennent's Lager and Lager based cocktails on tap, as well as a stunning outdoor terrace with views over the Main Arena and Tennent's Lager's very own barcade games.
George Kyle, Head of Sponsorship at Tennent's Lager, said:
"We were thrilled with the fan's response to The Tennent's Arms last year, the bar and the dance floor were jumping all weekend, it was fantastic to see! We wanted to put Tennent's Lager even more at the heart of fans' T in the Park experience by building The Tennent's Arms and it felt like we really did that last year. There was a huge connection with the fans' through the bar, they really embraced the old school atmosphere and dressing and the DJs curated by Sub Club were outstanding. I can't wait to see it all come alive again this year."
Tickets for T in the Park 2016 are on sale now from www.tinthepark.com, www.ticketmaster.co.uk or 08444 999 990.