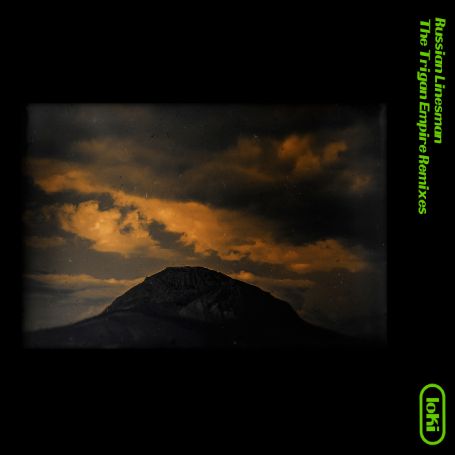 Russian Linesman - The Trigan Empire Remixes
The Russian Linesman is a "modern day composer" who has become a somewhat cult figure over the past eleven years, crossing paths with mavericks such as James Holden, Nathan Fake, Ryan Davis, Applescal and Laurent Garnier, along the way.
In a remarkable series of 7-track mini-LP releases throughout 2017, titled 'The Eysenck Suites I-IV', the Russian Linesman explored the psychological theories of Hans Eysenck and the emotions they encompass, a project that the British Psychological Society endorsed: http://thepsychologist.bps.org.uk/finding-melancholic-balance. The series saw the enigmatic artist receive support and plaudits from a disparate collection of respected DJ/Producers, including Maps (Mute), Simon Mills (of Bent fame), Max Cooper, Steve Miller (Afterlife), Nick Warren (on his 'Sound Garden' radio show), C-Jay (Bedrock), DJ Morpheus, Quivver and many more.
Nemone's continual, pioneering support for the project, on her wonderfully eclectic 'Electric Ladyland' BBC 6Music radio show, proved a real pivotal moment. The Linesman was thrilled when she invited him to participate in her 'An Evening With…' guest slot – an honour previously bestowed upon the likes of Jon Hopkins, Jean-Michel Jarre, Future Sound of London, Darren Emerson, Leftfield, Fatboy Slim, Ellen Allien and DJ Shadow.
Now, in 2018 the Russian Linesman is set to embark on an ambitious remix project, giving a carefully selected array of highly talented visionaries the opportunity to interpret his own musical adventures. This new series features remixes of some of the 'The Eysenck Suites I-IV' finest moments, the catalyst being those tracks aired by Nemone at BBC 6Music.
The first 7-track mini-LP in this new remix series focuses on 'The Trigan Empire' taken from the third suite, titled 'Sanguine', and focused on the Russian Linesman's musical interpretation of the sanguine temperament – characterised by cheery optimism – the type of people whom are pleasant to be around. The original EP is here: https://open.spotify.com/album/1Hixbz9dYYJu9tYlcHmwlc
This illustrious group of remixers is led by James Chapman aka Maps, the Mercury Prize nominated producer and recording artist, who is due to release his fourth studio album on Mute Records in 2018. His magnificently beautiful electronica recreation additionally features Maps singing the words of a poem that the Russian Linesman wrote at the start of his project. This is artistic endeavour of the utmost highest order.
"As well as using audio stems for remix, I was also given lyrics to work with (from a poem the Linesman wrote) – this is the first time I have provided vocals for a remix and it ended up working really well!" – Maps
Simon Mills (aka Napoleon) is the electronic and eclectic DJ/Producer who rose to musical prominence in the 00's as one half of wonky chillout duo Bent. His solo work continues his trademark quirky, slightly vintage, nostalgic, warm style, and as such he is a perfect candidate to interpret the Russian Linesman's work with suitably Balearic vibe featuring his dazzling piano playing.
"Well, I really loved the track, and I found the overall feel very uplifting, so I decided to build on that feeling. I even wanted a sense of "Empire" in the track, which is why it has a classical feel, as well as a huge space to it. I found recordings of old string instruments to add a sense of "ancient civilisation" to it." – Simon Mills
Xspance is inspired by film scores and uplifting music that tells a story. His musical style is laidback, detailed and melodic, with echoes of shoegaze and nugaze, basing his sounds variously around the progressive, electronic and ambient axis, he's involved with a broad spectrum of labels and was so inspired by 'Trigan Empire' that he delivered two fantastic, contrasting remixes.
"This is the kind of music I really warm to, and have to say I hadn't had so much enjoyment remixing another producer's work until I was given this opportunity. I really got into the whole melodic, atmospheric drift and themes here, one has a more progressive and moody sound and the other focused more on the ambient melodic side." – Xspance
The Mexican producer Mig Dfoe continues the abundant creativity on display, delivering an enthralling, laid-back melodic beat excursion, whilst French producer My.head's wide screen approach in his post Dubstep world adds an excellent experimental angle to the proceedings. The mini-LP is concluded, rather appropriately, by the Russian Linesman himself, who returns to his mixing desk to reinterpret his own original track as a heart melting, melodious, ambient masterpiece.
"Sonically and musically, I finally feel I have conclusively recreated what I have been feeling in my head all this time." – Russian Linesman
The Russian Linesman also now hosts a monthly radio show on Bloop London, playing a multifarious mix of his favourite music from the past, present and future:http://blooplondon.com/shows/russian-linesman/
Further Info:
www.twitter.com/russianlinesman
www.soundcloud.com/russianlinesman
www.soundcloud.com/lokirecordings
www.facebook.com/Russian-Linesman-42077279998/
www.residentadvisor.net/dj/russianlinesman
www.beatport.com/label/loki-recordings/15992
www.discogs.com/artist/447757-Russian-Linesman
www.play.spotify.com/artist/3sIH8lHWLGHJMenpRCSmMv