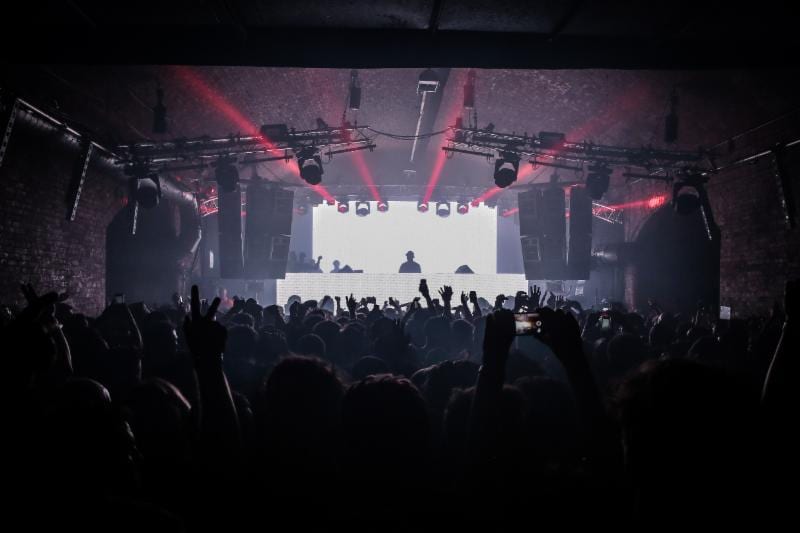 The Warehouse Project 2016 Line-up Revealed
The Warehouse Project will return this September for a 12 week series taking place across Manchester.
The WHP16 lineup includes some of the most exciting and influential names from across the board, including M.I.A., Flume, Mura Masa, Autechre, Bonobo, Jon Hopkins, Ben UFO, Skepta, Four Tet, Adam Beyer, Nina Kraviz, Laurent Garnier & many more.
As well as taking place each weekend at its spiritual home of Store Street, The Warehouse Project will spread its wings to take over several venues across Manchester: Old Granada Studios, The Albert Hall, Manchester Academy, plus some intimate shows still to be announced….
For those who have registered for the pre-sale, tickets are available from 9am on Thursday 21st July. General sale tickets will be available this Friday 22nd July at 9am, via The Warehouse Project website: www.thewarehouseproject.com
+++
FULL 2016 SEASON SCHEDULE
Friday 23rd September
WHP16 LAUNCH PARTY
M.I.A. | MURA MASA | DAVID 'RAM JAM' RODIGAN | SECTION BOYZ
GOLDLINK | JUNGLE – DJ SET | NOVELIST | SG LEWIS
SIAN ANDERSON | JOSEY REBELLE | MADAM X
WILL TRAMP | NOW WAVE DJS
Store Street | 21:30 – 05:00 | £29.50 + BF
+++
Saturday 24th September
WELCOME TO THE WAREHOUSE
ADAM BEYER | JOSEPH CAPRIATI | EATS EVERYTHING | BEN UFO
MATHEW DEAR | SAN PROPER | FATIMA YAMAHA – LIVE
MOXIE | JASPER JAMES | KRYSKO & GREG LORD
ZUTEKH DJS | LAUREN LO SUNG | HACKETT
Store Street | 18:00 – 05:00 | £29.50 + BF
+++
Wednesday 28th September
MODERAT AT THE ALBERT HALL
MODERAT
LONE | NOW WAVE DJS
The Albert Hall | 19.30 – 23:00 | £18.50 + BF
+++
Friday 30th September
BUGGED OUT!
DUSKY – LIVE | JACKMASTER b2b JOY ORBISON
DANIEL AVERY | JEREMY UNDERGROUND | JIMMY EDGAR | PAUL WOOLFORD | ARTWORK
AVALON EMERSON | MELLA DEE | HOLLY LESTER | LEMMY ASHTON
Store Street | 21:30 – 05:00 | £28.50 + BF
+++
Saturday 1st October
CURATED BY SKEPTA
SKEPTA | GIGGS | CASISDEAD | ZOMBY
FRISCO | PLASTICIAN | MAXIMUM | MUMDANCE | MURLO
RICH REASON | JONNY DUB
Store Street | 21:30 – 05:00 | £29.50 + BF
+++
Friday 7th October
WHP & RELENTLESS PRESENT THE METROPOLIS BIRTHDAY
ANDY C | LETHAL BIZZLE
TQD (ROYAL T, DJ Q, FLAVA D) | DIGITAL MYSTIKZ: MALA & COKI
CULTURE SHOCK | MJ COLE | CHAMPION | BARELY LEGAL
MURLO | NORTH BASE | RICH REASON
Store Street | 21:30 – 05:00 | £29.50 + BF
+++
Saturday 8th October
YOUSEF PRESENTS CIRCUS
THE MARTINEZ BROTHERS | LOCO DICE
STEVE LAWLER | YOUSEF | B.TRAITS
SOLARDO | ACID MONDAYS | LEWIS BORARDMAN
Circus Recordings Presents
DAVID GLASS | THEO KOTTIS | KI KREIGHTON
Store Street | 18:00 – 05:00 | £29.50 + BF
+++
Thursday 13th October
GORGON CITY – KINGDOM
LIVE AT THE WAREHOUSE PROJECT
GORGON CITY – LIVE
Plus Special Guests
CLAPTONE | DISCIPLES | KIDNAP KID | NVOY | ELDERBROOK
Store Street | 21:00 – 02:00 | £19.50 + BF
+++
Friday 14th October
WHAT HANNAH WANTS
HANNAH WANTS | MY NU LENG | REDLIGHT
SONNY FODERA | MONKI | SAM DIVINE | MAK & PASTEMAN | BRAM FIDDLER
TOM SHORTERZ | ELLIE COCKS | JACK SWIFT | DEV STAR
Store Street | 21:30 – 05:00 | £29.50 + BF
+++
Saturday 15th October
PARADISE
JAMIE JONES | DUBFIRE | PATRICK TOPPING B2B RICHY AHMED
MATHEW JONSON – LIVE | wAFF | CATZ 'N' DOGZ
GUTI – LIVE | LUCA CAZAL | JEY KURMIS
Store Street | 18:00 – 05:00 | £29.50 + BF
+++
Thursday 20th October
RAM JAM
DJ EZ | DAVID RODIGAN | GOLDIE: INFLUENCES
DJ MARKY w/ MC GQ | SPECIAL REQUEST
RANDALL w/ MC GQ | CHIMPO | BANE | RICH REASON | JOHNNY DUB
Store Street | 21:30 – 03:00 | £25.00 + BF
+++
Friday 21st October
HEIDI PRESENTS THE JACKATHON
LAURENT GARNIER | BLACK COFFEE | HEIDI
THE BLACK MADONNA | JOB JOBSE | MIKE SERVITO
MOXIE | JASPER JAMES | GREG LORD | ZUTEKH DJS
Store Street | 21:30 – 06:00 | £29.50 + BF
+++
Saturday 22nd October
WHP & FOUR TET PRESENT
NINA KRAVIZ | FOUR TET | FLOATING POINTS – LIVE
BEN UFO | THE BLACK MADONNA | AVALON EMERSON
LEON VYNEHALL | KAITLYN AURELIA SMITH
EAT YOUR OWN EARS DJS | NOW WAVE DJS
Store Street | 21:00 – 04:00 | £29.50 + BF
+++
Thursday 27th October
KURUPT FM PRESENTS CHAMPAGNE STEAM ROOMS
KURUPT FM | BIG NARSTIE | MY NU LENG B2B ONEMAN
TODDLA T | MIKE SKINNER & MURKAGE | GENERAL LEVY | AJ TRACEY
CASISDEAD | P MONEY | SLIMZEE | WOOKIE | BARELY LEGAL
Strypes Records Takeover
MYSTRY | TRUE TIGER | SUKH KNIGHT | MONKEY WRENCH | CHUNKY
Store Street | 21:30 – 04:30 | £22.50 + BF
+++
Friday 28th October
WHP VS. NINJA TUNE
BONOBO – DJ | JON HOPKINS – DJ
GILLES PETERSON | MARIBOU STATE – LIVE
FAKEAR – LIVE | LONE
ROMARE – DJ | THROWING SHADE | JON K | NOW WAVE DJS
Plus Special Guests
SOULECTION Presents The Sound Of Tomorrow
Store Street | 21:30 – 04:30 | £28.50 + BF
+++
Saturday 29th October
ELROW – Day & Night
EATS EVERYTHING | PAN-POT | SKREAM
SOLARDO | TONY VARGA | MARC MAYER | BASTAIN BUX
ROBERT JAMES | LUKAS | ADAM SHELTON | TOM CRAVEN | KRYSKO
Store Street | 17:00 – 05:00 | £35.00 + BF
+++
Wednesday 2nd November
DJ SHADOW AT OLD GRANADA STUDIOS
DJ SHADOW
THE MOUNTAIN WILL FALL
Plus Special Guests
BONDAX & LAPALUX | NOW WAVE DJS
Old Granda Studios | 19.30 – 00.00 | £18.50 + BF
+++
Friday 4th November
MK AREA 10
MK | KENNY DOPE | SHADOW CHILD
DANNY HOWARD | A*M*E | DOORLY
KC LIGHTS | JAX JONES | TCTS | SIAN BENNETT | LEE DRAKE
Store Street | 21:30 – 05:00 | £29.50 + BF
+++
Saturday 5th November
JACKMASTER & NUMBERS PRESENTS MASTERMIX
RICARDO VILLALOBOS b2b SETH TROXLER
MARCEL DETTMANN | JACKMASTER | BICEP
GERD JANSON | LEON VYNEHALL b2b RYAN ELLIOT
DENIS SULTA | SPENCER | KRYSKO
Store Street | 17:00 – 05:00 | £29.50 + BF
+++
Friday 11th November
THE APE BIRTHDAY
DANNY BROWN | WILEY | SECTION BOYZ
CLAMS CASINO | BENJI B | ZOMBY | ONEMAN
D:BRIDGE | WOOKIE | BANE | AMY BECKER | CHUNKY
RICH REASON | JUICY DJS
Store Street | 21:30 – 05:00 | £29.50 + BF
+++
Friday 11th November
KNEE DEEP IN SOUND AT THE ALBERT HALL
HOT SINCE 82 & STEVE LAWLER – ALL NIGHT LONG
CHRISTOPH
The Albert Hall | 22:30 – 05:00 | £25.00 + BF
+++
Saturday 12th November
DRUMCODE
ADAM BEYER | GREEN VELVET | SCUBA
ALAN FITZPATRICK | IDA ENGBERG | DENSE & PIKA
NICK CURLY | JULIA GOVOR | GREG LORD | ANTON FITZ
Store Street | 18:00 – 05:00 | £29.50 + BF
+++
Friday 18th November
CURATED BY FLUME
FLUME | JULIO BASHMORE | TOURIST – LIVE
BONZAI – LIVE | SG LEWIS | MOXIE | MSSINGNO
KRYSTAL KLEAR | JON K | NOW WAVE DJS | WILL TRAMP
Store Street | 20:00 – 05:00 | £25.00 + BF
+++
Saturday 19th November
CIRCO LOCO
DXON | APPOLONIA (Dyed Soundorom, Shonky, Dan Ghenacia)
DAMIAN LAZARUS | | NICOLE MOUDABER | WILLIAM KOUAM DJOKO
BORIS WERNER | KRYSKO | PETE ZORBA | ADAM ROSS
+ MORE ARTISTS TBA
Store Street | 18:00 – 05:00 | £29.50 + BF
+++
Saturday 19th November
CHANCE THE RAPPER
JAY PRINCE & SAMM HENSHAW
Manchester Academy | 19:00 – 23:00 | SOLD OUT
+++
Friday 25th November
ABOVE & BEYOND
ABOVE & BEYOND | JEROME ISMA-AE | OLIVER SMITH | UNIVERSAL SOLUTION
Room 2
WAY OUT WEST | CUBICOLOUR | MARTIN ROTH | DOM DONNELLY
Store Street | 21:30 – 04:30 | £30.00 + BF
+++
Saturday 26th November
MOSAIC
MACEO PLEX | TALE OF US
MANO LE TOUGH | ROMAN FLUGEL | TREVINO
OR:LA | KRYSKO | GREG LORD
Store Street | 20:00 – 05:30 | £29.50 + BF
+++
Saturday 26th November
AUTECHRE – LIVE AT OLD GRANADA STUDIOS
LEE GAMBLE – LIVE | RUSSELL HASWELL – LIVE
ANDY MADDOCKS – LIVE
Old Granada Studios | 21:30 – 02:00 | £16.50 + BF
+++
Friday 2nd December
ANTS
GROOVE ARMADA – DJ | JORIS VOORN
KÖLSCH – DJ | ANDREA OLIVA | WAZE & ODYSSEY
ELI & FUR | FRANCISCO ALLENDES
LAUREN LO SUNG | KRYSKO | AUSTEN / SCOTT
Store Street | 21:30 – 05:00 | £29.50 + BF
+++
Saturday 3rd December
DJ EZ
DJ EZ | TQD (Feat. DJ Q, ROYAL T) | MISTAJAM
SPECIAL REQUEST | JAMZ SUPERNOVA | AJ TRACEY | BARELY LEGAL
SIAN ANDERSON | GOTSOME | RICH REASON
+ MORE TBA
Store Street | 21:30 – 04:30 | £29.50 + BF
+++
Friday 9th December
HELDEEP
OLIVER HELDENS | BLONDE – DJ | CHOCOLATE PUMA
CHRIS LORENZO | LOW STEPPA | THROTTLE | SAM GRAHAM
Fono Presents For The Future
FONO | KARMA KID | KIWI | JOE HERTZ | PAN:INC
Store Street | 21:30 – 05:00 | £29.50 + BF
+++
Saturday 10th December
FEEL MY BICEP
JEFF MILLS | RØDHÅD | BICEP
MOTOR CITY DRUM ENSEMBLE | JOY ORBISON | MIDLAND |
LEON VYNEHALL | HAMMER | BRASSICA – LIVE | OR:LA
SWOOSE & CROMBY | HOLLY LESTER
Store Street | 18:00 – 05:00 | £29.50 + BF
+++
Saturday 10th December
FATBOY SLIM AT THE ALBERT HALL
FATBOY SLIM | SHADOW CHILD | SOLARDO | SAM GRAHAM
The Albert Hall | 22:30 – 04:00 | £29.50 + BF
+++
Thursday 15th December
LV20: LEVELZ 3RD BIRTHDAY
LEVELZ – LIVE featuring:
BIOME / BLACK JOSH / BRICKS / CHIMPO / CHUNKY / FOX
JONNY DUB / METRODOME / RICH REASON / SKITTLES / SPARKZ
T-MAN / TRUTHOS MUFASA
DUB PHIZIX & STRATEGY | ZED BIAS with TRIGGA |
CHILDREN OF ZEUS
Critical Records:
IVY LAB | KASRA | SAM BINGA
EMPEROR | ALIX PEREZ | HYROGLIFICS
HIT & RUN vs DUB SMUGGLERZ
K1 SLAY | BUST GANG | CUL DE SAC
RED – EYE HIFI + FREE WIZE MEN + MORE
Store Street | 21:30 – 04:00 | £15.00 + BF
+++
Friday 16th December
WHP VS. THE HYDRA
RICHIE HAWTIN | BEN KLOCK | BEN UFO
ANDREW WEATHERALL | DANIEL AVERY | OBJEKT
SHANTI CELESTE | DOLAN BERGIN | JAY CLARKE | SHENODA
TASHA (Neighbourhood) | MEANS&3RD b2b KERRI
Store Street | 21:30 – 05:00 | £29.50 + BF
+++
Tuesday 27th December
TUSKEGEE
ROOM 1:
SETH TROXLER & THE MARTINEZ BROTHERS
BAS IBBELINI
ROOM 2:
RICHY AHMED | KRYSKO
Store Street | 21:30 – 05:00 | £29.50 + BF
+++
Friday 30th December
CARL COX & FRIENDS
CARL COX | NIC FANCIULLI
PATRICK TOPPING | ELLIOT ADAMSON
LAUREN LO SUNG | GREG LORD | ABODE
Store Street | 21:30 – 05:00 | £29.50 + BF
+++
Saturday 31st December
WHP & RELENTLESS PRESENT NEW YEARS EVE AT THE WAREHOUSE PROJECT
LINE-UP TBC
+++
Sunday 1st January
NEW YEARS DAY CLOSING PARTY
LINE-UP TBC
+++
LINKS & FURTHER INFO:
THE WAREHOUSE PROJECT
www.thewarehouseproject.com