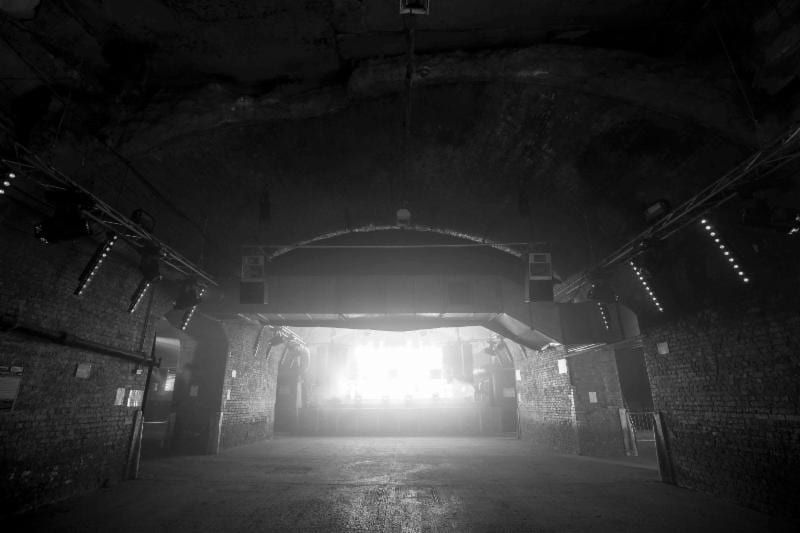 The Warehouse Project Reveal Their Full Season Line-Ups for 2018
2018 marks the final season of Store Street, which will forever be considered the spiritual home of The Warehouse Project.
The season begins on Saturday 22nd September 2018, followed by three and a half months of the world's most exciting and influential names shaping the musical landscape today.
The full line-up is listed below. Details of the closing parties, including New Years Eve and New Years Day – End Of Store Street, will be revealed shortly.
See you for the final dance beneath the streets.
"For twelve weeks the city is ours"
2018 WHP SEASON LINE-UPS
Saturday 22nd September
WELCOME TO THE WAREHOUSE
SETH TROXLER
DIXON
PEGGY GOU
MALL GRAB
MIDLAND b2b
ROMAN FLUGEL
DJ SEINFELD
CALL SUPER
LONE
WILLOW
OR:LA
DEKMANTEL SOUNDSYSTEM
KRYSKO & GREG LORD
ZUTEKH DJS
17:00 – 05:00 – Store Street
Friday 28th September
25 YEARS OF THE ESSENTIAL MIX
THE MARTINEZ BROTHERS
PETE TONG
JACKMASTER & EATS EVERYTHING – '93 SPECIAL
ARTWORK
B.TRAITS
JASPER JAMES b2b HARRI
HAAi
THEO KOTTIS
KRYSKO b2b GREG LORD
LEWIS BOARDMAN
ZUTEKH DJs
HOLLY LESTER
ANDREW HILL
JONJOSE & CELINO
highlights on Radio 1 (logo)
21:30 – 05:00 – Store Street
Saturday 29th September
SOLARDO PRESENTS HIGHER
SOLARDO
CLAUDE VON STROKE
HEIDI
PAUL WOOLFORD
DENSE & PIKA
SEB ZITO
DE LA SWING
MASON MAYNARD
PIRATE COPY
MASON COLLECTIVE
SOLA RECORDS:
HUXLEY
DEL-30
ELI BROWN
OLLI RYDER & LUKE WELSH
20:00 – 05:00 – Store Street
Wednesday 3rd October
ROSS FROM FRIENDS – LIVE
19:00 – 23:00 – Gorilla
Friday 5th October
METROPOLIS BIRTHDAY
ANDY C – 3HRS
HYPE & HAZARD
NOISIA
SERUM & VOLTAGE
DANNY BYRD
NORTH BASE B2B MOLLIE COLLINS
Room 2.
GOLDIE – ANYTHING GOES
TODDLA T
SPECIAL REQUEST
DONAE'O
REDLIGHT
BARELY LEGAL
TS7
SAMMY VIRJIL
THE STEPPAHS
FRANKEE D
MCs: TONN PIPER, EKSMAN, MC AD, TRIGGA
Room 3:
MADE IN MANCHESTER:
ROWNEY & PROPZ / MARK XTC B2B PROPHECY
BOU / SONIC B2B SILVER / DAWN RAID
SAPPO B2B MARK OD / NIKKI EUPHONIQUE
JACK BANNER B2B KAZ / BASS JEDI
INDIK B2B JAZZY LIONES B2B NEMESIZ
HOSTED BY MCS
TODDLAH / BIC / LONGMAN / HARRIBO / DIAMOND
21:30 – 05:00 – Store Street
Saturday 6th October
FOUR TET & FRIENDS – ALL DAY LONG (2pm – MIDNIGHT)
FOUR TET
FOUR TET b2b BEN UFO
ANTHONY NAPLES
JOSEY REBELLE
FLAVA D
WILLOW
COURTESY
TARAVAL
BATHING (LIVE)
BAKE
HIDDEN SPHERES
SPACE AFRIKA
CERVO & CONTOURS
14:00 – 00:00 – Store Street
Friday 12th October
ANNIE MAC PRESENTS…
ANNIE MAC
MALL GRAB
HONEY DIJON
CASSIUS
MELLA DEE
MOXIE
CHAOS IN THE CBD
HONEY SOUNDSYSTEM
SEVERINO
BIG MIZ
SAOIRSE
GIDEON (NYC DOWNLOW)
BRAME & HAMMO
WILL TRAMP
HOLLY LESTER
21:30 – 05:00 – Store Street
Saturday 13th October
RUSH HOUR (DAY & NIGHT 2PM – 2AM)
HUNEE
ANTAL
MOODYMANN
GERD JANSON
SOICHI TERADA x KUNIYAKA x SAUCE81 – LIVE
SADAR BAHAR
DJ NOBU
SAN PROPER
SASSY J
SANDRIEN
JORDAN GCZ
DJ OKAPI
JON K
MAFALDA
MARGIE
KRYSKO & GREG LORD
HIGH HOOPS
14:00 – 02:00 – Store Street
Thursday 18th October
JON HOPKINS
19:00 – 23:00 – Albert Hall
Friday 19th October
Patrick Topping presents
PATRICK TOPPING (3 HR SET)
GREEN VELVET
PAUL JOHNSON
MELÉ
DJ HAUS
DIXON AVENUE BASEMENT JAMS
K-HAND
ELLIOT ADAMSON
B2B MANPOWER
ALEX VIRGO
RICHIE STEEDMAN & BEN WOOD
21:30 – 05:00 – Store Street
Saturday 20th October
Curated by Daniel Avery
MARCEL DETTMANN
DAPHNI
DANIEL AVERY
BLAWAN
AVALON EMERSON
CALL SUPER
DR RUBINSTEIN
SKEEMASK
ANASTASIA KRISTENSEN
HAAi
PEACH
IDA
RE:NI
JOHN LOVELESS
MEANS&3RD
19:30 – 05:00 – Store Street
Friday 26th October
WHP HALLOWEEN SPECIAL
presented by TQD & MY NU LENG
ROOM 1:
MY NU LENG
TQD ft FLAVA D, DJ Q & ROYAL T
MIKE SKINNER
DUB PHIZIX & STRATEGY
P MONEY
SIR SPYRO
CHIMPO
EMERALD
ROOM 2:
Maraki vs Butterz:
BUSHBABY
FINEART
DISMANTLE
ELIJAH & SKILLIAM
CHAMPION
SHARDA
ROOM 3:
SWING TING:
ANZ
CHRYSTAL & CARMEL
FINN
RONIN
FLORENTINO
SAMRAI
PLATT
MC FOX
21:30 – 05:00 – Store Street
Saturday 27th October
WHP vs MOTION
ROOM 1:
ALAN FITZPATRICK
CHRIS LIEBING
DENSE & PIKA
PAN-POT
SAM PAGANINI
EM WILLIAMS | ELLIE STOKES
ROOM 2 – FUSE
ARCHIE HAMILTON
ENZO SIRAGUSA
RICH NXT
ROSSKO
SEB ZITO
TOM RIO
ROOM 3 – Bitch, Please!
ANNA WALL
JAMES DYER & JACK SCALES
KRYSKO & GREG LORD
WILLIAM DJOKO
ZEN ZERO
18:00 – 05:00 – Store Street
Friday 2nd November
UNDERWORLD
& special guests to be revealed.
19:30 – 04:00 – Store Street
Saturday 3rd November
KNEE DEEP
ROOM 1:
HOT SINCE 82
KERRI CHANDLER
SKREAM
YOUSEF
LA FLEUR
ROOM 2:
APOLLONIA – 4 HRS
DYED SOUNDOROM, SHONKY, DAN GHENNACIA
KIM ANN FOXMAN
LAUREN LO SUNG
ROOM 3:
PBR STREETGANG
KRYSKO
GINA BREEZE
OLLI RYDER & LUKE WELSH
19:30 – 05:00 – Store Street
Saturday 3rd November
BONOBO presents OUTLIER
BONOBO (dj)
GEORGE FITZGERALD – LIVE
GILLES PETERSON
PALMS TRAX
SHANTI CELESTE
JOSEY REBELLE
NOW WAVE DJS
16:00 – 01:00 – Mayfield Depot
Tuesday 6th November
FEVER RAY
19:00 – 23:00 – Mayfield Depot
Thursday 8th November
BUGZY MALONE
19:00 – 23:00 – Mayfield Depot
Friday 9th November
BUGZY MALONE
19:00 – 23:00 – Mayfield Depot
Friday 9th November
Adam Beyer presents DRUMCODE
ADAM BEYER
ADAM BEYER b2b MACEO PLEX
AMELIE LENS
ENRICO SANGUILIANO
IDA ENGBERG
LAYTON GIORDANI
MAETRIK – LIVE
WEHBBA
GREG LORD
LUCA DE-SANTO
RUDOSA
TRANSCODE
21:30 – 06:00 – Store Street
Saturday 10th November
BICEP – Live
LEON VYNEHALL – Live
JUJU & JORDASH
MARIE DAVIDSON
HAMMER
17:30 – 01:00 – Mayfield Depot
Saturday 10th November
WHP presents DJ EZ & HANNAH WANTS
ROOM 1:
DJ EZ
HANNAH WANTS
SHADOW CHILD
KLOSE ONE
JESS BAYS
resident
ROOM 2:
TODD EDWARDS
JACK SWIFT
TOM SHORTERZ
DEVSTAR
ROOM 3
CAAL & TECHNIK
NIGHTWRK
HAZE
21:00 – 04:00 – Store Street
Friday 16th November
Above & Beyond presents COMMON GROUND
ABOVE & BEYOND
AMY WILES
BEN BOHMER
GRUM
JOSEP
OLIVER SMITH
SPENCER BROWN
+ ANJUNA HQ TAKEOVER
21:30 – 04:00 – Store Street
Saturday 17th November
Mau5trap present
DEADMAU5
& Special guests
21:00 – 04:00 – Store Street
Friday 16th November
SONNY FODERA SOLOTOKO AT THE ALBERT HALL
SONNY FODERA
DANNY HOWARD
MAT.JOE
GENE FARRIS
SAFRON STONE
21:00 – 04:00 – Albert Hall
Friday 23rd November
SULTA SELECTS
DENIS SULTA
MODESELEKTOR DJ SET
MIDLAND
TOM TRAGO
SHANTI CELESTE
BAMBOUNOU
& ECLAIR FIFI
BABA STILTZ
COURTESY
JAMIE 3:26
SPENCER PARKER
PEACH
SALLY C
CROMBY
DART
21:00 – 05:00 – Store Street
Saturday 24th November
PARADISE – DAY & NIGHT
ROOM 1:
JAMIE JONES
RICHY AHMED b2b ALAN FITZPATRICK
PATRICK TOPPING
KiNK – LIVE
MARK JENKYNS
ROOM 2:
PAUL WOOLFORD
MARQUIS HAWKES
MATT TOLFREY
DENNIS CRUZ
EAST END DUBS
ROOM 3:
ANNA WALL
BEN STERLING
PAOLO FRANCESCO
14:00 – 02:00 – Store Street
Friday 30th November
MK AREA 10
MK
DISCIPLES
LEE FOSS
WAZE & ODYSSEY
RIVA STARR
JOSH BUTLER
WILL CLARKE
PROK & FITCH
ELI & FUR
KC LIGHTS
ELI BROWN
BOOTS & KATS
21:30 – 05:00 – Store Street
Saturday 1st December
AVA x WHP
SVEN VATH
BICEP
DJ KOZE
PEGGY GOU
CHARLOTTE DE WITTE
SUNIL SHARPE
HAMMER
SAOIRSE
NEZ
SWOOSE & CROMBY
TIMMY STEWART
KERRIE – LIVE
QUINTON CAMPBELL
GREG LORD
HOLLY LESTER
JIKA JIKA!
HIGH HOOPS
17:30 – 06:00 – Store Street
Friday 7th December
Jackmaster & Numbers presents MASTERMIX ALLNIGHTER
ROBERT HOOD
JACKMASTER
OMAR S
BEN UFO b2b JOY ORBISON
HELENA HAUFF
DJ STINGRAY
AVALON EMERSON
LENA WILLIKENS
SPENCER
WILLOW
SAOIRSE
BRYAN KESSLER
KRYSKO
ZUTEKH DJS
BLASHA & ALLATT
MANAMI BABA
21:00 – 06:00 – Store Street
Saturday 8th December
SOUNDS OF THE NEAR FUTURE
PUSHA T
AJ TRACEY
SLOWTHAI
CLAMS CASINO
CHILDREN OF ZEUS
FLOHIO
SUSPECT
STRIPES
VEGYN
ALEXANDER NUT
MARTELO
MARTHA (NTS)
SKENGDO x AM
KENNY ALLSTAR
TIFFANY CALVER
METRODOME & BLACK JOSH
JETSSS
RICH REASON
NOW WAVE DJS
19:00 – 03:30 – Store Street
Friday 14th December
WHP & Kaluki Presents ALL NIGHT LONG
JOSEPH CAPRIATI
100% JC
EATS EVERYTHING
ALL NIGHT LONG
SKREAM
OPEN TO CLOSE
21:30 – 05:00 – Store Street
Saturday 15th December
We Still Believe
THE BLACK MADONNA
THE BLACK MADONNA b2b HONEY DIJON
MOTOR CITY DRUM ENSEMBLE
HONEY DIJON
KRYSTAL KLEAR
JAYDA G
BRADLEY ZERO
CRAZY P SOUNDSYSTEM
OCTO OCTA – LIVE
LOVEFINGERS
HAAi
PEACH
GIDEÖN
KRYSKO & JAMES HOLROYD
GRAINGER
WILL TRAMP & JAMIE BULL
GINA BREEZE
BLOOM DJS
16:00 – 04:00 – Store Street
Saturday 15th December
SASHA – REFRACTED LIVE
SASHA
19:00 – 23:00 – At The Apollo
Wednesday 26th December
CRU CAST:
SKEPSIS
DARKZY
MR VIRGO
BRU-C
TS7
LAZCRU
FULL 3 ROOM LINE-UP TO BE REVEALED
21:30 – 04:00 – Store Street
Pre-sale tickets on-sale 9am Thursday 26th July
General sale tickets on-sale 9am Friday 27th July
LINKS & FURTHER INFO:
TICKETS
www.thewarehouseproject.com/ticketlist
THE WAREHOUSE PROJECT
www.thewarehouseproject.com