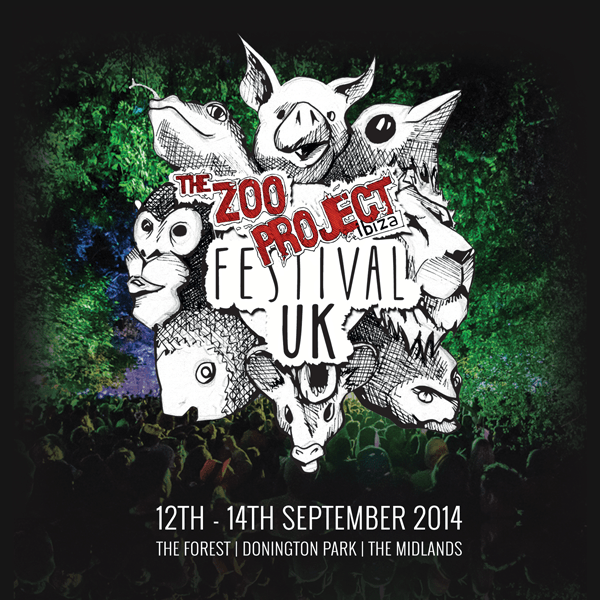 The Zoo Project Festival Announces Final Headliners
The stages are set, the players all booked and the animals ready to roar, for what looks set to be one of the most exciting, original and decadent festivals in the UK this summer as Ibiza hits the Midlands once again. Three more days of debauchery in the enchanted mayhem of Donington Park Forest brought to you by world-renowned Ibizan party Dons, The Zoo Project.
The Zoo Project Festival will feature an array of genres within the electronic music spectrum – featuring house, drum & bass, hip-hop, electro, UK bass, garage, ambient, experimental and more. Influential crate-diggers will spin alongside the hottest new beatsmiths, continuing the Zoo Project mantra of unearthing underground talent before they take off.
Recently added acts: Sasha, Mike Skinner (DJ Set), Breach, Tama Sumo, Bleak, Mr Beatnick, Evan Baggs, Jonny Dub, Squarehead, Jigsaw.
The main headliners will be: Groove Armada (DJ set), Sasha, James Zabiela, Steve Lawler, Shy FX w/ Stamina MC, Breach, Mike Skinner (DJ Set), Mr. Scruff, DJ Falcon, Mala, Ten Walls Live, Ben UFO b2b Midland, A Guy Called Gerald Live, Phaeleh, Craig Richards, Nightmares On Wax (DJ set), Special Request, John Talabot, Tama Sumo and Benjamin Damage live.
Performing on stages hosted by: Red Bull Studios, Born Electric, Wax Da Jam, Thump (Vice Magazine), DJ Mag, Channel Zoo, secretsundaze, Zutekh, Jaunt Records, Running Wild, Don't Get Lemon, Nest, Mute, Play it Down, RiffRaff, Secret Party Project, Teknicolor, 52:50 and Discotech.
VICE Magazine's electronic music channel Thump have been added to the roster of esteemed stage hosts this year – they will host and curate James Zabiela's Born Electric stage. Expect this to be massive!
For the first time, Red Bull Studios will be bringing a flavour of their London-based studio to the heart of Zoo Project festival. Stand-out talent fresh from Red Bull Studios London will combine with pioneers such as The Streets front man Mike Skinner, Manchester's most loved Mr. Scruff, the legendary Nightmares on Wax, party starter Shy FX, and leaders of the new school T Williams, Ten Walls, Squarehead, Jonny Dub and Jigsaw.
Further surprises and announcements will be made via Zoo Project Festival's social media networks.
Removing boundaries between artists and audience, performers and partiers has always been at the heart of The Zoo Project Festival. Ibiza's finest 'The Minx FX' will perform alongside the UK's biggest performance company Area 51 throughout the event, expect world-class performance from animalistic acrobats, dancers, contortionists & more.
The Zoo Project say: "This one's not for the feint- hearted! Roll on September!"
It's never The Zoo Project Festival without a large dose of OTT hedonism and carnivalesque vibe. Release your animal, there's no Zoo without you! Check a wrap up of 2013's highlights here:
Further Line-Up Includes:
Giles Smith, James Priestley, Maribou State, Adam Shelton, T.Williams, Gang Colours, Youandewan, Jonny Dub, Pedestrian, Matt Tolfrey, Bleak Live, Jigsaw, Mr Beatnick, Acid Mondays, Squarehead, Pedram Live, Evan Baggs, Blackhall & Bookless, Drew Hill, Jack Wickham, Negghead, Michael James, Lee Pennington, Defex, Federico Grazzini, Milou and Funk E. Live musicians: Ricky Rankin, Shovell, Grant Kershaw

Standard weekend tickets are currently on sale at £85 with VIP available at £119. One and two day tickets on sale starting from just £30 – www.thezooproject-festival.com/tickets.