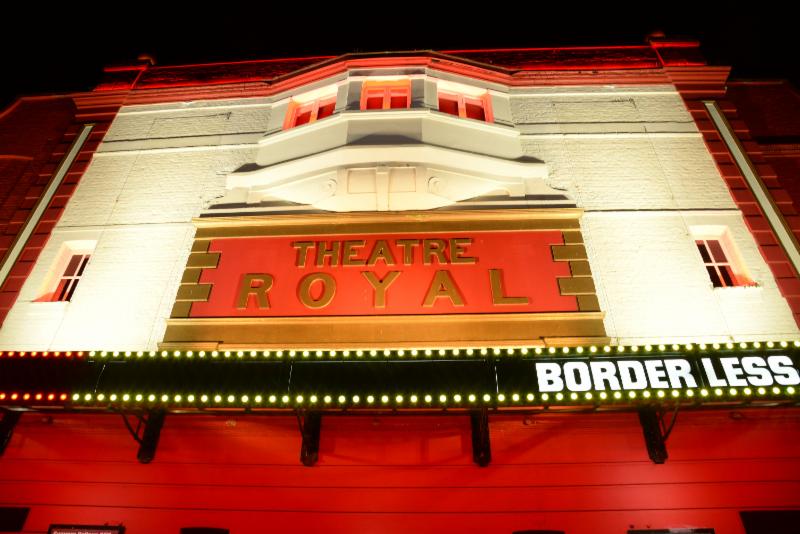 Theatre Royal Stratford East & GOAT Music Present Borderless
After last year's series at the Battersea Arts Centre, GOAT Music's Borderless takes its vibrant live music event from south London to east, setting up its stall at Theatre Royal Stratford East, assembling another batch of excellent artists and emerging talent to take to the stage. Nothing could be more fitting for this part of town, as Stratford steadily establishes its own cultural foothold in London, an inviting, artistic hub for all to enjoy.
This famous producing theatre, located in the heart of London's East End prides itself on creating world class work that reflects the concerns, hopes and dreams of its community. A prolific developer of new work, this award-winning theatre attracts artists and audiences often not represented in other venues and is firmly committed to supporting the development of exciting new voices and bold new work.
On the collaboration with Borderless, Theatre Royal Stratford East's Artistic Director Kerry Michael has commented "Borderless promises to be a great festival of quality music from some amazing talent. We're really excited that we've managed to work together to fill our theatre with a impressive line up."
First up on the Borderless bill are international musical collective The Turbans, delivering their unique blend of traditional near-eastern and eastern-European styles with their own barnstorming compositions. Completely independent and comprised of band members from all over the globe (Bulgaria, Italy, Turkey, Israel, Greece and England), their lively, spontaneous and genre-hopping music – showcased at festivals far and wide has only one goal: to make you dance.

Based in Brighton, producer Max Wheeler and singer/songwriter Victoria Port are Anushka, melding together crisp clubby sounds, with the accent on bass and broken beats, gleaned from UK funky house, and Port's jazzy vocals. The pair are signed to Gilles Peterson's trusted label Brownswood Recordings and are sure to make good on their promise of embodying "vocal music for sound systems". Joining them will be London's XOA, the solo project of multi-instrumentalist Nick Tyson, fusing the rhythmic intensity of 70s Afrobeat with unapologetic dancefloor grooves.
Innovative all-female vocal group Deep Throat Choir have become a serious concern by stealth, receiving acclaim for their debut album "Be OK" and continuing to tour their extraordinary takes on songs by Bjork and Sade. Initially a five-strong outfit led by founder Luisa Gerstein, the group, with a drummer in tow, are a formidable bunch and serial collaborators, having worked with Stealing Sheep and Horsemeat Disco. They will be joined by the fun-loving Some Voices project, which looks to give people the opportunity to sing in a group without auditions or formal training – a self-styled choir "without the boring bits".
Jamiroquai percussionist and bandleader Sola Akingbola will be taking his live group Critical Mass to the Theatre Royal Stratford East, promising a heady collision of synths and gnarled guitars to match the equally tumultuous times in which we live. Conceived by Akingbola as a way to make something distinctive and new from a collection of diverse styles and backgrounds – the band boasts a Cuban drummer – Critical Mass's zeitgeist-y futuristic funk is certainly worth experiencing.
To round things off will be king of the dancehall Horace Andy, a roots reggae songwriter and singer, known for his distinctive vocals and hit songs such as "Government Land", as well as "Angel" and "Five Man Army" with English trip hop duo Massive Attack. For an artist who rarely plays solo gigs, this is a great opportunity to see the spellbinding reggea veteran in a beautiful setting.

Borderless at Theatre Royal Stratford East is kindly supported by Molson Coors
BORDERLESS: EVENT PROGRAMME
THE TURBANS
27th Sept | 8pm | £22
ANUSHKA + XOA (DJ / Live)
12th Oct | 8pm | £22
DEEP THROAT CHOIR + SOME VOICES
18th Oct | 8pm | £22
SOLA AKINGBOLA'S CRITICAL MASS
+ SPECIAL GUEST
20th Oct | 8pm | £22
HORACE ANDY
21st Oct | 8pm | £22