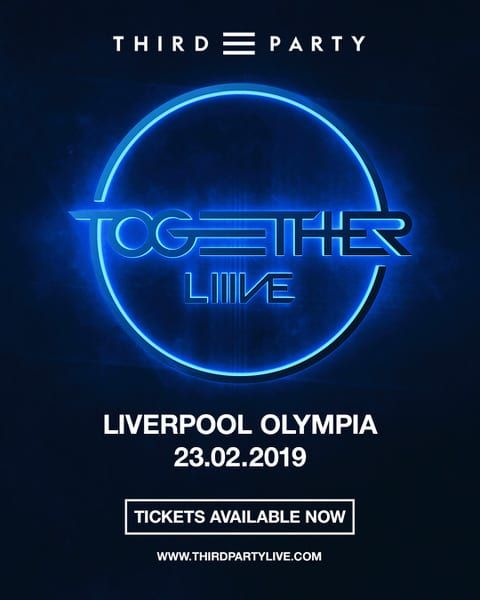 Third Party announce new album 'Third Party' – first UK tour date
For months, speculation about a new album from Progressive and UK House duoThird Party has been rife. Harry Bass and Jonnie Macaire today finally confirmed their sophomore long player 'Together' for release February 2019.
The duo also announce the first in a run of major UK tour dates, the 2,000 capacityLiverpool Olympia on February 23rd. In 2018, the historic venue debuted the pair'sLIIIVE show during a spectacular sell-out event. Pre-order tickets for the February date are now available online but Early Bird and Phase 1 tickets have sold out in just a matter of hours.
This latest news from Third Party caps off what has been a massive year for the UK act. Recent singles 'Come With Me', 'Midnight', 'Free' and 'Remember' have given a strong indicator of what's to come musically on 'Together', and follow on from the success of 2017's massive debut album 'Hope' which spawned hits like 'Live Forever', 'Everyday Of My Life' and the 30 million+ Spotify streaming Garrix collaboration 'Lions In The Wild.'
Key performances at Creamfields UK, Ministry of Sound, Don't Let Daddy Know, Ultra Korea, a sell-out ADE showcase and extensive touring across Asia have captivated fans to their unique, uplifting Progressive and UK House sound. Their in-house label Release Records has continued its meteoric rise, signing a growing roster of club-ready anthems from the likes of Sentinel, David Pietras and Matt Nash.
For more information on 'Together', UK and international tour dates and everything else Third Party, visit www.thirdpartypresents.com.