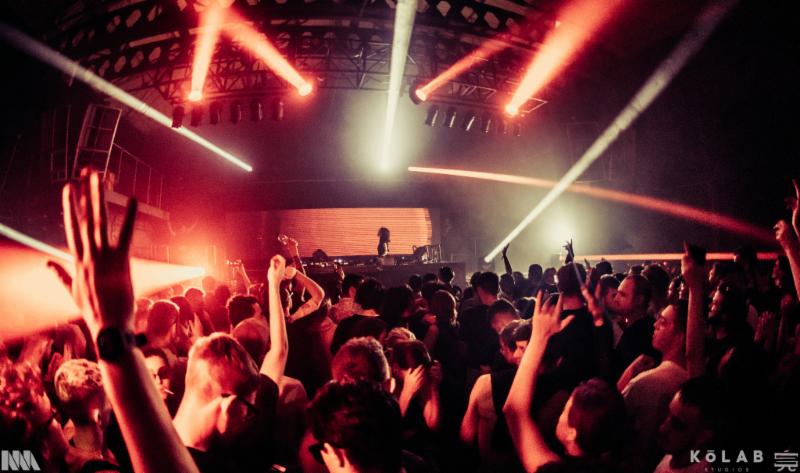 Third Wave Of Names Unveiled For In:Motion's Final Months, NYE + NYD parties
As the current In:Motion series continues to attract rave reviews and critical acclaim, Motion reveals its third wave of parties for the season as well as breathtaking lineups for New Year's Eve and its New Year's Day closing party.
They may herald the end of this season's In:Motion series but both New Year's Eve and New Year's Day bills ensure that it'll be going out in stratospheric fashion, with the venue returning to its own programming after a year hiatus. Seeing out 2018 with the most exciting names in bass music and The Blast is an irresistible proposition for any fan, as the unstoppable Hannah Wants is flanked by Bristol favourite Redlight, Todd Edwards, Madam X, Klose One and more at Motion, while Sub Focus [DJ Set], TC b2b Annix, Jungle Warriors, Circuits (Kasra x Insideinfo), Unglued and more lock down The Marble Factory to make sure there's no better place to be seeing in the countdown.
If that wasn't enough, the New Year's Day party and In:Motion swansong on Tuesday 1st January boasts a roster of the most sought-after house and techno DJs in the world from 2pm-2am across four rooms. Bitch, Please! hosts a selection of the most sublime selectors at Motion, including the trailblazing The Black Madonna, Palms Trax, Jayda G, Rush Hour captain Hunee and Motion regular Ellie Stokes, with Call Super, the rapidly rising Saoirse, Timedance titan Batu, Em Williams and Ellis Roberts offering a tantalising alternative within the walls of The Marble Factory. With the energetic Mella Dee also on headlining duties in the Tunnel, it's the perfect way to bid farewell to a jaw-dropping series that featured 35 stunning parties over 13 weeks.
Lauded as one of the most influential electronic artists of his generation, boundaries are constantly pushed by a Flying Lotus live show and his Friday 14th December date melds immersive 3D production with glimpses of his as yet untitled sixth album. Promising fans will leave and "feel like there's still some magic in this world that they haven't seen yet", it will utilise the innovative production and breathtaking ambition of The Marble Factory, with support from Brainfeeder alumni IGLOOGHOST and Lapalux.
Several years in hibernation has allowed Friendly Fires to prime their highly-anticipated third album to perfection. Giving Bristol the first taster of a record that fully taps into the dance sensibilities previously hinted at, expect the trio to transform the Anson Rooms into a tropical paradise of infectious grooves and scorching house. With the likes of Paranoid London, Alex Metric, Ten Ven and secret special guests setting the pace throughout the night, Saturday 1st December promises to transport the city back to those delirious summer months.
Few have matched the rapid ascent that Denis Sulta has experienced in recent times and, with his In:Motion takeover on Friday 9th November selling out in rapid time, he'll be starting the night early by setting sail from The Flower Of Bristol to take party-goers to the venue via boat. Tickets are extremely limited, so don't miss the chance to witness one of the hottest up and comers in uniquely intimate surroundings.
Claptone & The Masquerade always promises to be a giddy celebration of all corners of dance music and the bill on Saturday 24th November completely reflects that: joining the masked headliner are iconic duo Booka Shade, dancefloor slayers Illyus & Barrientos, David Penn, Pirupa and resident Ellis Roberts. After a run of four spectacular parties earlier in the year, Perpetual return on Friday 30th November with Maceo Plex and Danny Daze in tow, an unmissable opportunity for fans as both play extended 4 hour sets.
With Alex Virgo newly announced to be taking over The Tunnel for an all night long set at Skream's Open To Close odyssey on Saturday 29th December, FUSE also lock in a slew of tantalising names for their 10th anniversary party. Heavyweights Enzo Siragusa, Archie Hamilton and Seb Zito unite with fellow residents Rich NXT and Rossko to ensure celebrations for the electronic music institution go off with a bang on Friday 7th December. Friday 16th November offers an unmissable opportunity to witness Special Request gleefully put the Marble Factory through its paces, while a 39 piece orchestra breathe new life into classic songs for Kraftwerk Re:Werk alongside Max Cooper [Live AV Set] on Friday 23rd November.
After a formidable run of shows, it's a fitting curtain closer to the biggest In:Motion series yet.
All tickets available here: www.bristolinmotion.com
+++
IN:MOTION PHASE THREE LINEUPS:
Date: Friday 9th November
Hours: 19.00 – 21.30
Event Title: HMS Selects
Age: 18+
Denis Sulta
—
Date: Friday 16th November
Hours: 23.00 – 05.00
Age: 18+
Event Title: In:Motion / Two Faced & AKA Presents
Special Request
Joe
Manami
—
Date: Friday 23rd November
Hours: 19.00 – 22.00
Age: 14+
Event Title: In:Motion / Kraftwerk Re:werk
Kraftwerk re:werk
Max Cooper [Live AV Set] —
Date: Saturday 24th November
Hours: 22:00 – 06:00
Age: 18+
Event Title: In:Motion / Claptone And The Masquerade
Claptone
Booka Shade
Pirupa
Illyus & Barrientos
David Penn
Oli Welch
—
Date: Friday 30th November
Hours: 22:00 – 06:00
Age: 18+
Event Title: In:Motion / Perpetual Presents
Maceo Plex (4 hrs)
Danny Daze (4 hrs)
—
Date: Saturday 1st December
Hours: 21.00 – 02.00
Venue: Anson Rooms
Age: 18+
Event Title: In:Motion / Friendly Fires Live
Friendly Fires [Live] Paranoid London
Secret Special Guests
Alex Metric
Ten Ven
—
Date: Friday 7th December
Hours: 22:00 – 06:00
Age: 18+
Event Title: In:Motion / FUSE 10 Years
Enzo Siragusa
Archie Hamilton
Seb Zito
Rich NXT
Rossko
—
Date: Friday 14th December
Hours: 19.00 – 0.00
Age: 18+
Event Title: In:Motion / Flying Lotus [3D Show] Flying Lotus [3D Show] IGLOOGHOST
Lapalux
—
Date: Saturday 29th December
Hours: 22:00 – 06:00
Age: 18+
Event Title: In:Motion / Skream Open To Close
Skream
Alex Virgo
—
Date: Monday 31st December
Hours: 20.00 – 06.00
Age: 18+
Event Title: In:Motion / NYE
Motion:
Hannah Wants
Redlight
Todd Edwards
Madam X
Klose One
K Stylz
The Marble Factory:
Sub Focus [DJ Set] TC b2b Annix
Jungle Warriors [Kenny Ken, Remark, Potential Badboy & The Ragga Twins] Circuits (Kasra x Insideinfo)
Critical Impact
Unglued
TS2W b2b Jaydrop
Hosted by: Jakes, Carasel, Texas
Tunnel:
TBA
—
Date: Tuesday 1st January
Hours: 14.00 – 02.00
Age: 18+
Event Title: In:Motion / NYD
Motion:
The Black Madonna
Palms Trax
Jayda G
Hunee
Ellie Stokes
The Marble Factory:
Call Super
Saoirse
Batu
Em Williams
Ellis Roberts
Tunnel:
Mella Dee
James Dyer
Five10
Zen Zero
Colours
Soul Shake
Cave:
Shutter
Fractal
Because Of Art
Easy People
125
ADDRESS:
Motion Nightclub
74-78 Avon Street,
Bristol,
BS2 0PX