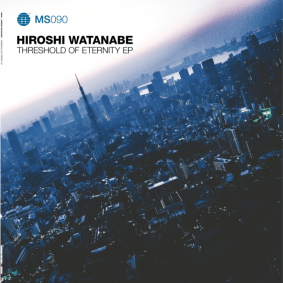 Hiroshi Watanabe - Threshold of Eternity
There is a moment in all the best Derrick May DJ sets when the veering drums and seering hi- hats loosen their grip on the dancefloor and a majestic swell of orchestral strings comes sweeping in. In the past, this dance floor vacuum has been reliably filled by May's 1987 masterpiece, "Strings Of Life." But that Detroit techno classic has been replaced in recent months by a new emotive centerpiece, "The Leonids Strings" by Japanese producer Hiroshi Watanabe—an eight-minute work of drumless perfection that maintains a dramatic hold on the dance floor while composed exclusively of chamber instrumentation.
This seemingly stark variation in style is no surprise coming from Watanabe, the son of an ambient composer dad and jazz pianist mom whose earliest memories include space-age sounds emitting from the family's collection of analog synthesizers. The producer progeny would go on to earn a degree in Music Synthesis from Berklee College of Music in Boston before returning to Tokyo to begin an expansive music career that includes dozens of releases for some of electronic music's most revered labels.
It was almost inevitable that May and Watanabe would eventually work together. The former has championed emerging musical genius for over three decades—from hometown disciples Carl Craig and Stacey Pullen to international discoveries Aril Brikha and Francesco Tristano— via his Transmat record label, while the latter has consistently created works in the spirit of Detroit techno's founding principles of futuristic sonics and melancholy emotions. The partnership began with the 2016 album Multiverse , a joint venture between Detroit-based Transmat and Tokyo distributor United Music And Arts—another example of the artistic exchange between the two cities that has existed since legendary radio DJ Electrifying Mojo broadcast Tokyo synth-pop trio Yellow Magic Orchestra to an entire generation of aspiring Detroit musicians, including a teenage May.
"The Leonids Strings" is itself a reimagining of the sleek techno track, "The Leonids" from Multiverse . It offers the latest example of Watanabe's artistic duality found across his extensive catalog that includes four techno full-lengths and beatless companion albums produced under the Kaito moniker and released on Kompakt. This is why the orchestral A-side pairs perfectly with the flip, a carefully crafted piece of techno titled "Into The Memory." And it's why techno fans are thrilled to pause on the incessant beats and get swept away in Watanabe's stirring sinfonietta.
Tracklist:
1. The Leonids Strings
2. Into the Memory