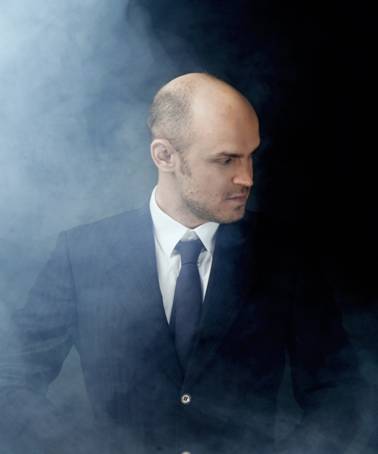 Tim Paris – Dancers
24th March marks the release of the stunning debut album by Paris-born London resident Tim Paris – best known currently as one half of It's a Fine Line with Ivan Smagghe, and as a respected underground figure with releases on leading labels including Young Turks, Kompakt, Moshi Moshi, PIAS, Items&Things, Soma, F Communications, Souvenir and Eskimo.

Yet more impressive facts come in the shape of his killer remixes (that he's done either solo or with Smagghe) for The XX, Femi Kuti, Battant, Au Revoire Simone, Ewan Pearson and Tiga, plus his long list of DJ fans that includes James Holden, Trevor Jackson, Maceo Plex, Jamie Jones, Soul Clap, Ewan Pearson, Michael Mayer, Magda, Laurent Garnier, Tiefschwarz, Catz n' Dogz, James Priestley, Mandy and Joakim.

Following an illustrious career as a DJ, producer, musician and owner of highly-regarded label Marketing Music, 'Dancers' fully demonstrates Paris' skill as more than simply the manufacturer of nightclub fodder. It's an album populated by fully-developed songs that effortlessly merge synth pop, proper indie, new wave, post punk, disco, house and electronica into a shimmering and seductive whole.
'Dancers'' deft production values are indicative of hands that've spent years honing their craft. Tim is audibly in completely control of the end result, and knows exactly where to apply studio sheen, and when to keep it raw.

A highly-collaborative affair, 'Dancers' features a host of guests, including Ben Shemie from the Secretly Canadian band SUUNS, Georg Levin (one half of Wahoo with house hero Dixon), and the fabulously monikered Sex Judas (with whom Tim has been a fellow roster member of the Marketing Music imprint).

Other artists featured are the i-D magazine-rated Forrest (who's released rated tracks with 2020Vision, Mobilee and Visionquest), Colo Soild (who's also in Parallel Dance Ensemble with Robin Hannibal (from the revered duo Owusu & Hannibal), plus British composer Rupert Cross (whose work has been performed by Jarvis Cocker, Marianne Faithful and the London Sinfonietta).

'Dancers' opens with the stylishly icy John Foxx-meets Peter Hook pulse of 'Golden Ratio', before the aptly-titled 'Rain' (featuring the sultry vocal tones of Coco Solid) captures quintessential vintage indie melancholy, merged with subtly modern electronica, occupying a sonic space akin to M83 and I Break Horses.

Similarly emotive and chilly is the slo-mo house groove of 'Outback, Stones & Vinyl', which wouldn't sound out of place in an Andrew Weatherall set, whilst 'Disco Eclipse' sounds like a lost Aux 88 or Model 500 classic, unearthed from a cabinet of curiosities and covered in dust.

'The Grip' featuring Ben Shemie perfectly conjures up a dark 80s Eastern Bloc dancefloor odyssey, whilst the pure goth of 'You'll Never Know' seems to soundtrack the morning after the same grimy-but-intoxicating nocturnal escapade.

A hugely assured and bang-on-the-money foray into the world of longplayers, 'Dancers' draws on decades of in-deep record collecting and expertise in commanding discerning dancefloors. It creates something original and captivating, that is way more than the sum of its impeccable influences.

www.facebook.com/djtimparis // www.facebook.com/marketingmusic
www.facebook.com/itsafineline // www.myfavoriterobotrecords.com