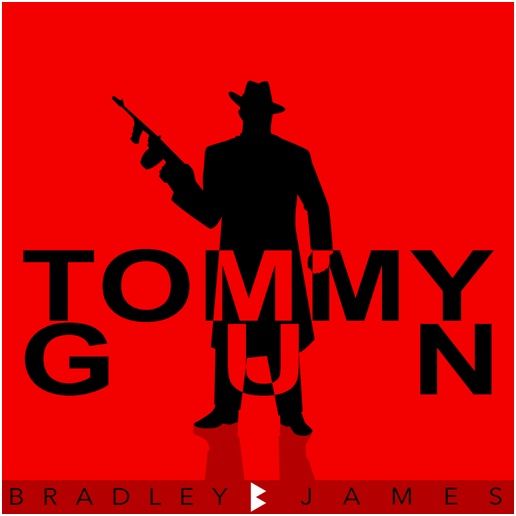 Bradley James - Tommy Gun
Rising star Bradley James has had an extraordinary 2015 and he's now seeking to end the year in style with his latest creation, 'Tommy Gun', which is now available as a free download. Whilst offering an early Christmas gift to his fans, Bradley James is also seeking to continue the string of top-notch releases he's put his signature on this year.
At such a young age, the Staffordshire based talent can already boast some remarkable feats. Whilst debuting with his hit single 'Charger', released via Matchbox Recordings, Bradley James was later noticed by Treatment, putting himself in the spotlight within his first year in business by getting on BBC Introducing's radar. Building up on such momentum, Bradley James has cooked up an impressive series of quality material, putting his name behind stellar productions like: 'Visionary EP', 'Groseille Remix', 'Caiman', 'Amnesia / Taipan', 'Lynch', 'Infinity', 'Breakthrough', 'Fire' and his recent banger 'Akula'. He is now back to form once again, with his fresh wonder 'Tommy Gun'.
Kicking off with a subby kick pattern and a subtle synth arrangement, 'Tommy Gun' quickly transcends into an infectious Electro House style synth-led ascension, before introducing robotic vocals to spice things up. Bradley James devises a mesmerising, heavy drop, characterised by rhythmic elements and dirty sounds, whilst accompanied by a deep bass-line. Energy levels are drawn back, introducing a mellower, leftfield breakdown whilst building up once more towards another much awaited drop, before heading into a stylish, instrumental conclusion.
Whilst you can now download and enjoy Bradley James' newest track 'Tommy Gun', keep an eye out for Bradley in 2016 as he's prepping up more of his much awaited projects.
Bradley James Online
www.bradleyjames.co.uk
www.facebook.com/BradleyJamesMusic
twitter.com/bradleyjame5
soundcloud.com/bradley_james