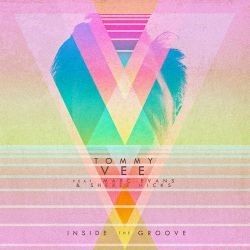 Tommy Vee - Tommy Vee – Inside The Groove
Italian Producer/ DJ Tommy Vee makes a welcome return, enlisting the soulful talents of vocalists Marc Evans and Sheree Hicks, who together deliver a bomb track to rock Summer 2015! 'Inside The Groove' has got Soul dripping from every piano chord, whilst the melodic bassline glides over a Chicago-meets NY House groove and topped off by magical performances from Marc and Sheree who deliver a positive message. Taking the track to the peak time dance floors is fellow Italian and man of the moment, Luca Guerrieri, who combines the vocals with moody synths and power-bass hooks. Also adding his signature twist to the song is top US Deep House producer Pezzner, who toys with it's intensity using deep, warm chords, backed by a hypnotic groove.
Born in Venice, Tommy Vee is surely one of the most important Djs in Italy. His career as a record producer began after meeting with Spiller in 1998. Their first international success was 'Laguna EP', released by renowned UK label Azuli. In 1999 he created a new dance outfit with his friends Keller and Sisco – a production team called Moltosugo, delivering over the years several hits including 'Stay', in collaboration with house music legend Ce Ce Rogers. Tommy has also co-produced other great artists including DB Boulevard and Moony. Tommy is also co-owner of successful Italian imprint Airplane Records with Mauro Ferrucci.
A native Baltimorean, Marc Evans was born into music, and has been writing and performing for more than 15 years, collaborating with labels like Defected, Code Red and Purple Music. Marc's most successful release to date was the soulful smash with DJ Spen & the Muthafunkaz 'The Way You Love Me'. Sheree Hicks started out singing in the church in Memphis and later moved to Chicago. She has written for Blackstreet with Teddy Riley, Rapper Heavy D, C&C Music Factory, Terry Dexter, Nick Loren, and Emily Bell among many.
Track Listing
1 Inside The Groove (Future Disco Extended)
2 Inside The Groove (Future Disco Radio Edit)
3 Inside The Groove (Classic Mix)
4 Inside The Groove (Luca Guerrieri mix)
5 Inside The Groove (Luca Guerrieri Radio Edit)
6 Inside The Groove (Tribute Mix)
7 Inside The Groove (Tribute Radio Edit)
8 Inside The Groove (Pezzner Remix)
9 Inside The Groove (Pezzner Dub)
'Inside The Groove' will be release in July 2015 on Rise Records.