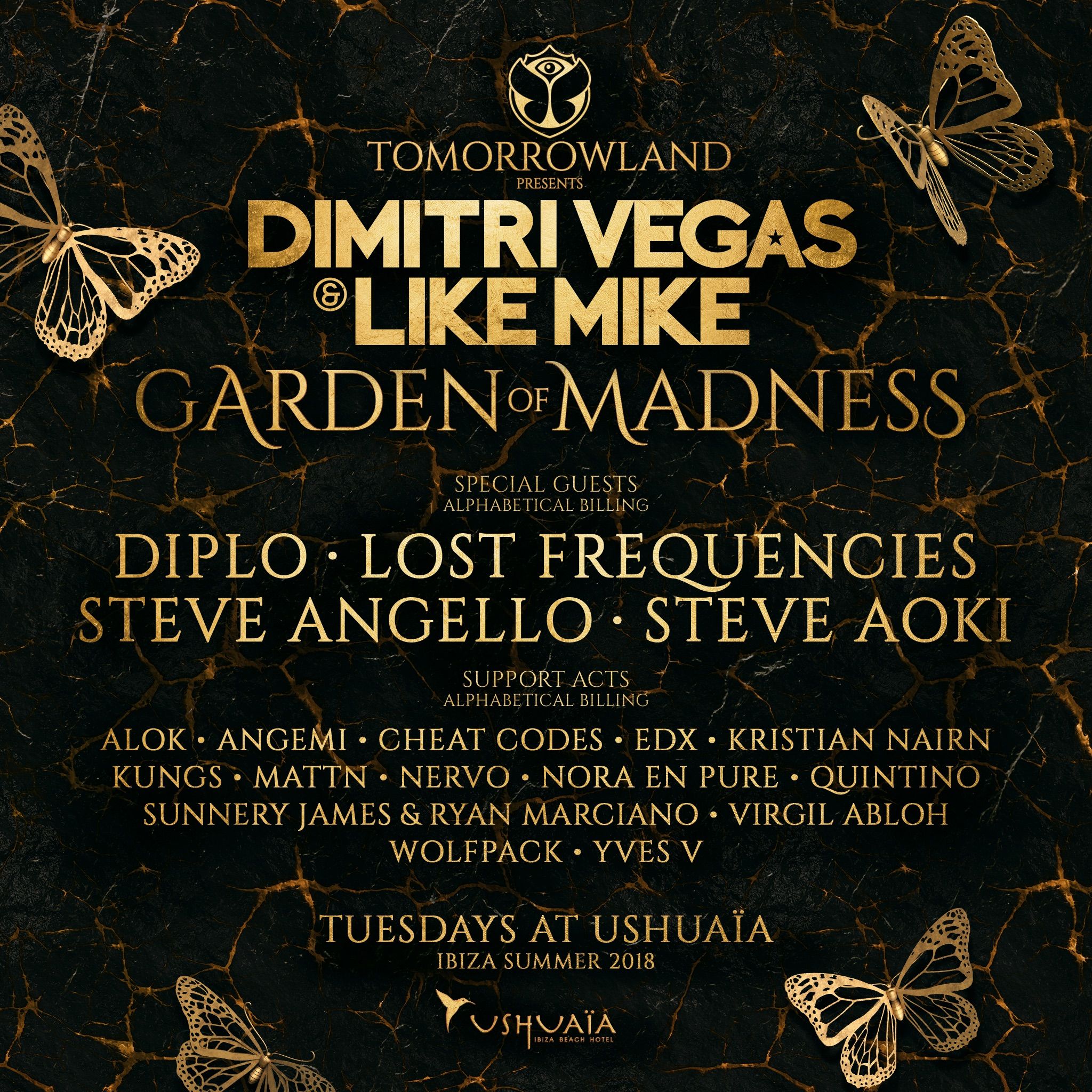 Tomorrowland and Dimitri Vegas & Like Mike announce the lineup for the weekly Garden of Madness shows at Ushuaïa Ibiza
Tuesday's at Ushuaïa Ibiza will be nothing short of spectacular this summer, as the open-air club is transformed into The Garden of Madness, presented by Tomorrowland together with Dimitri Vegas & Like Mike. The iconic DJ duo have unveiled an incredible lineup of acts who will join them in a totally new and magical décor.
Rounding up the industry's most-respected DJs, the team behind The Garden of Madness have put together an impressive roster, boasting long-time legendsDiplo, Steve Aoki, Steve Angello, and Lost Frequencies, while presenting the hottest trending talent including Off White Fashion designer Virgil Abloh, ALOK, Kungs and Sunnery James & Ryan Marciano, just to name a few. The full lineup of acts supporting Dimitri Vegas & Like Mike from June 19th to September 18th can be viewed on the Ushuaïa Ibiza website.
A brand-new theme has been created by the team behind Tomorrowland, especially for Ushuaïa Ibiza, with an elaborate stage set up, to host Dimitri Vegas & Like Mike and their friends. Similar to all magical Tomorrowland gatherings, guests will enter an immersive fairy tale and experience live performances from a collection of stellar acts.
The jewel in Ibiza's party crown, Ushuaïa's dedication to bringing the most-sought after names to their world-famous stage ensures they remain one step ahead of the game every time. Based on the experiences gathered over the years, Ushuaïa Ibiza is dedicated to providing the best outdoor entertainment possible. The legendary poolside parties have been drawing in the crowds ever since the very beginning. The team behind the #1 Open Air Club raises the bar ever higher, with an impeccable lineup of superstar residents from across the electronic music spectrum playing from daytime to midnight. Not just content with packing their nights full of world class artists, Ushuaïa Ibiza constantly outdoes itself when it comes to phenomenal productions, with a different theme each night of the week. With incredible pyrotechnics, mind-blowing lighting, visuals and a state of the art soundsystem, not to mention the beautifully designed gogo costumes, as well as an abundance of confetti, streamers and CO2, it's no surprise people flock from around the world for the inimitable Ushuaïa experience.
TICKETS: http://ushuaiaibiza.com/TGh7Cz
ROOMS: www.theushuaiaexperience.com