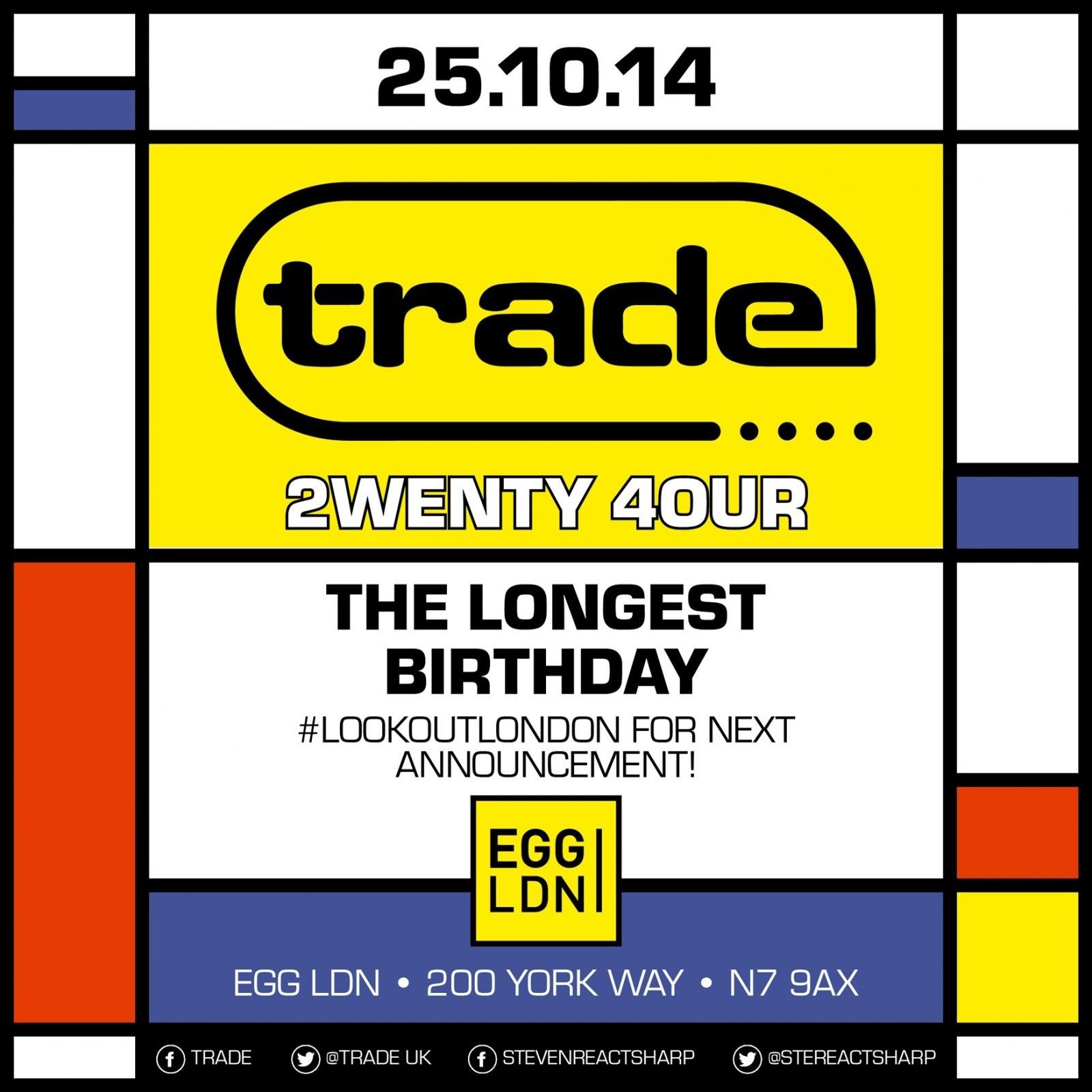 TRADE 2WENTY 4OUR: THE LONGEST BIRTHDAY
The Trade Collective present a much anticipated celebration for their forthcoming 24th birthday with a very special event titled "The Longest Birthday" as they produce something never done before in clubland at their home Egge London!
DJs will be playing across the entire venue in Trade Modern, Trade Lite, Trade Disco and Trade Tuff and will feature Trade Legends, International Stars, regulars special guests and some incredible names making their debut!
Look forward to an array of Trade sonic masters including: Filterheadz, Smokin Jo, Tom Stephan, Pagano, Daz Saund, Ian M, Pete Wardman, BK, The Sharp Boys, Guy Williams, Hannah Holland, TheMen Who Fell2Earth, Severino Panzetta, Massimo Paramour and many, many more!
Online £10 & £12 advance tickets have now SOLD OUT in record time! The next batch of £15 advance tickets have just been released!
Info
Event: Trade 2WENTY 4OUR: The Longest Birthday
Date: Saturday October 25th 2014
Venue: Egg London, 200 York Way, Kings Cross, London, N7 9AX
Time: 2pm – Midnight
Admission: Advance Saver £15; Standard £18 exclusively available from: www.moreonthdoor.com
Line Up Highlights include:
TRADE Tuff with Pete Wardman, BK, Ian M, Ross Homson + more TBA
TRADE Modern with Filterheadz, Pagano, Tom Stephan, Daz Saund, Hannah Holland, Smokin' Jo
TRADE Disco: Severino Panzetta, TheMenWhoFell2Earth, Massimo Paramour
plus in TRADE Lite: Guy Williams & The Sharp Boys featuring Tonnic + more!
Web: www.egglondon.net
Info no: 07772 384533