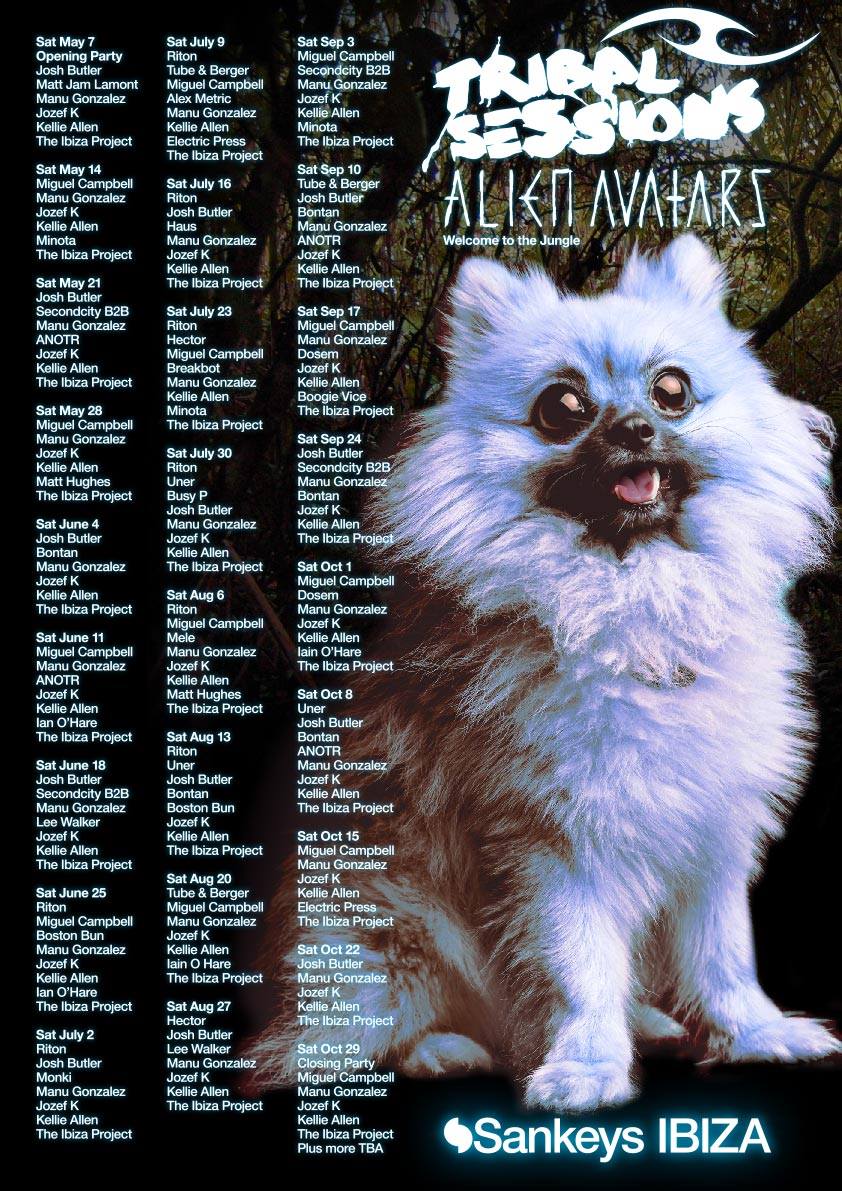 Tribal Sessions 'Alien Avatars' Line-Ups Announced For Ibiza 2016
Tribal Sessions, the UK's iconic dance outfit, returns for it's third season on the white isle to host Saturday's for a massive 26 weeks, the longest weekly summer residency in Ibiza history. This year the party is presented by the team behind Sankeys Sabados, the hugely successful Ibiza Winter party that has been showcasing the best new female talent on the island. This brand new team is implementing a forward thinking music policy, breaking exciting new talent, without prejudice.
The Saturday night ritual commences on 7th May featuring renowned house producer Josh Butler, Tribal favourite Jozef K whose production has been making a lot of noise recently, Ibiza native and winner of best newcomer at the DJ Awards Manu Gonzalez and hotly tipped newcomer Kellie Allen, the outstanding first winner of the Sankeys Sabados competition. Further female winners will be announced at a later date and will play as part of The Ibiza Project which presents the very best Ibiza talent every week in Spektrum and The Boutique.
These four strong residents will play across the season – Jozef K, Manu Gonzalez and Kellie Allen every week and the excellent young house DJ Josh Butler bi-weekly for 13 shows. Making a very special guest appearance at the opening party is long time Sankeys favourite Matt Jam Lamont. The legendary Redlight resident is looking forward to crossing over into the dark side and revelling in his Tribal side.
Also bringing something special to the 2016 tribe is resident Miguel Campbell who presents his Outcross Records label showcase across 13 hot dates in the Basement building up to the imprints 10th Anniversary in October. On each date Miguel will be joined by an Outcross artist, all of whom have had releases on the innovative Leeds based label over the years. The programme kicks off with label mate Minota on 14th May who has 3 shows and it also includes 4 shows with Iain O'Hare and 2 shows with Matt Hughes.
Another hugely exciting label showcase comes in the form of resident Riton presenting his eponymous label 'Riton Time'. The former Grand Central and Switch records artist is currently riding high from his latest club bomb 'Rinse Repeat' which is literally getting rinsed and repeated all over the globe. He will no doubt make the club go up on each of his 8 shows starting on July 9 and running every week until 9th August.
It's a track success story that's also true for Lee Walker, the Middlesbrough producer whose remix of DJ Deeon's 'Freak Like Me' was recently dubbed the hottest track on the planet by Radio 1 top jock Annie Mac, made Number #1 in the Beatport Chart and has had major crossover success getting played by a wide variety of Premier League DJ's from Marco Carola to Pete Tong. After first playing at the main Sankeys opening party on May 1st, Lee will perform for Tribal on June 18th and August 27th.
Ed Banger records head honcho Busy P, the man behind Daft Punk and Justice, makes a one off showcase on July 30th. His label mate Boston Bun makes his Sankeys 'Housecall' on June 25th and fellow producer Breakbot plays on July 23rd.
Other notable hot tickets include Music On 2015 star Hector who performs on July 23rd and August 27th , German giants Tube and Berger on July 9th, August 20th and September 10th, King of the Spanish new wave Uner on July 30, 8th August and October 8th and highly talented young UK producer Bontan who makes a very welcome return on June 4th and will make a further 3 shows for Tribal Sessions.
Also sure to garner attention will be Pan-Atlantic chart topper Secondcity going back to back with Tribal Sessions resident Manu Gonzalez for three shows. Plus Dutch duo ANOTR on May 28, and June 11. This is an exciting Sankeys Ibiza debut for the young duo who were hotly tipped by Mixmag as one's to watch this year.
This year's theme for Sankey's Sabados presents Tribal Sessions is 'Alien Avatar'. David Vincent said of the artwork, "As many people know Sankeys the Dog got abducted recently. He was returned to us in this blue Alien Avatar form, as we now know that he got abducted by a certain Tribe of Aliens.''
''The Aliens have contacted Earth to let us know what is going to happen with Tribal Sessions Ibiza on Saturdays this summer and we are working under their guidance! As per their instructions, we are now building an alien jungle in the club and a communication teleport back to planet Neila so the E.T's can Phone Home. Welcome to the Jungle!''
Sankeys Sabados Tribal Sessions runs for 26 shows from Saturday 07 May until the closing on 29th October. Tickets can be purchased here http://www.ibiza-spotlight.com/night/promoters/tribal-sessions
SOCIAL MEDIA LINKS
Sankeys Ibiza https:www.facebook.com/SankeysIbiza
Tribal Sessions https://www.facebook.com/tribalsessions/?fref=ts
Instagram https://www.instagram.com/sankeysibiza/
Twitter https://twitter.com/SankeysIbiza