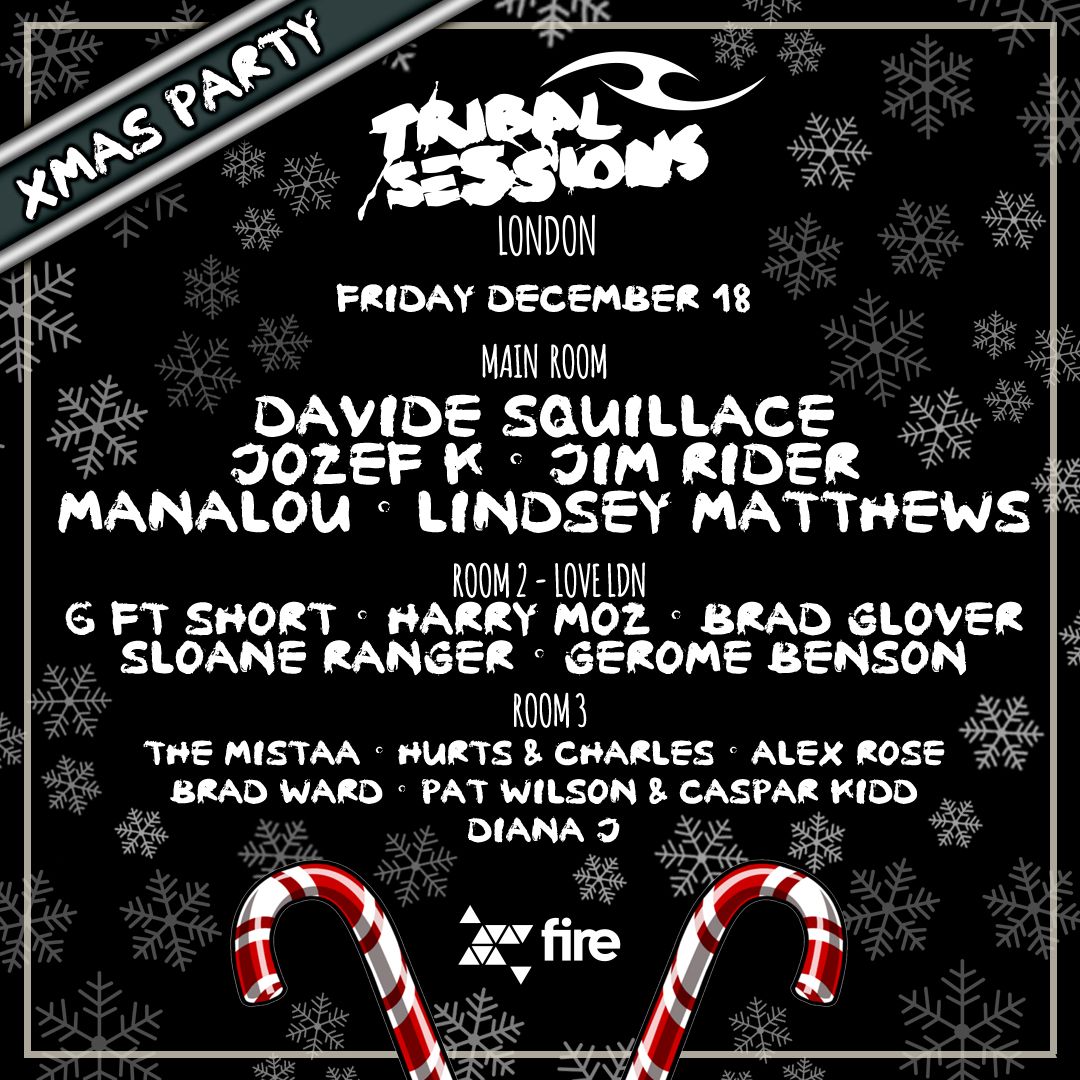 Tribal Sessions Xmas Party
Tribal Sessions is seeing out December in fine style on Friday 18th December, with the closing show of 2015 at the iconic London venue featuring Davide Squillace headlining.
After a run of amazing weekly Friday parties, the final show of 2015 will see Fire transformed into a winter wonderland with snow and ice themed production and decoration, snow cannons and ace painting for people who really want to get Tribal – and also a little bit festive.
The iconic bastion of the underground, a celebration of techno and house infused with smatterings of tribal beats to disco to stripped down basslines, has seen a series of late night sessions bringing a new edge to the capital's electronic music scene. The Xmas Party at Tribal Sessions features Davide Squillace in Room 1; a regular at Circoloco, Womb, Berghain, D.Edge and many of the world's finest clubs, Davide stakes a claim as one of electronic music's most prolific DJs, producers and remixers. With a no compromise work ethic, his sublime sets and prodigious releases continue to place him at the fore of his respected scene. Jozef K, Jim Rider Manalou, Lindsey Matthews all support, whilst Love LDN host Room 2 with G FT Short
Harry Moz, Brad Glover, Sloane Ranger and Gerome Benson, and Room 3 features lots more talent on the decks, ushering in a fantastic festive finish for Tribal Sessions' 2015 season at Fire.
As one of the world's last bastions of the underground, Tribal Sessions has evolved from its original roots at the Tribal Gathering festivals and legendary warehouse event, to Sankeys in Manchester and Sankeys in Ibiza. There's an enduring legacy which represents everything about house and techno music culture, embracing a celebration of the crazy spirit encapsulated by the simple question: Are You Tribal? asked by Tribal Sessions' and Sankeys' visionary founder, David Vincent.
Tickets for this show are available from: www.tribalsessions.london
Tribal Sessions – Xmas Party
Friday 18th December
@ Fire, South Lambeth Road, SW8
Room1:
Davide Squillace
Jozef K
Jim Rider
Manalou
Lindsey Matthews
Room 2: Hosted by Love LDN
G FT Short
Harry Moz
Brad Glover
Sloane Ranger
Gerome Benson
Room 3:
The Mistaa
Hurts and Charles
Alex Rose
Brad Ward
Pat Wilson and Caspar Kid
Diana J
11pm-7am
Student advance £8 / Super Advance £10 / 1st Release £15 / 2nd Release £18
www.firelondon.net