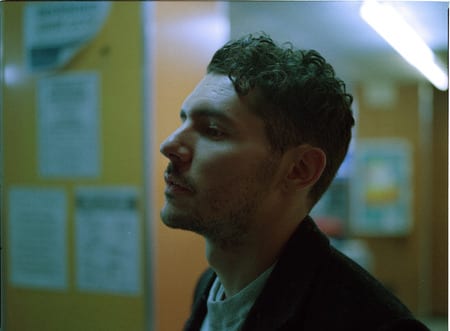 TROPICS Shares Last Single From Forthcoming Album 'Nocturnal Souls'
British vocalist, songwriter and producer TROPICS has today shared the final taster of his forthcoming third album, with the dreamy and romantic 'Velvet'. The track features on the highly accomplished LP 'Nocturnal Souls', which will be released on 29th June via + FOURS. It follows the previously released 'Keep Me Turning Back', which was co-written and co-produced by ex-label bandmates and friends BADBADNOTGOOD.

Tropics is the project behind the creative output of Hampshire-born, London-based Chris Ward; a project that is responsible for releases spanning multiple styles, it has been a solo journey and a sonic evolution in which Ward has stamped an ever-increasing presence and personality on the music.

He first entered the spotlight when his remix of a Little Dragon track unexpectedly became an online favourite. From there he released his debut EP via Planet Mu in 2011, followed by his first full length album 'Parodia Flare'. His next two EP's, 'Popup Cinema' (2012) and 'Home and Consonance' (2013) took his success to new heights, as well as solidifying him as a truly original talent and leading to him sign an album deal with US label Innovative Leisure. In 2015 he released 'Rapture'; a record that was critically acclaimed and won the widespread respect of media, including Mixmag, Pitchfork, Q, i-D, Dazed, FADER, Noisey, The Line of Best Fit and more.

Growing up, Ward was heavily influenced by his older brother, who was also a musician. He would make him cassette tapes and burn CD's of early 90's Trip-Hop, Electronica, Rock, Shoe-Gaze and Post-Punk bands. His mother's interest in 60's sounds, and his father's taste in Jazz also helped inform the music he makes today. With a natural flair for the drums and a keen interest in technology, a young Ward taught himself the art of recording by tracking drums, guitar, electronic and multi-track record on an old computer given to him by his uncle.

Adopting sounds predominantly heard in Trip-Hop and Electronica at the beginning, Ward's ambient tones have, over time, taken more of a back seat to make room for live instrumentation with a Jazz and Psychedelic sensibility, set against his trademark raw and heart-wrenching vocals. The sonic shift has been all the more prevalent following Ward's move to Los Angeles after the release of 'Rapture', where he took himself to focus on writing new material and exploring collaborations. It was there that he hooked up with Badbadnotgood, who lent instrumentation and production to a track on the new album. On this track in particular, he says; "I was really attached to the sort of David Lynch / dark cinematic vibe and I wanted to explore more of what this track was able to portray and how it made me feel." In stark contrast to this, Ward also spent two months in Mexico City where he spent months on end alone, putting the finishing touches to 'Nocturnal Souls'.

Influenced majorly by his last year in London and also his time on the west coast, interestingly Ward took a great deal of inspiration from Italian film soundtracks in the making of this record; "I'm a huge fan of film/cinema and soundtracks. I wanted to look at developing songs with leading cinematic tones that are memorable yet song-like, which differs from a lot of the score music I was taking influence from". In addition, he realised an increasing passion for Jazz music and old French New Wave, and 'Nocturnal Souls' provides a dark and soulful backdrop to his newfound accomplishment as a Jazz musician. Some of the artists that provided inspiration for the record include contemporaries Michael Kiwanuka, Kaytranada and Toro Y Moi, classical Jazz composers Ennio Morricone and Piero Piccioni, and some Psych Rock and Cosmic Jazz flourishes of that era.

Ultimately, with this record, Ward is "aiming to tell little emotional stories of isolation and loneliness, romantic encounters and personifying the dangerous mixtures of love and lust. That could be the best way to sum the musical effort as a whole."

Stay tuned for more news to follow.