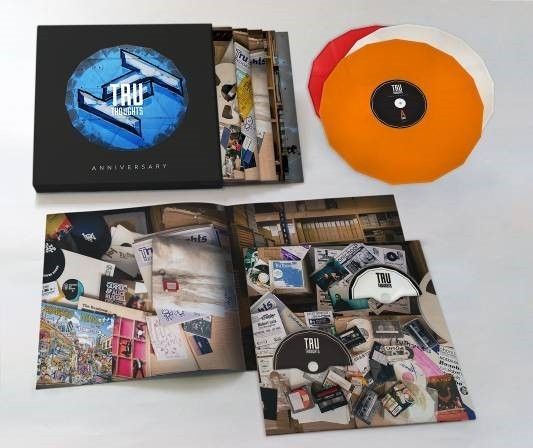 TRU THOUGHTS 15TH ANNIVERSARY BOX SET
Following the London label party at Koko in February at which the artists, staff and some 1500 fans welcomed the label's 15th birthday year in explosive style, it is now time for the Tru Thoughts 15th Anniversary celebrations to get into full swing. 31st July sees the announcement of a limited edition Deluxe Box Set release, surrounded by an extensive merch and memorabilia campaign in partnership with direct-to-fan platform PledgeMusic. This adds to upcoming events including UK festival takeovers at Bestival and Shambala and a special anniversary show in LA (home of the label's US office) at the Skirball Cultural Center.
Boasting three 12" slabs of coloured vinyl cut to a pentadecagonal (15 sided) shape, along with two CDs and a 12" 20 page booklet of exclusive interviews and photographs – all in a hand-numbered box emblazoned with a custom creation by revered graffiti artist Aroe – the Tru Thoughts Anniversary Box Set is a seriously covetable item. And that is before you even consider the music, a selection hand-picked by co-owner and A&R Robert Luis to celebrate the past, present and future of his thriving independent label's eclectic and adventurous catalogue. Limited to 500 copies worldwide, the Box Set, officially released on 20th October, is exclusively available to order from PledgeMusic from 31st July. This celebration of independent artistic talent encompasses the early leftfield electronica of Bonobo and Quantic's trailblazing world explorations, to Alice Russell's powerhouse soul and New Orleans' iconic Hot 8 Brass Band; UK icons like Rodney P and Zed Bias, through to the stars of tomorrow with cutting edge production from Lost Midas, Titeknots and Werkha and the natural vocal prowess of Harleighblu.
The family spirit that has always characterised the label is reflected in the relish with which the artists have devised an array of additional treats to offer up for the PledgeMusic campaign. Whether it is a personalised London Posse dubplate or Youngblood Brass Band's bass drum, signed Hidden Orchestra memorabilia or a bespoke Harleighblu a cappella recording, a visit to Lost Midas' LA studio or a Titeknots Remix, signed original Quantic test pressings or an original Nostalgia 77 album master reel – to name just a few – there is much fun to be had for fans and collectors. On a more general theme, die-hard TT nuts can take the opportunity to visit the Brighton HQ, meet the team and listen to a stash of original archive demos and rarities from back in the early days.
This collaboration between PledgeMusic and Tru Thoughts marks a foray into new territory for both parties; having worked with individual artists as diverse as LCD Soundsystem, Slash, Ben Folds Five and Klaxons, this is the first time that PledgeMusic have taken on a project with a label partner.
"We are very pleased to be partnering with Tru Thoughts on the release of the 15th Anniversary Box Set", says PledgeMusic's UK head of A&R, Paul Barton. "The Pre-Order campaign is exactly the type we like to be involved in and offers individual items from some of the amazing artists from the Tru Thoughts stable including Quantic, Alice Russell, Youngblood Brass Band, to name a few. A Pre-Order campaign for a box set to celebrate a label in its entirety is a first for PledgeMusic and we are proud to be a part of it. Tru Thoughts is a label as rich in creative talent behind the scenes as it is throughout the artists on its roster."
Robert Luis adds the label's perspective: "Our 15th Anniversary is a chance for us to take stock and celebrate how far we've come, but also to look forward with excitement for the future, so it feels fitting to be pushing on and doing something that has not been done before. The platform that PledgeMusic offers is an important part of the modern music industry. We're extremely happy to be their first label partner and to have their help in bringing our fans a unique set of memorabilia that they can treasure. On which note, I can't thank all the artists enough for all the weird and most definitely wonderful offerings they have come up with, and the effort they have personally put into it all."
Visit the Tru Thoughts PledgeMusic page and see the full gamut of offers at www.pledgemusic.com/projects/tt15
Watch and share a promotional video featuring time-lapse footage of Aroe creating the Tru Thoughts graffiti.
The TT15 LA Anniversary Show will be happening on October 24th at The Skirball Cultural Center, Los Angeles, CA, featuring live sets from Alice Russell as well as Tru Thoughts' rising US stars Lost Midas and The Seshen. Purchase tickets at http://www.skirball.org/tru-thoughts.
Visit the TT15 website at truthoughts15.com for full news on all the celebrations / spread the word with the #TT15 hashtag.